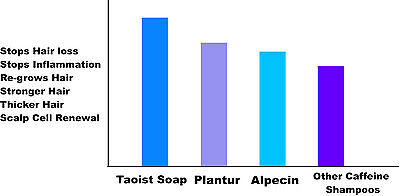 Having
reviewed
various types of Caffeine shampoos; such as the
Alpecin and Plantur shampoos
- we have found that these shampoos have very minimal effects of thickening of hair for long term purposes as the experiments done on caffeine on hair are very minimal and flawed in more than one way.
Experiments done were done in a test tub environment, whilst hair loss happens because of hormones or stress factors affecting the hair growth - in a test tube environment, hair is already free from hormone or stress, so it will naturally grow better in any case.
So is the Alpecin shampoo worth buying?
Well we will let you be the judge of that - but we have listed which shampoos one should try as the top ones to the worst in the chart.
Most shampoos simply thicken hair strand temporarily - which shampoos like Taoist Soap, which is designed for the body and scalp renewal, are designed to stop inflammation, the root cause of hair loss in the first place.
Of course, this does not mean anything is a "cure" per say - because natural methods require that you do work on more than just one level at reaching a cure to your condition - be it hair loss, or a skin condition or something else - diet and exercise as well as mental states and what else you do (your lifestyle) greatly impacts your overall look, health and mental state - even the type of people you surround yourself with.
This is why it is important to not only look for great products for thickening hair, but also work holistically on yourself to reach ultimate health which will surely create powerful changes in your whole life.
Alpecin caffeine based shampoo is not effective for hair regrowth or even stopping hair loss as caffeine does not help stop inflammation - and inflammation is what causes your hair follicle to stop producing hair.