Spinning purple into gold

Do you love both the purple of amethyst and the sunny gold of citrine? Are you an avid Minnesota Vikings fan? I have the perfect gem for you! Sometimes amethyst and citrine colours are found in the same crystal of quartz. These bicolour yellow and purple quartz gemstones are called ametrine.
With ametrine, you can have both gem colours for the price of one! Ametrine is especially inexpensive when you consider that it comes from only one mine in the world.

The Anahi Mine in Bolivia is the major world producer of ametrine. The mine first became famous in the seventeenth century when a Spanish conquistador received it as a dowry on marrying a princess named Anahi from the Ayoreos tribe. Ametrine was introduced to Europe through the conquistador's gifts to the Spanish queen.


Ametrine is most typically faceted in a rectangular shape with a 50/50 pairing of amethyst and citrine. Sometimes a checkerboard pattern of facets is added to the top to increase light reflection. Ametrine can also be cut to blend the two colours so that the result is a mixture of yellow, purple, and peach tones throughout the stone. Ametrine is also popular among artistic cutters and carvers, who play with the colours, creating landscapes in the stone.

Ametrine is a very durable gemstone suited to a variety of jewellery uses. Most sizes and shapes are available but the colour contrast is most pronounced in sizes of over seven carats.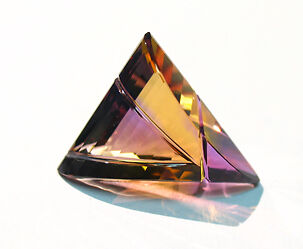 So why compromise, when you can have two varieties of quartz for the price of one?
Share
This material is the best colored Amethyst and Citrine colored Ametrine coming from the only mine that produces Ametrine - the Anahi Mine on the border of Bolivia and Brasil. This material was purchased on one of our trips to our Brasilian office back in the mid-1980's. These were all hand choosen for color. Most of the material on the market/tv is the lighter color which should be seling for only a few dollars per carat.
The darker material is not commonly encountered and we have not purchased any more of this material since that timeframe as we haven't seen this color, quality and price. The color is a medium purple and a medium citrine color. Since every individual computer monitor is setup differently, most photographs, gemstone or others, will appear different on each monitor.
It is difficult to get accurate color renditions when photographing gemstones, but we have attempted to show the color as accurately as possible on our monitor.
All That Glitters Gemstones and Crystal appear in a New Trade Article analyzing a Unique Ametrine showing a 'stepped zone' feature, as well as a nicely saturated 50:50 Faceted Ametrine and a crystal from the source - the Anahi Mine. Read the technical study on these pieces! < Gemewizard Article - The Natural Art of Ametrine >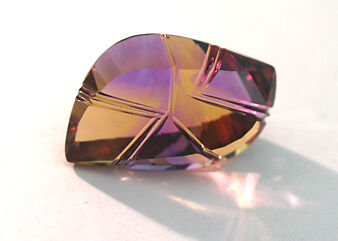 12.58ct Ametrine from the famous Anahi Mine, the only mine producing Ametrine. An unusual shape, an oval, which is not commonly seen. This is a nice deep rich color, and not light like the expensive material one sees in the market. It is an approximately 50:50 split of amethyst purple and citrine. As one tips this gemstone, one sees yellow, purple or an interesting mix! (dolgem-06-01)
Approx: 15.8x12.9x10.3mm $503
Carved and Sculpted Ametrine
(This material is very unique in gemstone material as there are multicolors of amethyst scattered throughout the gemstone. Also, it is both faceted and has carved lines accentuating the mult-colors. Extremely special pieces....)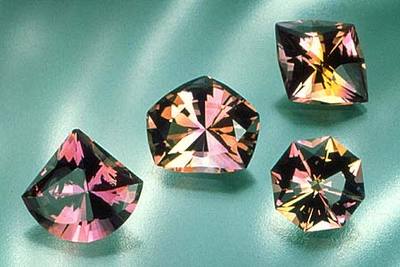 13.91ct Unique Ametrine
We have never seen another gemstone similar to this one as the zoning that separates the amethyst and citrine colors is not a straight line as is expected. This literally shows two right angles; forming a step. GIA has studied this piece ans has made the following comments and observations: 13.91 carat faceted ametrine showing color zoning resulting from parallel growth, and Brazil Law twinning in polarized light - Interesting!
(esm-87-02b) $2,087

A unique Russian Synthetic Ametrine is also available. We have seen photographs of slices of this material in magazines such as GIA's Gems and Gemology Magazine, but we have not seen an actual crystal. Very interesting for a cutter or a collector of Russian's advanced lab grown synthetic experiments. It measures approximately 7 inches by 2.75 inches across. Our scales cannot weigh this crystal because it is sooo heavy but we can tell you that it weighs over 1000ct! $1,400 for this wonderful specimen.
**I took some time to post and research all of this for your aid so PLEASE take one moment to click on YES (right below here) before closing this window...thank you!! :)