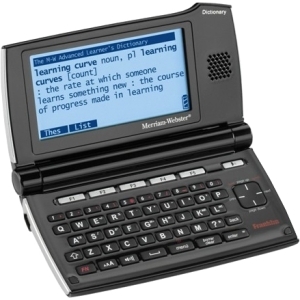 Electronic dictionaries are devices that can store enormous amounts of information, normally contained in several different large books. There are different types of electronic dictionaries and they are becoming more popular among different types of people. More specifically, they are used by many for learning a new language, and are especially popular in Asia among Japanese, Chinese, and Korean people learning English. But English speakers learning Chinese and Japanese have also started to appreciate the benefits of electronic dictionaries. There are many uses that electronic dictionaries can be put to, including solving crossword puzzles. Additional features include handwriting and optical character recognition, TTS and speech recognition, and many more. When shopping for a electronic dictionary, a buyer should consider the different types and the hardware and software features of electronic dictionaries, as well as the different applications and the extra features offered by many electronic dictionaries. Shoppers can find the widest selection of electronic dictionary programmes and devices on eBay.
Types of Electronic Dictionaries
There are many different types of electronic dictionaries. These include electronic dictionary software, online dictionaries, electronic dictionary apps that can be installed on smartphones and tablets, and personal electronic dictionaries, or PEDs.
Electronic Dictionary Software
The first electronic dictionaries were simply electronic versions of paper dictionaries. These were software programmes distributed on CD-ROMs for use on desktop or laptop computers. This type of electronic dictionaries still exist with expanded software capabilities, multimedia features, and search tools.
Online Dictionaries
Online dictionaries offer more or less the same functionality as electronic dictionary software but require no installation on a specific computer. They can be accessed online with or without registration and offer many additional features such as sections on interesting words, and forums or blogs to facilitate discussion between users. The big advantage of online dictionaries is that they can be continually expanded and kept up to date.
Smartphone and Tablet Apps
There are many electronic dictionary apps available that can be downloaded and installed on smartphones and tablets. They contain one or more dictionaries, a search function and possibly other features. Some smartphone and tablet apps also incorporate a very handy optical character recognition feature.
PEDs
Nowadays, the term 'electronic dictionary' is mostly used to refer to handheld devices which are developed specifically to be used for this purpose. Those devices are also called 'Personal Electronic Dictionaries', or PEDs, and come in different models with varying capabilities such as multiple dictionaries, thesauri, encyclopaedias, and more. Some of the PEDs are also equipped with memory slots allowing for expansion packs with references on specialised topics such as medical, business, and computer terminology.
Features of Electronic Dictionaries
Electronic dictionaries, and more specifically PEDs, offer a wide variety of features. Each user must decide for themselves which features they find more important.
Data Input
Most PEDs are equipped with a keyboard for data input. This is usually a small keyboard, as most PEDs are of the 'clamshell' model, meaning that they are built like a small laptop, with a screen and keyboard that can be folded together. Some advanced models also implement a touchscreen. A backlit screen is a related feature that can be very handy when operating an electronic dictionary in low lighting.
User Interface
The user interface, or GUI, of an electronic dictionary is very important, especially as the compact design of the device makes complicated operations difficult. Some models come with user-friendly colour screens. On the other hand, a colour screen uses up more battery power, shortening the device's operation time.
Sound
Many electronic dictionaries have a Text To Speech, or TTS feature, meaning that the device can pronounce words. The sound clarity is very important, especially when using an electronic dictionary to learn a new language. There are two factors that influence the end result: on one hand the quality of the recording and on the other hand the clarity of the sounds the device is capable of reproducing. Some devices are equipped with speech recognition software, meaning that the user just speaks a word, the device recognises the word, and then searches for it.
Multimedia
Some online dictionaries have additional multimedia capabilities. For example, some of the words can have video clips associated with them to clarify meaning and uses.
Optical Character Recognition
Optical character recognition, or OCR, is an extremely handy feature, especially for languages with complicated characters such as Chinese or Japanese. The user can photograph a character or word and the OCR software tries to recognise it. This feature is of course only available on electronic dictionaries that have cameras. Smartphones and tablets usually have a built in camera but there are also PEDs equipped with a special OCR pen.
Handwriting Recognition
Another related feature is handwriting recognition. The user can use a stylus to write the word or character on a special pad. The electronic dictionary then displays a list of words or characters matching the user's input. This is one more feature that is very handy in learning and translating languages with complicated characters.
Dictionary Database
One of the most important things to consider when buying an electronic dictionary is the size and quality of the dictionary database. Some electronic dictionaries incorporate their own proprietary database of words but most use renowned databases such as the Merriam-Webster, Oxford and Brittanica dictionaries. Models with memory slots can be expanded to include additional dictionaries and resources.
Grammar
Many electronic dictionaries incorporate special software that basically understands the grammar of the language in addition to being a list of words. Stemming and lemmatisation are a couple of the methods used to achieve this.
After Sales Service
After sales service is not really a feature but it is certainly a factor that influences a user's choice. The user should make sure that there is adequate support from the manufacturer of the electronic dictionary. in case he encounters some problems after purchasing the device.
Extra Features
Many models also incorporate extra features which are not directly related to the dictionary functions. Such features may include MP3 and video playback, a GPS, calculator, currency and time zone converter and more. There are even models that play with the traditional design, like a very thin electronic dictionary that can be used as a bookmark.
Uses for Electronic Dictionaries
Electronic dictionaries are used by different people for different purposes. Some use them to learn foreign languages, while others use the translators, or even to solve crossword puzzles.
Learning a Foreign Language
This is what electronic dictionaries were designed for. Most high-end electronic dictionaries incorporate multiple well-known monolingual and bilingual dictionaries and offer features such as OCR, handwriting recognition, proper pronunciation, TTS software, grammar software, and more. PEDs can be purchased preloaded with dictionaries for the preferred languages. Some of them only incorporate two languages, but there are also models that can handle translation between several different languages. A memory slot makes it possible to purchase different language packs as required.
Solving Crossword Puzzles
Cheaper models of electronic dictionaries, using monolingual dictionaries, are used by crossword puzzle enthusiasts to assist them in solving the most challenging puzzles. Those models are usually quite basic, with a keyboard and monochrome screen, and lack most of the high-tech features common to bilingual electronic dictionaries.
Travel Translator
Travel translators are usually bilingual electronic dictionaries used when travelling abroad to facilitate simple communication. They usually incorporate TTS and speech recognition and maybe even more advanced feature such as OCR or handwriting recognition.
How to Buy Electronic Dictionaries on eBay
On eBay you can find a wide variety of electronic dictionaries. You simply go to the eBay homepage, type 'electronic dictionary' into the search bar and press 'Search'. If you then go into a category such as 'business, office and industrial', you can refine your search using criteria such as brand, subtype, recording media, key and display size, price range, and more. Of course, if you know what you are looking for, you can also start off with a more detailed search query, such as 'english OCR electronic dictionary'.
When you have found the electronic dictionary you are looking for, it is a good idea to check out all photographs of the device, as well as the payment and postage conditions. When buying online, it is always advisable to contact the seller directly with any questions. To send an email to the seller, just go to their profile page and click on the contact link.
Conclusion
Electronic dictionaries come in all sorts and sizes. Some can be installed on the user's computer or accessed online, while there are apps to download onto a smartphone or tablet, and there are also dedicated PEDs. The user must select the features he finds important according to what he plans to use the device for. Students of a foreign language find the quality of the dictionaries and grammar software very important. OCR, handwriting recognition, and spoken pronunciations are also helpful features for students of foreign languages. Someone looking for a travel translator may value some added features such as a time zone and currency converter or calculator. But there are some features that are important to every user, even the crossword puzzle enthusiast. These include a decent keyboard, a screen with good resolution and possibly backlighting, a simple and intuitive user interface, and of course a good after sales service.