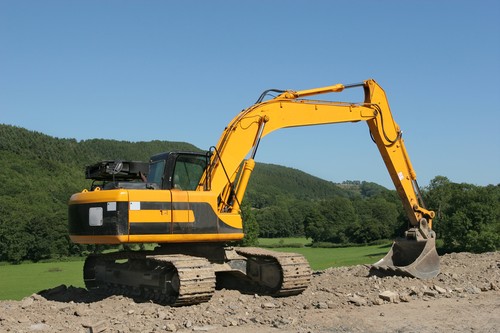 Imagine how much easier it could have been to build ancient infrastructures like the Roman Colosseum and the Great Pyramid of Giza if people then had a construction digger. Surely, Rome could not be built in a day even with a construction digger, but work would have been shorter and far easier. A construction digger packs a heavy punch, whether large or small. It is an important heavy construction equipment that performs a lot of jobs.
Different sizes, conditions, brands, and models of construction diggers exist, and it could be quite difficult to choose which one is best suited for a specific job or location. A construction digger has different parts that need to be identified to familiarise oneself with the device as well as to know what to buy when replacing a part. The condition of a construction digger is also an important consideration when thinking of budget and the type of work to be done.
Construction Digger Overview
Also called mechanical shovels or 360-degree excavators, construction diggers function in many ways. It is most commonly used in digging foundations, trenches, and holes. It is also useful in brush cutting with hydraulic attachments and material handling. Landscaping or general grading as well as forestry work can also be completed with a construction digger. Users can also perform heavy lifting of pipes with this equipment.
Driving piles, combined with a pile driver, is also possible with the use of a construction digger. Furthermore, forms of mining, such as open-pit mining, as well as river dredging are made easier with a construction digger. Construction diggers are manufactured in a variety of sizes, from the smallest mini construction digger that weighs about 930 kg and has 13 horsepower to the largest model available, the CAT 6090 that weighs more than 979,990 kg and has 4,500 horsepower.
Parts of a Construction Digger
The different parts make possible the multiple tasks a construction digger can perform. Familiarising oneself with the parts allows one to know the equipment fully well, and such knowledge can come in handy when buying replacement parts. A construction digger has mainly two parts: the house and the undercarriage. The house is composed of the operator cab, engine, counterweight, and hydraulic oil tanks, and holds the boom. On the other hand, the undercarriage is made up of tracks and track frames, blade, final drives.
Bucket and Blade
The bucket is attached to the stick and boom of the undercarriage, and it comes in a variety of sizes and shapes depending on the application. The large capacity bucket or mud bucket is useful in levelling, clean-up, and digging soft materials. A general purpose bucket, which is relatively small and strong, is used for hard ground and rocks. This type of bucket has teeth and hardened side cutters. Most wheeled and compact, and some medium-sized construction diggers carry a blade, which is needed in pushing removed material back into a hole.
Boom and Stick
The boom, which is attached to the house, connects to a stick that holds the bucket. A boom is mostly a mono boom whose movement is limited to straight up and down. A boom that can also move left and right in line with the machine is called a knuckle boom.
Compact construction diggers utilise a hinge that connects to the base of the boom, so it can hydraulically pivot as much as 180 degrees independent of the machine. The stick or dipper arm that is attached to a boom allows the bucket to pull through the ground. The length of a stick can vary. The shorter stick is called break-out power, and the longer stick is called the reach.
Operator Cab
The operator cab is where the driver stays and manipulates controls, gauges, and operator's restraint system. The operation manual of a construction digger provides useful information on how to operate the equipment. It contains information about the exact location of controls, which may vary depending on the brand and model of a digger. The most common controls include the joystick or trackhoe, which controls the boom, drive steer control, high speed control used to speed up travel and increase the drive pump, two way pedal that pivots the machine's hoe left or right, and throttle, which boosts the RPM of the engine.
The exact description of the controls as well as instructions on how to properly use it is also included in the manual of a construction digger. Usually, the equipment has warning labels and stickers posted around it, and it is important to read their contents for instructions and specific warnings on the particular machine.
Counterweight and Hydraulic Tanks
For balancing a load, a counterweight is needed. Smaller construction can have a counterweight that is made of solid cast iron. Most counterweights, however, are made of steel that is filled with concrete and lead. Hydraulic tanks are also found inside the house of a construction digger. When buying a hydraulic tank, look for one that has a long durability period and good impact resistance.
Tracks and Track Frames
Tracks and track frames are what keep a construction digger going. There are construction diggers that have rubber tracks, which is great for manoeuvring and traction in wet and soft conditions. Rubber tracks are also excellent in driving a digger on asphalt roadways and driveways. Rubber tracks can be replaced manually by unscrewing the grease zerk on the hydraulic piston. The piston would slowly retract so the rubber track can be removed.
How to Choose the Right Construction Digger
Choosing which size of construction digger to use depends on the specific work that needs to be performed. In a construction project, which requires heavy hammering, digging, and bucketing soil, huge construction diggers are normally used.
Such construction diggers can do a construction job quickly, but it takes up space, making them suitable only for large a construction site, mining site, or forest. When there is a small space to work on, a mini construction digger comes in handy. A construction digger of this type can perform small to medium digging jobs. The right size must be chosen when buying or renting a construction digger to avoid costly purchases. Aside from that, buyers must also consider the type of hydraulics control of the construction digger.
A digger can have an electronically or mechanically controlled hydraulics. When needing a precise digging performance, an electronically controlled hydraulics is preferred. Aside from the hydraulics control, it is also extremely helpful to assess the following consideration of a construction digger before making a purchase: size of bucket, depth of digging, and project duration.
Different Brands
In the U.K., the most recognisable brands of construction diggers are Caterpillar, Volvo, Komatsu, JCB, and Hitachi. Relatively inexpensive brands are Komatsu, JCB, and Hitachi. These brands perform well and give good value for money. However, those who prefer more precise and sophisticated construction diggers should buy a Caterpillar or Volvo.
New vs. Used
If budget is not tight, a new construction digger is recommended. It has more assurance of working well, and in case it does not perform well, users can hold on to its warranty to have any problem with the equipment fixed. However, brand new construction diggers are costly and their value depreciates over time, making them a bad investment unless owners have the opportunity to rent them out.
A second-hand construction digger can cost up to 50 per cent less than a brand new digger, whether large or mini type. It would not hurt as much to know that that value of a construction digger depreciates over time when an owner bought it second-hand. The possible downside of buying a used construction digger is the problem that arises because of old or faulty parts. Also, used construction diggers can deteriorate easily even with careful handling.
Buying a Construction Digger on eBay
eBay is a fantastic place to begin and end your search for a construction digger. Whether large or mini construction diggers, eBay has it. eBay lists construction diggers of different brands and models, and in just a few moments you can learn to filter your search to show only the brands you prefer. You also have the option to show new or used construction digger. You can also buy different parts for a construction digger on the website. In addition, accessories such as stickers are also available on eBay. The site is truly a one-stop shop for all your construction digger needs.
When buying a digger, pay attention to the product information because most often it contains the delivery preference of the seller. The seller can offer to deliver the equipment anywhere or within certain locations. Other sellers, however, only allow pick up of the construction digger. Look for sellers on eBay that are credible. These sellers often have a high positive feedback score and have received a stream of positive comments from buyers.
Conclusion
A construction digger is very useful equipment in construction, mining, and forestry work. This type of bulldozer can perform multiple tasks, including digging, heavy lifting, and open-pit mining. A construction digger is generally made up of two parts: the house and the undercarriage. The house holds the boom and stick, which carry the bucket that is an essential part of the construction digger. The undercarriage, on the other hand, has the tracks. To choose the right digger for a construction or mining need, one must consider the size of the digger, the specifications of a job needed to be done, the duration of the project, the type of hydraulics control, among others.
A new construction digger is expensive, but it often gives buyers the assurance of excellent performance and little or no operational problem. The warranty of a new construction digger is also a safety net for owners. A used construction digger, on the other hand, although prone to operational problems and quick deterioration, costs up to 50 per cent less than a new one, saving a buyer a lot of money. Whether new or used, large or mini a construction digger is worth the money because it performs great construction, mining, and forestry jobs, which could have been impossible if done manually, considering the time period a construction or mining job can only afford.