Chikankari has been an evergreen trend since time immemorial. Evolved about 400 years back this trend is a form of delicate floral embroidery which was practiced by the
Nawabs of Lucknow.
It is said that Mehrunissa, the Persian wife of Emperor Jahangir brought this art to India. Traditionally the work was done on cotton or muslin fabric with white thread but in the contemporary days, the use of mirror work, sequins, silk thread etc have also been seen. The best part of chikan is that it can be worn both by men as well as women.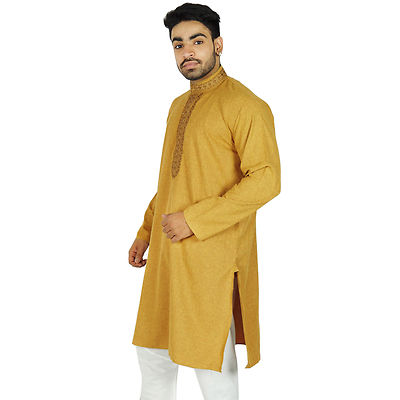 Chikan work is expensive as compared to others as the complete embroidery is handmade. The artisans take almost a fortnight to complete one piece of work if the design is convoluted. Initially, chikan was done only in white but with change in fashion quotient of people, the usage of colors started.

Chikan is equally preferred by men and women all around the globe because of its amazingly done designs. Men who adore chikankari can adorn in a complete long kurta pyjama for a conventional look. This will give you the desi look for weddings and rituals. You can also flaunt a chikan kurta for a casual outing just by teaming a short kurta with jeans. Chikan work for men is not limited just t kurtas. There are shirts available in mild shades which if paired appropriately gives a very subtle look. Since the sherwani trend is on, you can team your chikan kurta with a sherwani and a pyjama for weddings.
Since the chikan kurtas never go out of trend, you can own as many as you wish. We have them in some adorable hues at a very reasonable rate. Avail them easily just by a click and bedeck yourself.