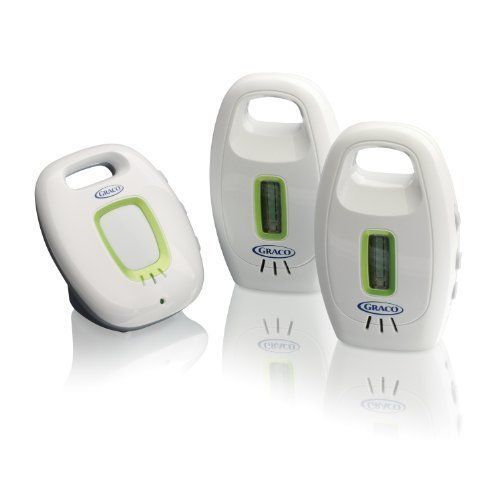 It is not always possible to check on a sleeping baby every few minutes, so it is a great comfort to parents when they can go about their business while either seeing or hearing that their baby is safe. The best way to keep vigil of a sleeping infant, after being there in person, is via a baby monitor. The two main types of baby monitors are voice and voice and picture, and the two signal formats are analogue and digital.
Baby monitors have been around for quite some time, starting out as audio only devices for your nursery. This type is still popular, but the majority now include video and are mostly digital. Nevertheless, some modern analogue monitors also include video and are priced significantly lower than their digital equivalents.
The baby monitor has revolutionised childcare and reduced some of its associated stress. For parents, which monitor can provide the service they need or want determines the purchasing decision. This is affected by the size and type of home, potentially interfering signals, and the different performance capabilities of the equipment on offer.
Analogue Signal
When choosing a baby monitor, buyers are first of all faced with a choice between analogue and digital. The main difference between the two is the type of signal. Analogue monitors operate via a radio frequency and are susceptible to interference from neighbouring devices, whereas digital signal is shielded from most interference. Depending on proximity to neighbours or other devices in the home, however, an analogue monitor may serve just as well for a significantly lower price. eBay is the ideal place to begin looking for this item online.
The analogue monitor comes with several channel options that can be tried for best results. The frequencies most commonly used are the 49 MHz or the 900 MHz, and sometimes the 2.4 GHz frequency which is somewhat less susceptible to interference. With the object of reducing interference levels even further, several analogue baby monitor manufacturers have begun using the 1.9 GHz channel, as it tends to share the least amount of sound waves with commonly used domestic devices.
Voice Only Analogue Monitors
The voice baby monitor is the most elementary and inexpensive of all baby monitor types. This monitor, nevertheless, still allows a parent or other caregiver to listen for any unusual sounds or signs of distress. They offer adequate monitoring for most healthy infants, especially toddlers who may present little physical risk but for whom the parent would still like an indication of their well-being. Audio only devices can be attached to a crib or placed on a nearby cupboard or drawers out of the child's reach.
Voice and Picture Analogue Monitors
The most popular monitor today is the video and picture monitor, which offers the extra comfort to parents of being able to keep watch of their child. This type of monitor comes with many different features according to make and model, and prices vary in line with different specifications, such as signal strength and video quality. The obvious advantages of video monitoring make this the preferred option for parents of young babies, especially newborns.
Breathing Monitors
The breathing monitor detects breathing abnormalities and may be used to supervise a sick baby or one who is prone to breathing difficulties. The monitor can help alleviates concerns for many parents, although for others, the breathing monitor can itself become a source of anxiety. Monitoring a baby's breathing may be necessary at times, but it is all too easy to become obsessive and paranoid, which may be of little benefit to parents without a medical background. The many false alarms such monitors have generated have also caused them to fall out of favour with many parents.
Night Vision in a Baby Monitor
The night mode on a voice and picture baby monitor is an especially handy feature, as it means the room can be in complete darkness without losing sight of the baby. Monitoring an infant at night with little or no light in the room requires the camera to use an infrared light. This is the same technology used by the military and others to undertake night vision tasks.
Technical Information
Infrared light (IR) is invisible to the eye, as the wavelengths it transmits are below the visible light spectrum and so does not disturb a baby's sleep. The camera on a video baby monitor has light emitting diodes (LED) attached, capable of reading both infrared and visible light. An important point to note about the video monitor is that the range with which the camera's lights can pick up an infrared image is very limited. A user needs to mount the camera out of reach but no more than two metres away from the baby.
Depending on the model, the camera may need to be manually switched between regular and night vision or IR modes, or it may switch automatically. Night vision mode displays no colour, and so the resultant image is either black and white or a green monochrome.
Considerations in Choosing an Analogue Baby Monitor
It is important that a customer chooses a baby monitor with a sound understanding of what they can expect from their equipment. Below are listed several points that a customer should endeavour to find out about their proposed baby monitor.
Reception and Range
Baby monitors vary considerably in their claimed audio and picture range. Some manufacturers claim the parent unit can receive signals of up to 600 metres from the receiver. Such promotional information is normally an obvious feature on the packaging. However, customers should understand that the advertised 600 metre range refers to line-of-sight signal and does not take into account walls, floors, furniture and electromagnetic interference. Signal performance is therefore best tested in the customer's house. A good quality unit offers an unimpeded signal of up to 80 metres, whilst a poor quality unit only likely provides about 20 metres.
Type of Property
On a related note, customers should take into account the type of property they live in. Newer houses have thinner walls and so suffer from less signal obstruction than older houses with thicker walls, such as many Victorian homes. A customer living in an old home with thick walls needs to think about that when choosing a baby monitor, as it may mean purchasing a high-end model for best performance.
Sound Quality
The sound quality of an analogue baby monitor depends on which channel is being used to minimise interference. Units with a higher frequency range generally perform better and provide clearer audio with less static. Customers need to remember, however, that many other household items generate radio waves on the same radio frequencies, such as televisions, microwaves, mobile phones, and iPads. On an analogue monitor, such devices can interfere considerably with sound quality and should be positioned elsewhere or turned off accordingly.
Picture Quality
The picture quality of an analogue monitor depends mostly on the camera's specifications, such as its megapixels. Night time picture quality also depends on the size, power and quality of the LED infrared lights. Some units offer exceptionally clear quality but tend to be priced among the more expensive range. For a customer who rates picture quality as a high priority, it is advisable they avoid the cheaper models.
Battery Life
Most baby monitors have the option of operating on battery or via an electrical cord. The majority use non-rechargeable batteries, but some facilitate rechargeable ones. Baby monitors are notorious for using up a battery's reserves quickly, but this again varies according to model and design. Either way, units that facilitate rechargeable batteries are generally the most economical.
How to Buy an Analogue Baby Monitor on eBay
Once you have looked at your options and determined what you need, shopping for a baby monitor on eBay becomes less daunting. Simply enter your search query, such as video baby monitor into the search box. There are also various filters and advanced search options you can conduct to narrow your search.
After finding several items that interest you, carefully check all photographs and other information pertaining to the specifications of the items in question. So as not to be simply taken in by the marketing hype, it is also a good idea to find some customer reviews on your designated item for an overview of other people's experiences.
When you are satisfied that you have found a few items that meet your requirements, it is time to research your potential sellers. Find out as much about them as you can, especially from their ratings and feedback scores, and settle on a seller that you feel most comfortable with. Many sellers also have an eBay store where you can make product comparisons. Always read their terms of sale and pay attention to their return policy. It is not entirely unthinkable that you may want to return your monitor if it does not fulfil your expectations, so make sure this option is available to you.
Conclusion
Baby monitors have provided countless families with reassurance and peace of mind. The various models offer many different features and free up parents to pursue other activities whilst keeping a watchful eye on their sleeping baby. It should always be remembered, however, that a baby monitor is a parental aid, not a parental replacement device. They can never replace actual parental supervision, and they are not intended to.
The majority of baby monitors listed on eBay today are the more expensive digital variety. Nevertheless, analogue models have far from disappeared and customers can still choose between varieties of these models sporting many different features. In doing so, they may find themselves making quite a savings if their living circumstances are relatively quiet with little outside interference. On the other hand, a digital model may be the better choice if there are lots of competing gadgets vying for the airwaves.