html x.html
See at laserjammersuk DOT com
At just under 7/8 Inch in Thickness, 2.95 Inches long. These are the most discrete Laser Jammer around.
Much harder for LEO to see than 2 or 3 Heads needed by far more Expensive, AL Priority LED Jammer.
These are best way to avoid a $500 Speeding Ticket, or in Europe a 3-6 Month Ban, & maybe Losing your Driving Job- Business.
Apart from having a Smart Auto speed limiter of course!.
These easily Jam 95% of Police Laser Guns in use today. Including the US Dominant, Pro Laser 4, and every Euro LTI Model used today.
​
Jammers are the smallest, most Effective, and easiest to fit today.
​Factory made in an extruded Aluminium Sealed-Waterproofed Casing. Designed & made by a leading Manufacturer of Radar & Laser Countermeasure Products.
I know from personal experience these are well made, and have great longevity, in normal road use. Treated with normal care, an owner can expect 3 or 5 Years use from these Jammer units.
​
One Centrally mounted high power Laser Diode Jammer Unit is Proven to protect anything from a small Mini, to a large Ranger Jeep US SUV. With One Head Not 2 or 3 heads, high cost ALP Blinder Stinger models popular only in U.S.
​Europeans only ever buy & use discrete x1 Head Jammers.

These Jammers come with a mounting bracket, all wiring, Buzzer foolproof plugs, and have a 5 Second Maximum Timer.
An Inline cut off Switch can also be used for faster switch off after slowing if wanted.

Speed Limits were set mainly in the 1930-1940's & while Safety is most important, many see it as just Job creation for the Cops, and Revenue for Local or National Agencies.

This Jams around 95% of Police Laser Guns used today, this is not a complete list.

​Marksman 20-20 (Poland EU)
Ultralyte LRB-LR (UK Italy Spain EU & USA Auz Poland)
Ultralyte Compact (UK Italy & USA Australia)
ProLaser 3 (USA & Australia)
ProLaser 4 (Main Gun in U.S. & Australia)
Poliscan Auto Germany Australia (Angled Over)
Pro Lite (E.U. Poland Sweden France)
Riegel (Germany Holland)
Stalker 3.5
Stalker LR (USA)
Stalker XLR
Truspeed S (USA Britain EU)
Truspeed SX (USA Britain EU)
​Truspeed LR (USA Britain EU)
---
Alloy and ABS cased Compact Jammers.
Option 1 is Factory made by Snooper and has a 5 second timer. Jams all except possibly the Dragoneye, only used in Canada.
Jams Pro Laser 2-3-4- all LTI Ultralytes etc. Inexpensive too.
Australian CmCm Bought a 3 Head ALP & Tester f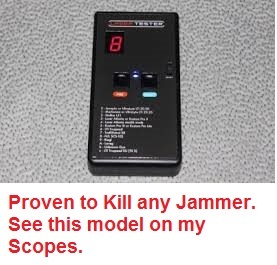 rom VortexRadar. When fitted he tried his AL Laser Tester on it.
The Jammers system was immediately Killed, never to work again. He was Pissed as you can Imagine. Testers are ALL a Scam and Unsafe with Any model Jammer.
On RD Forum the main men, Californian contributors moderators, Detector Salesmen, are suggesting to all viewers-Drivers, making Fraudu
lent Purchases from me, then deliberately Destroying My hand made effective tested Jammers with Shit ALP 'D.C. Signal' Snooper Laser Testurds.
Yes the same ones I warn folk about.
I have had to put these items on hold for now. They follow Forum Owner & Chief Salesman Vortex to the letter. OldCelt, BestRadarDetectors and Red Rocket are among the guilty salesmen. They also stole Biasing Secrets from my Design, Published my Home address. One guy was even sending e mails inviting trouble from their 'Buddies' at local Mosques. They are still trying to say Radar Detectors are worth a Cent more than $100, plainly Bullshit to anyone that understands how police Radar and Lidar works nowadays.