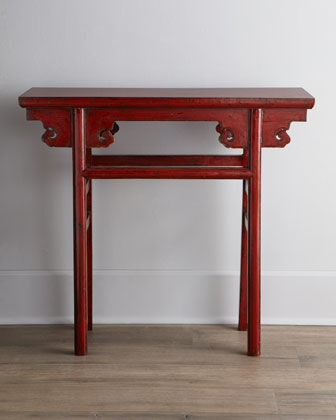 Card-playing has a long history and there is historical reference to card-playing as far back as the ninth century during the Tang Dynasty in China. To this day, card-playing is still enjoyed by cultures around the world and during festivals. Rolling out the card table is indeed a happy tradition in many homes. But today's variety of card table, often lightweight aluminium with a pasteboard centre, bears little resemblance to card tables of old. Antique card tables were made of wood, usually fine mahogany or walnut, and invariably of fine construction. Manufacturers employed unique methods to fold away and store tables which featured intricate patterns and designs. These antique card tables could be found in the drawing rooms of wealthy families all across Europe in the past.
History of Antique Card Tables
Tables dedicated to the pastime of playing cards first appeared at the beginning of the eighteenth century. Rectangular in shape with a folding top, they were usually made of mahogany, featuring cabriole legs that would swing out to support the flap or flaps. Later, walnut became the wood of choice, with the swing legs supported by a strong wooden knuckle joint. As card-playing became more fashionable through the eighteenth century, the craftsmanship of card tables improved. By 1800, satinwood tables became popular, featuring tapered quadrilateral or cylindrical legs. The shapes of card tables also became more varied, with serpentine, circular, oval and D-shapes all coming into vogue. Designs reached the height of elaboration in the Regency period. Some tables had four legs supporting the table top, while others employed a single pedestal, but with ornate inlays or carvings. Some table designs even allowed the entire top to swivel before folding up or down.
Discover Antique Card Tables
Common folk in the early 1800s continued to cluster around stools or upturned barrels to engage in games of chance or card games. But by the late Renaissance period and early Industrial Revolution, people started to have more leisure time and their home furnishings reflected this change. It became fashionable for well-to-do hosts to organize card games for their evening guests. It was only a matter of time before enterprising cabinet makers crafted special, purpose-built tables for the occasion. Money was still wagered, but the games, like whist or piquet, involved more skill and less betting. By mid-century, a card table was almost considered a staple for any household with middle class aspirations.
Parts of Antique Card Tables
There are almost innumerable variations of antique card table types and styles, but the majority adhere to a basic form with similar constituent parts.
| Part | Description |
| --- | --- |
| Table top | Surface for game play, commonly 36 inches across, and 30 inches from the floor |
| Folding table top | Doors protect felt playing surface and can be opened to reveal it |
| Legs | Usually would fold under table top for easy storage, could also have extra legs that swing out for added support |
| Playing surface | Usually wood in early pieces, later could be baize, felt or other materials |
| Stand | Single support for pedestal-style tables |
| Chairs | Some card tables came with folding chairs |
Types of Antique Card Tables
Antique card tables can be found in many styles and shapes, but they all share some common features: typically a flat and horizontal surface for game play, and legs that can be folded away for easy storage.
| Type | Description | Advantages | Considerations |
| --- | --- | --- | --- |
| Pedestal card table | Table top is supported by one main post | Easy for all players to tuck legs under table | Less easy to store away |
| Console style card table | Flat on one side for placement against a wall, but can be pulled out for use as the top folds out to double the surface for game play | Does not need to be stored away | Not a true multi-purpose table, as the inside is often recessed for game play |
| Loo table | Featured a tilting, rather than a, folding top | Top can be tilted up and table placed flat against a wall | Named after Lanterloo, a popular Victorian era card game |
Factors to Consider When Buying an Antique Card Table
eBay can assist in the antique card table selection process. Comparing a card table of interest to similar pieces will help to determine the value. Examine the design, portability and type of wood used of several similar antique card tables. Scan the supplied photos for common signs of age and wear. Written documents relating to the provenance of the card table can also add to the value, especially if it was owned by someone of historical note. Shopping for an antique dressing table can be exciting and interesting. But a little research and knowledge will greatly assist in making an informed choice.
Materials – Consider the quality and usage of the wood. Is one type of wood used throughout the construction, or is a higher quality present on the outside, with cheaper wood used on the back, underneath and inside for drawers?
Accents – Does the wood have any special inlays or detail carving? This will add value. The legs of antique card tables can sometimes be quite ornate.
Condition – Check for the stability of the piece. Does it wobble? Open the top of the table to reveal the playing surface. Inspect the baize or felt for tears, spills and weathering.
Originality – An antique card table is more valuable if it retains all the original features.
Finish – The original finish should show signs of wear. Check for uniformity or recent or deliberate weathering.
Typical Features of an Antique Card Table
Cabriole
A curved table leg where the knee faces out and the ankle faces in. On card tables, these were usually hinged to fold under the table top.
Ornate knee
The knees on the legs of antique card tables were often carved in the shape of shells.
Cylindrical corners
Each corner is recessed to allow the placement of a candle to add light.
Wells
Slight depression to hold coins, bills or counters
How to Care for an Antique Card Table
Antique card tables are fragile and require care and attention. Direct sunlight can easily damage the wood, as can moisture if the piece is stored in a basement or loft. The objective of cleaning antique furniture is to get right down to the original finish. The easiest and safest method is to wipe down the wood with warm water using a mild dishwashing detergent. If more cleaning is required, mineral spirits or paint thinner can be used, but always apply it first to an inconspicuous area to see the results, then move on to the rest of the piece. Exercise great caution with a felt or baize playing surface. Cleansers may leave stain marks so consult an expert before using anything other than a damp cloth.
Popular Antique Card Table Styles
It is easiest to shop for antique card tables according to furniture style. Below are some of the most popular:
Edwardian
Louis XIV
Louis XV
Louis XVI
Baroque
Early colonial
Mission
Jacobean
Rococo
Chippendale
Hepplewhite
Rustic
Shaker
Sheraton
William & Mary
Windsor
Germanic
Federal
Empire
Revival
Eastlake
Art Noveau
Accessories and Add-ons for Antique Card Tables
Antique card tables require special care, including products that can be useful for maintenance.
Refinisher
Antique furniture wax
Mild soaps or cleansers
Soft cloths or brushes
Finding Antique Card Tables on eBay
Once you determine the type of antique card table you want to purchase, visit the Antiquespportal on eBay, click on 'Furniture&', then 'Tables&' and start searching item listings. The Categories list on the left-hand side of the eBay page helps to narrow the search.
Searching for Antique Card Tableson eBay
Search eBay listing titles for specific words when shopping for an antique card table. For example, to find a nineteenth century mahogany folding card table, type 'Antique Card Table' into the search box, and then click the Advanced button to customise the results. Also visit eBay's Search Tips page for more advice on searching for antique card tables with keywords. If you can't find the exact antique card table you want, try shopping eBay Stores..
Conclusion
Finding the right antique card table begins with knowing what style you want, and what type of games it will be used for. Some games are for only two players, others can be for four players or more. The more players there are, the bigger the table needs to be. The information on eBay can help assist in matching the right antique card table with the needs required of it. Once you have collected this information, you can buy an antique card table of your preferred style safely and securely on eBay.<