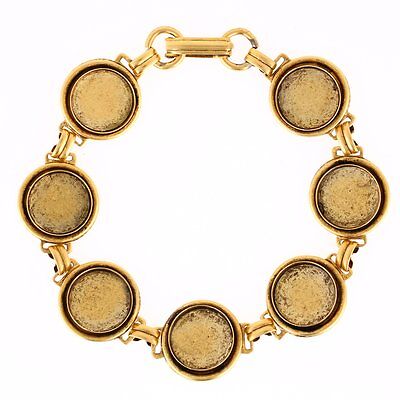 An antique gold link bracelet can make a wonderful addition to a vintage jewellery collection for either wear or display. Depending on the age, the quality of the metal, and condition of the bracelet, it can be quite valuable or relatively inexpensive. Many buyers deciding to purchase antique gold link bracelets do so either because they already have a collection of vintage and antique items or because they would like to add an interest piece to their wardrobe. One of the biggest advantages of buying antique jewellery is that items are usually unique compared to those sold in stores today.
Buyers can choose to purchase an antique gold link bracelet in a variety of venues including antique shops, antique jewellery stores, online stores, and on eBay. Each of these venues has its own pros and cons with factors including convenience, availability, styles, quality, and price. Obviously online stores such as eBay have a larger selection and are often more affordable, but physical stores can allow buyers to get the item more quickly. Other than these factors, buyers should make a decision based on the quality of the gold, the style of the bracelet, the price, and the age of the bracelet.
What is a Gold Link Bracelet?
A link bracelet is any bracelet made of interconnecting gold links. These can be relatively oval like a chain, very long and thin, or round. Styles can vary to include space between the links (like a chain) or solid links that connect and can range from thin to chunky styles. Link bracelets can be termed 'chain' bracelets due to the fact that many of them resemble a length of chain.
The gold link bracelet can be decorated with designs, patterns, precious gems, or can be pure, solid gold, depending on the maker. Different colours of gold including white and rose gold sometimes qualify as antique, although the gold purity of older antiques might not be certain. However, the system of carats and valuing gold has been set for hundreds of years, so any gold marked as pure is likely to be pure.
How Old is Antique?
Antique gold link bracelets include any bracelets that are near or over 100 years of age. While traditionally an item 100 years or older is defined as antique, many people market items that are 95 or 97 years old as antique as well. While there is some small definition between these nearly antiques and actual antiques, the value is about the same, especially if the period of production is about the same.
Most antique jewellery is categorised according to period, and these include Gregorian, Victorian, arts and crafts, Edwardian, art nouveau, and art deco. Each period is characterised by styles, designs, cuts, gemstones, and technologies that were available during the era. For example, the jewellery from the Gregorian period often features animals and nature motifs while late Victorian jewellery features fantastical creatures and moons and stars. Edwardian and late Victorian jewellery shows a dearth of diamonds and multi-faceted jewels after diamonds were discovered in Africa and the diamond saw was invented.
A Quick Guide to Gold
Gold is sold in carats, sometimes spelled karats and shortened to either k. or ct., depending on where the gold is made and stamped. According to history, the first carat mark originates from ancient Rome when the emperor Constantine minted the gold coin 'solidus' that was 1/72 of the mass of a pound of Roman gold, or equal to 1/24th of a Roman siliqua.
The carat is 1/24th of the total amount of gold in an object by weight. One carat is one 24th of the total, so a classic 18 carat gold link bracelet would be 75 per cent gold, and so on. Buyers can use this standard to determine how much gold is in an the antique gold link bracelet that they want to buy. Gold is actually very soft, so most people consider standards between 16 and 20 carats to be optimum between purity and strength for jewellery. Everyday jewellery is rarely made at standards above 18 carats.
| Gold Carats | Per Cent Gold |
| --- | --- |
| 24 | 99-99.9 |
| 22 | 88-91 |
| 20 | 80-83 |
| 18 | 75 |
| 14 | 58 |
| 12 | 50 |
| 10 | 41 |
The minimum standards for 24 carat gold is 91.1 per cent in most of the world; however, other standards do exist. For example, Asian gold link bracelets might have a 22 carat hallmark, which means 92 per cent gold. Different standards in different areas can also mean different minimum amounts of gold for the carat stamp. If the gold has been hallmarked, it should be visible on the back of the jewellery, most likely on the clasp. Buyers looking on eBay for an antique gold link bracelet can ask for photos of the hallmark if the amount of gold present in the jewellery piece is an important decision factor.
Coloured Gold
Gold is naturally yellow in colour but can be developed into different colours including rose, white, red, grey, green, and even black during the alloy process. Because low carat gold must be heavily alloyed anyway, various colours of gold are quite common. White and rose gold are the most common and most appreciated colours of gold. Considerations include that about one in eight people suffer from a contact allergy to nickel when worn over long periods of time, and nickel is one of the most commonly used white metals in white gold. Copper is commonly used in both rose and red gold, which is usually less of a risk for people with nickel allergies.
Places to Buy Antique Gold Link Bracelets
Antique gold link bracelets can sometimes be purchased in antique stores, in jewellery stores that deal in antiques, at estate auctions, and online sites such as eBay. Some of these venues might carry gold link bracelets while others, such as eBay, are almost guaranteed to have a large selection. Shoppers should consider how much trouble they want to go through, how soon they need the bracelet, and what styles they are looking for.
Finding the item is the most difficult part of shopping offline. Many auctions and jewellery stores carry antiques, but it is not always certain which styles are being sold, or even if more than one type of the same bracelet is up for sale. Finding and choosing an appropriate antique gold link bracelet offline can be time consuming, but the buyers should eventually find very nice options at a reasonable price.
Buying antique bracelets online is an easy way to cut time out of the search process. Buyers can simply search websites such as eBay to quickly see a range of styles and qualities, and often narrow down their selection using specific criteria such as age of the bracelet or price. The disadvantage of purchasing antiques online is that it is harder to see the item, except in photos.
Buying an Antique Gold Link Bracelet on eBay
eBay is a good place to find and purchase an antique gold link bracelet. With multiple styles available from different periods, different carats and colours of gold, and different types of bracelets, most buyers have no trouble quickly finding a suitable antique gold link bracelet. New options are also constantly added to the site, so if you are looking for a specific item that is not listed, you could always check back at a later date to see new sales and additions.
Purchasing an antique gold link bracelet should involve looking at the photos provided, reading the item description provided by the seller, and then either contacting the seller or making a purchase. It is very important to understand that most items on eBay, especially antiques, are sold as-is, so any defects explained in the description and photos come with the item. Buyers who are in a hurry might be able to speed up the process by paying for a faster shipping rate, purchasing from local eBay sellers, or offering to pick up the item if it is close enough and, of course, if the seller agrees.
Conclusion
Antique gold link bracelets can be an excellent addition to a jewellery collection for either wear or display. Antique items are often very strong and can be worn for fashion, which is popular for lovers of vintage items, as well as those who want something no longer in production. Many people also collect antique jewellery, which is also a good reason to purchase an antique gold link bracelet.
Gold link bracelets use individual interconnecting links to form a ring and most often have a clasp that resembles one of the links. The gold is normally rated in carats, although many antiques do not have a hallmark. Gold link antiques can be purchased at antique and antique jewellery stores, online, and in a variety of venues, but can be difficult to find in some types of stores. Buyers should check the condition, the age, the quality, and the style of the bracelet before making a purchase.