When we talk about antique metalware we are generally referring to items which are crafted from brass, bronze, pewter and copper. Whilst materials such as silver and gold are also metal, these are considered to be fine metals and come under categories of their own.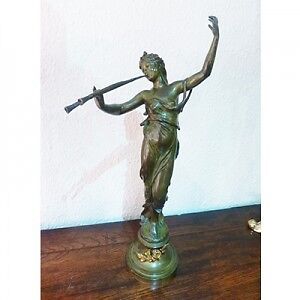 Metals have been used to create beautiful items for thousands of years. From sculptures to door furniture, skilled craftsmen used various metals to both fashion and embellish a wide variety of useful and decorative pieces.
Brass was commonly used in various eras of history, including Victorian, Edwardian, Art Nouveau and Art Deco designs. Gorgeous and elaborate candlesticks can be found dating back to the 18th century along with ornate brass door knockers from the same era. Brass was also commonly used in the production of pots and kettles which hung over the fireplace for cooking. Antique brass is easily distinguished from newer brass due it its incredibly soft patina.
When we talk about antique bronze, most people automatically think of the wonderful bronze statues produced in France by renowned sculptors such as Antoine Louis Bayre. But bronze was also used to create ornate chandeliers, snuff boxes and elegant clocks, along with many other pieces. Vienna bronzes are also highly collectable, with Franz Bergman bronzes probably being the most famous and sought after of them all.
Pewter was used to produce many different household items. Tankards, pitchers, bowls, plates, candlesticks and even buttons and buckles can be found made from this silvery grey metal. Antique pewter is once again quite easy to identify. Because it is a soft metal, years of wear and use make the surface uneven to the touch, even though it may look smooth.
Copper was also a popular metal from which many household items were made. Pans of all sizes, mugs and warming pans are some of the more common items to be found
Antique metalware which was produced in the UK and intended to hold a specific serving or measure will often have some kind of verification mark upon it. This makes pinpointing the maker a little easier. In the case of antique bronze sculptures, they will often be signed or stamped by the maker.
Another popular area of collection is the tiny trinket and patch boxes produced by applying enamel over copper. This process dates
back to the 17th century in France, but as they became popular, British companies began to look to their neighbours for inspiration and these 'Bilston and Battersea' boxes began to be crafted in England. Now highly collectable, ones in good condition can command high prices from collectors worldwide.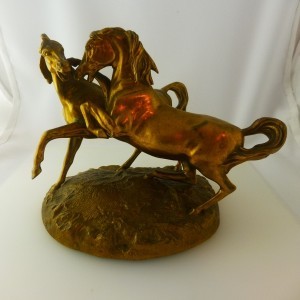 Antique metalware also includes pieces produced from wrought iron, tinplate and steel and can include various outdoor items such as weather vanes, gates of all sizes and lanterns.
Whatever type of metalware you are looking to purchase and/or collect, it is always imperative to find pieces in the best possible condition. Dings and dents can greatly reduce both the value of a piece and its appearance. As with all antiques, handle as many pieces as you can so you begin to appreciate the feel of good quality items.
Antique metalware is perhaps one of the most overlooked areas of antiques today. Because of this it makes it far easier to search, and perhaps find, that hidden gem. But you'll need to hurry, because many people are turning to this fast growing area of antique collecting due to the intricacy and very often outstanding quality of many of the highly usable pieces available.