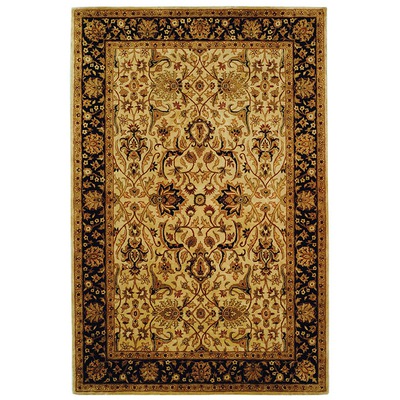 The most common shape of an antique rug is a rectangle, so finding one in this shape may be fairly easy. Choosing an authentic antique rug with a good investment value however, may be more challenging. This buying guide will provide consumers with the information needed to make an informed decision when purchasing a rectangular shaped antique rug. This guide will discuss the importance of determining an antique rug's authenticity and quality. Readers can also expect a brief history of antique rugs, a look at the variety of shapes available, some of the most common motifs and decorative elements used. In addition this guide will look at some tips on how to maintain an antique rug.
History of Antique Rugs
Historically there have been two cultures at the forefront of antique rug-making; the Persians and the Turks. The first evidence of antique rugs used decoratively was found in the Achaemenid Empire in Persia (550-330 BC). Rugs were excavated by archaeologists from the tomb of Cyrus the Great, one of the leaders of the Achaemenid Empire.
Rug making continued to be prevalent in the Middle Eastern culture. Following the Achaemenid Empire, the Selijuk dynasty in 11th century Turkey brought an exchange of weaving techniques between Persia and Turkey that would greatly expand both nations' capacity to create rugs.
Flat weaving, as well as the use of both the Turkish single knot and the Persian double knot would lead rug creation to reach its apex in terms of decorative beauty. Turkey's own rug creation tradition would be passed forward to the Ottoman Empire. The Ottomans, with their vast trade networks with Europe, would be greatly responsible from the early 14th century forward for creating high demand for Middle Eastern rugs. Castles and cathedrals dotted across Europe would be decorated with ornate Turkish and Persian rugs. Decorative rugs would become a luxury item sought out by European nobility and aristocracy.
Discover Antique Rectangular Shaped Rugs
The rectangular rug is the most common shape of antique rug. With a variety of motifs, designs, and sizes of rug available, consumers have a good selection to choose from, here on eBay and beyond.
Parts of Antique Rectangular Shaped Rugs
The design or motif of an antique rug generally takes the same form each time. The following listing will describe the parts of an antique rug.
| Part | Description |
| --- | --- |
| Main Border | The widest decorative design area around the outside of the rug. |
| Guard Border | The narrower decorative designs flanking the main border of the rug. |
| Field | The background of the rug inside the borders. |
| Medallion | The round, oval, or polygonal design element that often occupies the centre of the field. |
| Corner Brackets | Designs that often fill in the corners of fields. |
| Fringe | A decorative border of thread that often, though not always, hangs at the end of an antique rug. |
Types of Antique Rugs
The following list will detail some of the major types of antique rugs available.
Type

Description

Considerations

Use of rich colours, often red. Often use an octagonal elephant's foot (Bukhara) print.

Contemporary Afghan rugs are sometimes referred to as "war rugs" as they often are woven by displaced Afghan war refugees.

Arabian

Decorative field often uses silk in larger rugs. The remainder of the rug is usually made from wool.

The story of Aladdin's magic carpet comes from the Arabian rug tradition.

Rug designs often have traditional Buddhist and Taoist religious influences.

Chinese rugs were not available outside of China until the middle of the 19th century.

Tibetan

Rich colouring with simple, repeated geometric motifs.

Interest remains for Tibetan tiger rugs. A rug used for tantric meditation.

Wangden rugs have a loose knot count and a shaggy fringe.

Indian

Often hand knotted with high knot density. Known for the presentation of realistic imagery.

Contemporary Citipore rugs (a small Indian town) are widely available from major retailers today.

Renowned for their richness of colour, variety of pattern and quality of design.

Iran currently produces over 30% of the world's decorative rugs.

Often rectangular shapes, with a smaller knot count than Persian rugs.

One of the most well known and established handmade crafts.
Types of Common Motifs Found on Rectangular Shaped Rugs
Below is a list of some of the most common motifs that appear on antique rugs.
Type

Description

Considerations

Shah Abbassi

A grouping of palmettes

in a medallion design.

One of the most common motifs used in antique rugs.

Herati

Repeated design of flowers within a diamond surrounded by curved leaves parallel to each other.

Pattern created in the town of Herat in Afghanistan.

Zil-I-Sultan

A repeated design that resembles a bouquet of roses.

Woven most often in Qum and Abadeh in Iran.

Rosette

A circular design radiating from the centre medallion that resembles the petals of a rose.

Shape derived from the natural form of the rosette in botany.

Mina-Khani

Repeating field pattern featuring a main palmette surrounded by circular vines.

Traditionally a design reserved for only certain weaving guilds.

Gul

Repeated octagonal patterns often with a flower theme.

Common motif for carpets originating from Turkman, Gorgan, and Khal

Boteh

Droplet shapes (paisley) usually found in clusters.

Boteh is a Farsi word that means palm leaf.

Guli Henna

A diamond shaped bouquet medallion with plant like motifs with flowers and leaves around the diamond.

Refers to the Henna Flower.
Factors to consider When Purchasing an Antique Rectangular Rug
Below is a list is of some of the most important factors that consumers should consider before making a purchase of any antique rug.
Hand knotted versus woven
A hand woven antique rug versus a loom woven rug represents a large difference in value. To test whether a rug was hand woven flip it over and check the stitching on the back side of the rug. If the stitching is perfect without loose ends, it is evidence of a loom being used. Hand woven rugs are expected to have a few minor imperfections in the stitching.
It is important to assess the colour of an antique rug. Historically, in the production process, natural vegetable dyes were used to colour rugs. These natural dyes did not have the vibrant quality of contemporary artificial dyes. Colouring that appears to have some signs of fading with a natural look actually adds value to an antique rug. Consumers need to be wary of bright, vivid colouring on a rug classified as antique.
The knots per square inch count
An important factor in determining the quality of an antique rug is the knots per square inch (KPSI). The more knots that occur in one inch (2.5cm) the higher the quality of the rug. A quality handmade rug should have a KPSI rating between 150- 250 KPSI. Inquire about the KPSI of rugs being considered.
How to care for Antique Rugs
It is advised that the rug is placed away from heavy foot traffic. Some rug owners may hang a valuable rug on the wall so that it is never walked upon. When finding a place for a rug, avoid locations that have too much direct sunlight. Direct sunlight may cause an antique rug's colouring to fade.
When cleaning a rug remember the following tips. Never steam clean, use commercial carpet cleaners, or vacuum cleaners on antique rugs as these items may cause damage. Experts advise sending antique rugs for professional cleaning once a year, using a carpet sweeper or broom to remove dust from the item is also advised. If a carpet is stained, clean it immediately with some water and a clean piece of linen. Blot the stain.
Finding Antique Rectangular Rugs on eBay
Once you determine the type of antique area rug you want to purchase, visit the Antiques portal on eBay, click on 'Carpets/ Rugs' and start searching item listings. The Categories list on the left-hand side of the eBay page helps to narrow the search.
Searching for Antique Rectangular Rugs on eBay
Search eBay listing titles for specific words when shopping for antique rectangular rugs, to find antique Persian rectangular rugs, type antique Persian rectangular rugs into the search box, and then click the Advanced search button to customise the results. Also visit eBay's Search Tips page for more advice on searching for antique rectangular rugs with keywords. If you can't find the exact antique rectangular rug that you want, try shopping eBay Stores.
Conclusion
An antique rectangular rug can be the decorative focal point for any space. Antique rugs offer a rich expression of art, history, and the culture of the people who make them. An antique rug is a beautiful addition to a home's décor and may offer good investment value. When buying an antique rug one should remain vigilant in assessing whether or not the rug is indeed an antique and pay close attention to the quality of the rug. Once you have collected this information, you can buy an antique rectangular rug safely and securely on eBay.