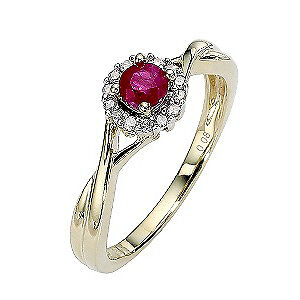 Rings set with rubies have been popular for centuries. However, wearing a ruby as the gemstone on an engagement ring is a fairly recent trend. The style appeals to buyers who want something other than the standard white diamond, something that expresses the unique personality of their soon-to-be fiancée.
Engagement rings, whether ruby or diamond, can be very expensive. Antique ruby engagement rings can be a slightly less pricey alternative to a modern ring. Antique ruby engagement rings may be sold in some antique shops or jewellery shops, as well as through popular online shopping destinations like eBay. Buyers who are considering an antique ruby ring should be aware of what truly constitutes an antique. They should also know what to look for as far as the cut of the ruby, the unique style of the ring, the appropriate size for the recipient, and the precious metal from which the band is made.
About Antique Ruby Engagement Rings
An engagement ring can be called "antique" if it is 50 years old or more. While brand-new rings have no previous owner and no history, antique rings have a unique past that gives them character. Antique rings commonly feature beautiful detailing and engraving, usually located near the gem and possibly extending around the band. This kind of intricate design is difficult and expensive for modern jewellers to reproduce. A modern ring designed in an old-world style would cost far more than a genuine antique ring. Another advantage of antique rings is their tendency to hold their value and even grow in worth throughout the years.
The History of Antique Ruby Engagement Rings
Antique rings that were designed between 1900 and 1920 are typically fashioned from white gold and sometimes from platinum. These turn-of-the-century rings were generally quite ornate in their designs and embellishments. Between 1930 and 1950, white gold remained a common precious metal for rings, including ruby engagement rings. Yellow gold was also popular.
During this period, jewellers often set other gems, such as small diamonds or other precious stones, on each side of the ruby in the centre. In the absence of these side jewels, craftsmen would create other patterns and designs along the band to add interest. The 1940s brought an interesting setting trend. Rather than a standard setting, some jewels were encased in boxlike enclosures to make them appear larger. Rings from this era often feature these "illusion settings" as well as a lot of additional engraving and handwork around the central gemstone.
Choosing an Antique Ruby Engagement Ring
When selecting an antique ruby engagement ring, buyers need to consider several key factors. They should think about the type of metal they want for the ring, the cut of the ruby, and the number of rubies and other stones that they want the ring to include. They should also think about the size and preferences of the person for whom the engagement ring is intended.
Selecting a Precious Metal
Rubies are usually set in a band of precious metal. Antique ruby rings may be set in platinum, white gold, or yellow gold, so buyers have all three options to choose from. In many cases, it is advisable to choose the metal based on the preferences of the future wearer. For instance, many women prefer silver jewellery to gold. They may want a band of white gold or platinum. Women who enjoy gold jewellery, on the other hand, may prefer a ruby set in yellow gold. Buyers should check with the retailer or seller of the antique ring to see whether the gold is 10k or 14k, as there is a price difference between these two gold standards.
Choosing a Solitaire Ruby or Multiple Stones
A solitaire ruby is a single gemstone. Many antique and modern engagement rings feature solitaire diamonds or rubies, focusing the attention on one flawless stone. Other ring designs are more expensive and elaborate, with smaller stones flanking the centre gem. There might be one large ruby with two tiny diamonds, or a mid-sized ruby with slightly smaller rubies on each side.
Buyers may want to consider the size of the recipient's hand and the style of the jewellery she regularly wears. A woman with very small, slender hands who wears minimal jewellery might not want a large ring with multiple brilliant stones. On the other hand, a woman who has a large jewellery collection and enjoys wearing chunky rings may appreciate a ring with a little extra sparkle. Antique rings often have very unique settings and designs available, so buyers are likely to find one that suits their intended bride's preferences to perfection.
Considering the Cut of the Ruby
The rubies in antique rings are not as sharply cut as those in modern rings. In past generations, gemstones were cut by hand by master jewel cutters who spent hours deciding how to best showcase the beauty of the stone. The rubies in antique engagement rings may have a softer glow than the crisp brilliance of the rubies in brand-new rings. However, many buyers value the natural shine of the antique ruby rings more highly. Most of the cuts for rubies have been used for generations though the method of executing them differed.
| Cut | Description |
| --- | --- |
| Emerald Cut or Step Cut | Edges cut in rows of facets, like steps, parallel to the stone's rectangular edges |
| Brilliant Cut | Round with facets cut in the shapes of triangles or trapezoids |
| Mixed Cut | Step cut and brilliant cut combined for a rectangular shape with some triangular facets |
| Cabochon Cut | Simple, smooth dome without facets; common in antique jewellery |
| Heart-Shaped Cut | Expensive cut with a heart-shaped outline and many small facets |
As buyers choose an antique ruby ring, they should understand some of the common cuts for rubies. The cabochon cut is often considered the least reflective cut due to its lack of facets. It is also the least expensive cut. The mixed cut typically results in the most sparkle. However, as an expression of true and lasting love, the heart-shaped cut is a favourite for engagement rings. This cut is somewhat rare for antique rings.
Discovering the Right Size
Many grooms-to-be prefer to keep their proposal a secret until they can surprise their special someone with the ring. This makes it a little difficult to determine the right size. Some recommend secretly borrowing another ring and using a ring sizer to identify the right size. However, buyers should be sure that the borrowed ring fits the correct finger on the woman's hand. If in doubt, buyers may want to go a size larger and then have the ring resized after the proposal.
If the couple is choosing the ring together, finding the right size becomes much simpler. Fingers tend to swell a little throughout the course of the day, so the future wearer of the ring should be measured in the late afternoon or evening to ensure that her ring is right for any time of day.
Buying an Antique Ruby Engagement Ring on eBay
Local jewellery shops or antique shops may carry some antique ruby engagement rings. However, eBay may be your best chance of finding the perfect ring at an affordable price. eBay's sellers often supply incentives like free P&P and money-back return policies. They also occasionally bundle other items together with the core product for added value. eBay's Top-rated sellers, those who have received top feedback ratings from their other customers, have special seals on all their listings so that you can quickly identify them. Top-rated sellers are likely to provide you with top-notch service and a high-quality product.
To begin your search, type "antique ruby engagement ring" into the search bar on eBay's homepage. Next, filter your results according to the price limits you have set for yourself, the condition of the ring, and the type of seller. If you purchase from a local seller, you may be able to pick up the valuable ring yourself rather than having it mailed to you. Once your search is complete, you can save it and eBay will send you emails whenever sellers post new listings matching your search.
Conclusion
Some brides-to-be enjoy having a traditional engagement ring with a classic solitaire white diamond and the band of yellow gold. However, other women may want something different, something that expresses their individuality and their personal style. They may be interested in unusual settings and unique gems such as rubies.
Ruby rings designed over 50 years ago qualify as antiques, and they can be just as gorgeous as modern ruby rings. They are also much more affordable. A ruby's vivid red colour represents love and passion, while its clarity and flawlessness indicate its timeless worth. An antique setting lends character to the ring and ensures that the recipient possesses a piece that is truly one of a kind. If buyers pay close attention to cut and clarity and ensure that the design is one that suits their new fiancée, they can approach the proposal with the confidence that they have the perfect ring in hand.