Antique sewing machines are very attractive, and if still in good working order, practical, too. There is an extensive selection to choose from, including popular brands such as Singer. Purchase a pristine antique sewing machine in good working order, or opt for a model in need of restoration and tackle it as a fun and rewarding project. Knowing what to look for when buying an antique sewing machine ensures you choose the one that meets your taste, style, and needs.
Antique Sewing Machine Body Condition
The condition of the body of your antique sewing machine is critical. Because many sewing machines were originally everyday workhorses, most have signs of wear, because of their extended use. While you can restore the aesthetics of some antique sewing machines, if you simply want an interesting conversation piece, rather than a restoration project, choose one that is in good aesthetic order. Avoid machines with significant signs of rust on the body. Look for flaking paint or enamel, and check for signs of dampness, mildew, or mould, as these eventually destroy the inner workings as well as the appearance. Limited chipping of the paint work is acceptable, as is light chipping of the machine bed. However, extensive chipping exposes the base material to corrosion and requires extensive restoration.
Antique Sewing Machine Mechanical Condition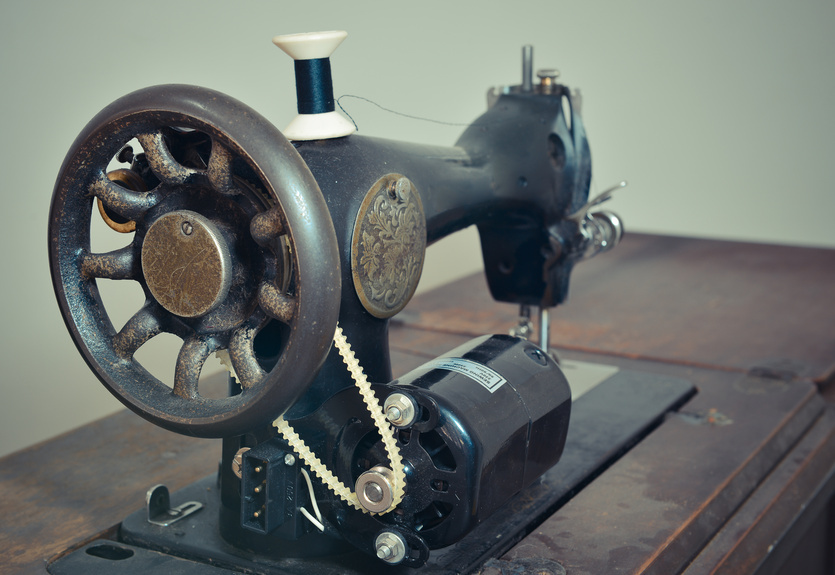 Firstly, ensure the wheel turns easily. If it is very stiff or does not turn at all, it likely needs considerable mechanical restoration. A frozen wheel can strongly suggest dampness, corrosion, or missing internal parts. Ensure the needle moves up and down freely. Some antique sewing machines are missing parts, but this is not necessarily that problematic, depending on which parts you need. A bobbin case, for example, is simple to replace, and you can find an authentic one with relative ease. However, before you take on an antique sewing machine with missing parts as a restoration project, ensure you can easily find and purchase authentic parts. For a machine in the best condition, find an antique model kept in its original case, rather than one on display in a cabinet with no case, as properly stored models have protection from the elements and environmental pollutants.
Popular Antique Sewing Machines

Among the most popular antique sewing machines are those by Pfaff, Necchi, and Singer. Pfaff models are German in origin, while Necchi is Italian, and Singer is American. The Singer Featherweight series of machines, in production from 1933 to 1968, are highly collectible, and if in good working order, are excellent quilting machines. The Singer model 12K Fiddlebed is another popular machine from 1878, with a black body and gold floral decoration. This model is very attractive and is a sought-after conversational piece. The Huskqvarna Northern Star, from 1872, is Huskqvarna's first foray into the world of sewing machines, with a unique design, and is one of the most coveted sewing machines in the world.