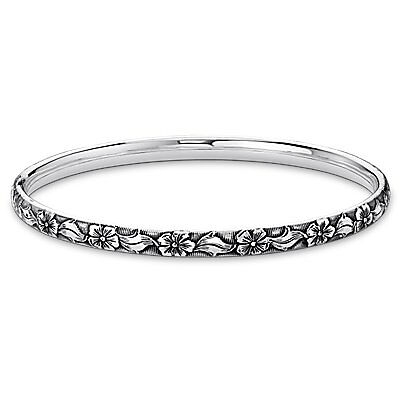 Jewellery has been used as a form of adornment for both men and women for millennia. While the styles and materials used to create jewellery have changed with the ages, people have been making and wearing jewellery for a long time. Many people are interested in collecting and wearing jewellery from the past. Whether a family heirloom or a piece with an interesting design, antique jewellery always has a market. For people interested in collecting and wearing antique jewellery, antique silver bracelets can be a good place to start. Looking online on a marketplace such as eBay gives one a broad range of types and prices to choose from.
Before purchasing an antique silver bracelet, buyers should be aware of several things. They need to understand the different eras of antique jewellery in order to evaluate the age of the bracelet, know the impact of wrist size and how it relates to the size of a bracelet, and understand jewellery hallmarks, which are important in dating any jewellery piece. Finally, an understanding of how to care for antique silver can help protect a potentially expensive investment. With this information, buyers can make the best decision in finding the perfect antique silver bracelet for their collections or use.
Defining Antique Jewellery
Antique jewellery generally refers to pieces that were produced before 1920, but some people consider antique even retro jewellery made between the 1920 and 1950. There are several eras for antique jewellery, each with distinct styles, motives, preferred colours, and stones. While not all antique jewellery falls within these descriptions, the common features of each era can be used to quickly estimate the age of a certain piece of jewellery that one intends to buy.
| Era | Years | Details |
| --- | --- | --- |
| Late Georgian | 1760-1837 | Draped chains, classical motives; cast-iron jewellery, miniatures; rose-cut diamonds |
| Victorian | 1837-1901 | Intricate designs; flowers, hearts, and animals motives; garnet, amethyst, turquoise, coral stones; memorial jewellery |
| Art Nouveau | 1890-1915 | Architecture-inspired; semi-precious stones, enamel, nature motifs; stylised Asian themes |
| Edwardian | 1901-1915 | Delicate, light jewellery pieces with filigree; garland motifs of swags, bows, wreaths; amethyst as the favourite stone |
| Art Deco | 1920-1935 | Flapper styles; precious stones; geometric shapes, Egyptian motifs; non-precious materials such as wood, shell, glass |
| Retro | 1935-1950 | Large and multi-coloured; semi-precious and synthetic stones; Romantic and patriotic motifs of bows, flowers, scrolls; charms; elaborately carved diamonds |
In addition to the word antique being used to describe jewellery, buyers should be aware of the term antiqued. Antiqued is frequently used to describe an item that has been treated to look older than it is. Buyers can use the features of jewellery produced in different eras to help identify a jewellery item as antique. Also, the word vintage is frequently used to describe jewellery. Vintage typically describes an item that is not as old as an antique one. Generally, vintage is used to describe bracelets made after 1920, although some consider vintage only jewellery made after 1950.
Antique Silver Charm Bracelets
Antique jewellery has changed with the fashions of each era. As can be seen in the table above, the features that an antique bracelet may have also reflect the style of the time. While pieces vary greatly from era to era, some of the more enduring bracelet designs are charm bracelets.
Charm bracelets were first worn in ancient Egypt. In those times, they were used to literally hold charms to protect the wearer. Charm bracelets did not, however, gain popularity as decorative jewellery until the late 19th and early 20th centuries. Victorian women wore bracelets featuring lockets and family crests. During the Second World War, soldiers collected charms across the world to bring home. Charm bracelets saw another rise in the 1950s, when women collected charms to mark milestones in life. Antique silver charm bracelets are a popular item for collectors but can also be worn as fashionable or costume jewellery.
Silver Bracelet Size
In addition to the weight of the bracelet, buyers should pay attention to the size of the piece. While the size is sometimes given as a length, it generally refers to the inner diameter of the bracelet. Some antique silver bracelets can be custom sized; however, others may not. Generally, charm bracelets and other bracelets with links can be shortened without much impact on the general design of the piece. It can be difficult to adjust the size of bangle-style bracelets, but an experienced jeweller can do that, if the design of the bracelet allows alterations. It is typically easier to shorten a bracelet than it is to have it lengthened. Nevertheless, it is preferable to buy a bracelet in the right size rather than having its size altered after the purchase.
Silver Bracelet Weight
Frequently, the weight of an antique silver bracelet is given in the item's description. The weight of the bracelet can impact the price of the item, although the condition and age of the piece has more bearing on the price. The cost of sterling silver fluctuates depending on the market value. As the price of silver goes up, the price of the antique silver bracelets rises as well. Buyers interested in antique silver bracelets as investment as well as jewellery purchases should take note of the weight of the piece and use it to estimate the value of the piece.
Antique Sterling Silver Bracelet
Silver has been used in different forms in jewellery since it was first discovered in 4000 BC. Sterling silver is often a popular choice for jewellery due to its resistance to tarnish and durability. Pure silver, on the other hand, is both very soft and highly susceptible to tarnishing. Sterling silver is usually marked with a 925 hallmark meaning it is 92.5 per cent silver and 7.5 per cent other metal, usually copper. In addition to the 925 hallmark, gold, silver, and platinum jewellery made in the UK within the last 700 years has a hallmark stamp to identify it as independently tested. Buyers looking at jewellery made in the UK can research hallmarks in order to verify the piece is made from silver as well as help narrow down a date for the piece.
Care for Antique Silver Bracelets
In most cases, antique silver bracelets listed for sale have been cleaned. However, if one is found in a tarnished condition, that does not need to impact the final decision on the purchase. Cleaning silver jewellery does not require chemicals or elaborate processes. Some simple items that are usually found in the home can be used to clean an antique silver bracelet. A piece of aluminium foil, some sodium bicarbonate, and boiling water is all that is needed. Owners should place their bracelet on a piece of aluminium foil inside a bowl. They should sprinkle some sodium bicarbonate on top of the antique bracelet and then pour boiling water on top. The chemical reaction that results cleans the bracelet gently, without damaging potentially fragile pieces. There are also several silver cleaning products that can be purchased for cleaning jewellery, including polishing cloths.
Buying Antique Silver Bracelets on eBay
Antique silver bracelets are available on eBay is a wide range of styles from various ages. You can easily browse the listings to find a bracelet that best suits your needs. In order to find an antique silver bracelet, you can start by entering a general search term such as 'antique silver bracelet&' in the search box located on any page on the site. You get all of the active listings that have the words 'antique silver bracelet' in their description. You can browse the list to get a better idea of the era or style of bracelet you are interested in. You can also narrow down the search by adding more specific descriptors such as 'antique silver bracelet garnets' or '19th century antique silver bracelet'.
Antique silver bracelets can be an expensive purchase. You can get comfortable with buying from a seller by inspecting the bracelet listing carefully. There should be clear information about the age and condition of the bracelet as well as photographs. Expect antique silver bracelets to show wear, but if there is any information missing or if you would like to see more pictures of the bracelet, you should contact the seller before actually purchasing the jewellery piece.
Conclusion
Antique silver bracelets encompass a wide range of dates and styles. Buyers interested in finding the perfect bracelet can find one that suits their taste as well as budget when looking through the selection on eBay. In order to find the ideal antique silver bracelet, consumers need an understanding of the styles and designs of different eras. Importantly, buyers need to know the wrist size of the wearer before purchasing a bracelet. They can also consider the possibility of having a bracelet sized by a jeweller specialised in antique jewellery, if the design of the bracelet allows size alterations. Knowing the differences in sterling silver marking and historical hallmarks helps to ensure peace of mind when purchasing a potentially expensive antique bracelet. eBay has a rich selection of antique jewellery, including silver bracelets from different eras, so buyers are likely to find the right bracelet for their needs and budget.