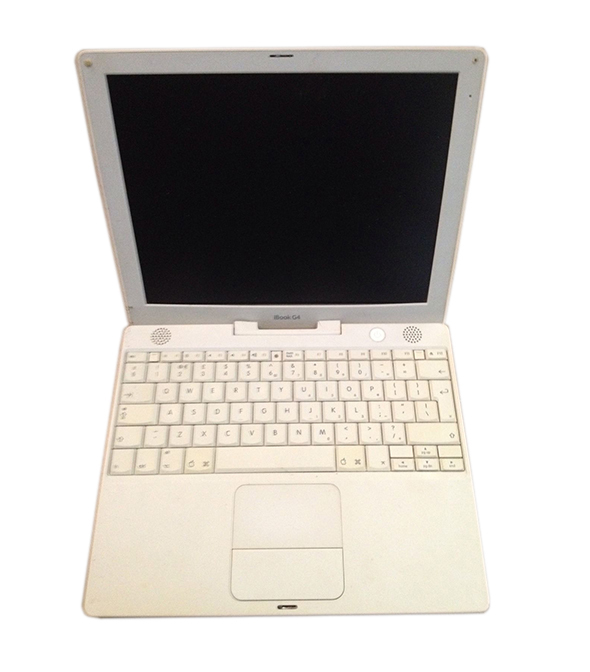 The iBook was Apple's precursor laptop to the MacBook and was the lower end version of Apple's laptops. iBook became defunct in early 2006 and has not been produced by Apple since. However, buyers can still purchase iBooks on eBay for use, collection, and as project computers. Models are available in a range of conditions, qualities, and prices, and with a bit of research and patience, buyers can find very cheap options.
Typically, it is easy to find an iBook on eBay, and most sell at relatively low prices due to the computer specifications being a great deal lower than those on modern laptops. iBook collectors do sell iBooks in good condition for more money, so it is important to look out for options that are not too expensive. The following information can be used to find and purchase an affordable iBook on eBay.
History of the iBook
The iBook is an Apple Mac laptop that was produced from 1999 until 2006. The computer was released in 22 different models during the years of its production, as well as in multiple different colours such as blue, white, black, tangerine, and green. The iBook was also released in different shapes starting with the iconic Clamshell in 1999, which was influenced by the iMac, Apple's first computer. In 2006, Apple retired the iBook in favour of the MacBook, mostly due to the declining reputation of the iBook after some issues with 2003, 2004, and 2006 models, which resulted in lawsuits against Apple.
The iBooks found on eBay are used with the newest having been produced in May of 2006. Many buyers purchase the iBook as a collector's item, but it can also be used by very light Internet users who do not like to use modern programs. The iBook is good for surfing the web, but because even the most powerful models have relatively low RAM and storage options compared to modern computers, it is not good for most programs or even games. In fact, the most powerful iBook has only 513 MB of RAM as opposed to the average 2 GB of RAM in modern computers.
iBook Models
There were 18 models of iBooks released between 1999 and May of 2006, and all of them have different power specifications. Sizes included 12 and 14 inch screens, and the iBook was released as the Clamshell, the G3, and the G4. Buyers can choose a model based on the specifications of each, although the G4 is the most powerful.
Clamshell
The Clamshell is the original iBook and was designed after the iMac. Clamshell was released as a G3 from 1999 to 2000. This model was available in the colours tangerine, blueberry, graphite, key lime, and indigo, although some colours are definitely quite rare, as is the original Clamshell G3. With 32 to 64 MB of non-upgradable memory and 3.2 to 10 GB of memory, this computer is not very useful. However, it is rare and a definite collector's edition for anyone who can find it. The Clamshell G3 is only available with a 12 inch screen.
G3 Dual USB
The Clamshell Dual USB was the second edition of the iBook and was produced from 2001 to 2003. Slightly more powerful than the G3 and with two USB plugs, this computer was also available with a 14 inch screen after 2003. Buyers can expect the G3 dual USB to be slightly cheaper than the G3, mostly because it is less collectible. RAM runs from 64 to 248 MB and storage runs from 10 to 40 GB, which is still quite low by today's standards.
G4
The G4 or PowerPC G4 was originally released in 2003 and last released in late 2005, so it was the last model of the iBook to be released. As the most powerful iBook, it can sometimes be more expensive than other options, although it is usually roughly the same price as it is less collectible. Buyers can choose this iBook for light consumer use, although it does not typically perform at all for anyone wanting to do anything more than surf the web. The iBook G4 is available in 12 and 14 inch sizes with 256 to 512 MB of RAM and up to 100 GB of storage.
Tips for Finding an Affordable iBook on eBay
iBooks are not usually worth much. Usually, any iBook sold for more than a few hundred of pounds is grossly overpriced, so buyers should beware. However, iBooks vary in price and can be purchased for very little money depending on the year, make, and model. Specifications can sometimes come into play, but because they are so low and the computers are so old, they often have no value to standard computer users who would like to surf the web, play games, or use programs.
Look for a 2003 to 2005 Model
Chances are that the oldest models of the iBook are selling to collectors, which means that they are selling for more money. Choosing a mid-model, produced between 2003 and 2005 effectively cuts past the most powerful models, which are most expensive, and the oldest models, which are the most collectible so that buyers can get the best deal. Models between 2003 and 2005 still sometimes have enough power to be used for surfing the web and are likely collectible as well, especially if the buyer is not intending to use the computer.
Compare Options
An important thing to check and do before making a purchase on eBay is to compare multiple options. The more iBooks you compare, the more likely you are to find an affordable one. Typically, buyers can find a great deal on the iBook. It is always important to look at the specs and any delivery cost involved when comparing options because a more powerful computer obviously has a higher value for a user, while an older model has a higher value for a collector. The delivery cost should also be added in, especially if the seller is not located locally.
Consider Poor Condition and Repair Projects
Because iBooks are so old, it is very easy to get them in poor condition with scratches or highly visible signs of use. It is also possible to purchase non-working models very easily, and then repair them. This is a very cheap option because a laptop in non-working condition usually retails for as much as one tenth of the value or less of a working iBook. While this does not hold true every time, persons who are experienced enough with computers to fix one can definitely get a great deal on an iBook by purchasing a for-scrap or parts one on eBay. However, this is not a good idea for anyone who does not know how to fix a computer because it can cost a lot of money to have a computer fixed or repaired professionally.
Look for Local eBay Sellers
Local sellers offer several advantages to buyers looking for an affordable iBook on eBay. The first advantage is that the delivery costs are often minimal, and definitely lower than they would be for anyone who is on the other side of the country, or in an international location. It is also easier to get in touch with local sellers to talk about the iBook before making a purchase, which can definitely be a good idea for anyone who wants to use the iBook.
Purchasing an Affordable iBook on eBay
Purchasing an iBook on eBay allows buyers to access and buy from a range of computers that are no longer in production. iBooks are often very cheap, and eBay has many options of affordable Apple computers. Buyers can compare options, look for cheaper models, and get a very good deal on the iBook with a small amount of research.
Search for the iBook you want from the eBay search bar, compare multiple options, and do not be afraid to contact the seller with any questions about the device. Looking for local iBook sellers can help you to save money on the cost of delivery, so check the location as well as the estimated delivery time and cost. There are plenty of options on eBay, and new choices are added frequently so if you do not see what you are looking for, you can check back at a later time.
Conclusion
Anyone who is looking for an affordable iBook can use eBay as a great place to find a range of different models. The iBook was produced between 1999 and 2006, and can vary in price. The 1999 G3 Clamshell is the rarest of these models and therefore the most valuable, while the models produced between 2003 and 2005 are the least valuable. 2005 G4 models are the second most valuable as they offer more power, memory, and storage options to buyers.
Searching for an affordable iBook on eBay should involve comparing multiple options, checking the specifications and age for actual value, and potentially looking for broken or damaged models. While all iBooks are affordable compared to new computers, it is always possible to get a better deal by researching, taking time to compare, and checking the delivery cost. After finding a suitable option using the information listed, buyers can check out using the seller's selected purchase options.