Samsung has several thin and light laptops that could go up against Apple's famous ultraportable: there's the
ATIV Book 9 Plus versus the MacBook Pro
, or the sadly departed
Series 9 Ultrabook
, which was a big favourite among Windows users until it was phased out. But we're going to give Apple a value test, as the
Samsung ATIV Book 9 Lite
has several features the
MacBook Air
lacks, yet it's considerably cheaper to buy, as David Bayon, Contributing Editor at PC Pro, discovers.
Apple MacBook Air
Samsung ATIV Book 9 LIte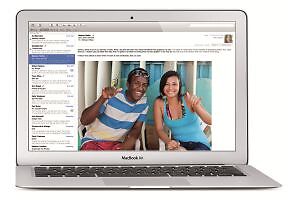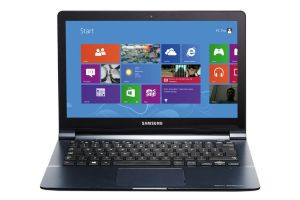 ---

Comparison table
| | Apple MacBook Air 13in | Samsung ATIV Book 9 Lite |
| --- | --- | --- |
| Price | From £949 | £600 |
| Display | 13.3in, 1,440 x 900 | 13.3in 1,366 x 768, touch-sensitive |
| Processor | 1.3GHz Intel Core i5 | 1.4GHz Intel Core i5 |
| RAM | 4GB | 4GB |
| Graphics | Intel HD 5000 | AMD Radeon HD 8250 |
| Storage | 128/256/512GB SSD | 128GB SSD |
| Optical drive | No | No |
| Dimensions (WDH) | 325 x 227 x 17mm | 324 x 224 x 17mm |
| Weight | 1.35kg | 1.58kg |
| OS | OS X | Windows 8 |
Display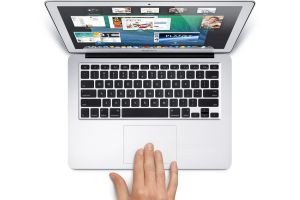 First up, the biggest difference between the two. We're still waiting (get a move on Apple!) for the
MacBook Air
to be given a proper Retina display, even after several versions of the MacBook Pro.
Instead, it currently has a 13.3in 1,440 x 900 screen – a very high quality panel it must be said, but nothing particularly groundbreaking these days.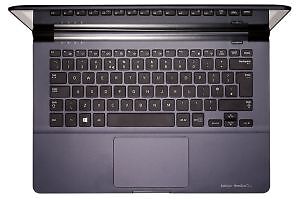 The
ATIV Book 9 Lite
has a lower resolution – its 13.3in panel is only 1,366 x 768 – but it comes in two versions: one standard and one touchscreen model. We're reviewing the touchscreen version in this feature, as it's a great way to make the most of Windows 8's split personality interfaces.
It works well, and it make the big tiles and full-screen apps much more usable. If you don't want the touchscreen you can chop £100 off the price in the table above.
Design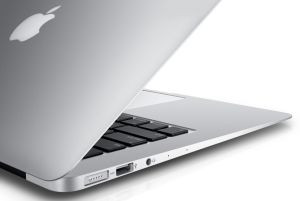 You should know the MacBook Air's design well by now, as it hardly changes year by year. It's still hewn out of beautiful silver metal, with a tapered shape that makes it feel even thinner than it is. It weighs a reasonable 1.35kg, and comes with the familiar MagSafe 2 power connector and backlit tiled keyboard.
As for the ATIV Book 9 Lite, there's plenty of old Series 9 DNA on show, with a very similar look and feel to that popular laptop's slim chassis. It's available in dark blue or white, and it has the Series 9's lovely teardrop hinge design and Scrabble-tile keyboard, but some compromises have inevitably been made for price reasons. It's built from plastic rather than metal, with a fake brushed effect on the lid and a matte effect inside. Still, it feels solid, perhaps because it's not as light as you might hope: despite almost identical dimensions to the MacBook Air, the Samsung weighs around 230g more.
Ports and connections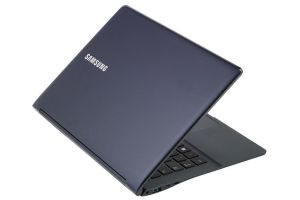 These ultrathin laptops don't have much room for ports, but both cram in a similar roster. Apple includes two USB 3 ports, one Thunderbolt connector and an SD card slot, while Samsung fits in one USB 3, one USB 2, an SD card slot and both Micro HDMI and mini VGA for connecting external displays.
Both laptops come with Wi-Fi, but the MacBook Air's 802.11ac technology is more advanced than the Samsung's 802.11n – though you'll need an advanced router to take advantage. On the flipside, Samsung bundles an Ethernet adapter in the box, to go with the special mini-Ethernet port on the side; the equivalent would cost you an extra £25 from the Apple store.
Performance
The two laptops take very different approaches to their core hardware. The MacBook Air is built around an Intel Core i5 processor and 4G of RAM, a combination that makes for perfectly smooth performance in everyday tasks. It only has integrated graphics, so don't expect to do any real gaming on the Air.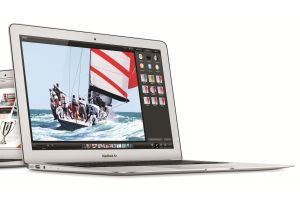 The ATIV Book 9 Lite uses an AMD A6 processor with onboard Radeon HD 8250 graphics. It's a choice that undoubtedly cuts the price of the laptop, but also means it's even worse than the Air with graphical tasks, and occasionally feels a bit laggy when you load up big applications. It's not a huge issue, and web browsing and Office applications run fine, but it's worth bearing in mind.
As for battery life, the Air is streets ahead: a bit of light web browsing gave us more than 11 hours of use, compared to 8 hours from the Samsung. They're both portable, but there's no doubt you get more portability the more you spend.
The verdict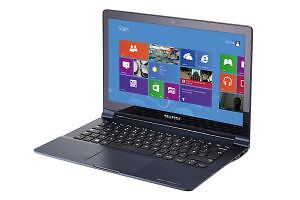 And that's the decision you'll have to make: are you willing to pay £350 more to get the build quality, battery life and extra performance of the
MacBook Air
, or does the idea of a perfectly good, slim and light ultraportable like the
Samsung ATIV Book 9 Lite
for just £600 get you excited?
If you just analysed the hardware side by side you'd choose the Apple every time, but £350 is a significant cost saving – more so if you don't need the touchscreen – and it makes the Samsung something of a bargain in our eyes.
---