Although the current trend is for ever smaller, thinner and lighter devices, for anyone who needs a bit of power there's certainly still a place for a more solid, substantial laptop.
Apple's MacBook Pro
has long been considered the king for those who need to get things done, but there are plenty of 13in Windows rivals battling it out for your attention. David Bayon, Contributing Editor at PC Pro, pits the MacBook Pro against the similar
Samsung ATIV Book 9 Plus
.
Apple MacBook Pro
Samsung ATIV Book 9 Plus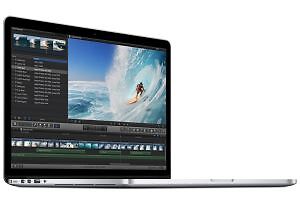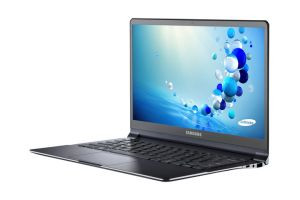 ---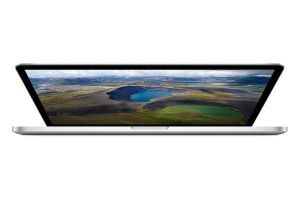 Display
There's only one place to start this face-off, and that's with two simply phenomenal 13.3in screens. The MacBook Pro was the first Apple laptop to introduce the Retina display, with its 2,560 x 1,600 resolution – far sharper than the Full HD of most modern laptops.
It's a glorious and vibrant screen, ideal for artists who need to see all the pixels of an image or for workers who need to cram lots on screen at once for increased productivity.
The ATIV Book 9 Plus goes one better, with an incredible 3,200 x 1,800 resolution panel. It's super-bright, amazingly crisp and has excellent colours – and to top all that it's also a touchscreen, ready to take full advantage of Windows 8's tiled interface. Not everything in Windows is designed for such high resolutions – support is better on the Mac – but using either of these screens feels like a real game-changer.
Design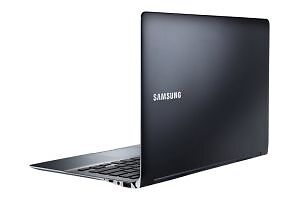 The MacBook Pro design hasn't visibly changed much in recent years, but it has got steadily thinner and lighter. It's currently just 18mm at its thickest point, and weighs just over 1.5kg, making it a noticeable but not overly heavy carrying companion. The build is exquisite, with the usual brushed metal finish, a superbly even keyboard and a large, comfortable touchpad. Everything about Apple's design feels like it's worth the money.
Samsung has done a great job building something that can compete with Apple's quality. The ATIV Book 9 Plus is 14mm thick at the rear to accommodate the ports on the sides, but tapers down towards a very thin front, which helps keep the weight down to just 1.39kg. It's understated yet feels luxurious, although the black interior picks up fingerprints very quickly, and the keyboard lacks the perfect key travel of the MacBook Pro. Samsung knows how to make a sleek Ultrabook, albeit with a few foibles.

Ports and connections

The thinner laptops get; the fewer ports they tend to cram in, but these two models both cover the essential bases. The MacBook Pro 13in offers two USB 3 and two Thunderbolt ports (mainly used for connecting extra storage and displays), along with an HDMI output and an SD card slot. You also get the latest 802.11ac Wi-Fi, and Apple's excellent MagSafe 2 magnetic power connector, which easily pulls out if your trip over the cable.
The Samsung has a similar array: two USB 3 ports, micro-HDMI and mini-VGA for video, and an SD card slot, with 802.11n Wi-Fi and an Ethernet-to-USB adapter included in the box. It might look like it lacks a few advanced ports, but those extras on the MacBook Pro are only really of use to Apple owners.

Performance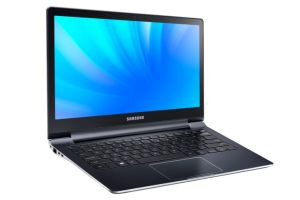 It's hard to directly compare the performance of a Windows laptop with a MacBook, as the operating system and much of the software that runs on it is totally different. Both of these laptops are powerful beasts – although certainly not intended for gaming – and either will run the latest software without a hitch.
There's more of an obvious difference (although again without the possibility of a truly identical test) when it comes to battery life. Apple promises 9 hours of web browsing, compared to Samsung's 11 hours – yet in use they sit the other way round. An everyday light-usage test gave us around 10 hours on the MacBook, compared to less than six on the Samsung. Whether that's down to the different software, the screen resolutions or simply different size batteries, it takes a bit of the shine off the Samsung's superior portability.

The verdict
We've deliberately compared this
Samsung ATIV Book 9 Plus
with the middle
MacBook Pro 13in model
(a cheaper one is available for £1,099), as the specs are very similar – particularly that 256GB SSD, which is a component that affects the price quite significantly.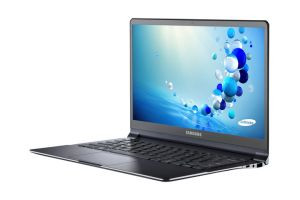 The Samsung costs around £100 more than this MacBook Pro, and for that premium you get a higher resolution touchscreen display and a thinner and lighter body – in fact the ATIV Book 9 Plus is a bit like a mix of MacBook Pro and MacBook Air, and that makes it a hugely appealing power portable.
Whether that's a £100 premium worth paying will likely come down less to your opinion of the hardware and more to your preferred platform. The two are such delightful laptops to use, both with such incredible screens, that it makes more sense to consider the software you're likely to run on them before choosing. Creative types will probably gravitate towards Apple, but Samsung has produced a superb modern companion for Windows 8.
---
Comparison table
| | Apple MacBook Pro | Samsung ATIV Book 9 Plus |
| --- | --- | --- |
| Price | £1,249 | £1,350 |
| Display | 13.3in, 2,560 x 1,600 | 13.3in 3,200 x 1,800 (touch-sensitive) |
| Processor | 2.4GHz Intel Core i5 | 1.6GHz Intel Core i5 |
| RAM | 8GB | 4GB |
| Graphics | Intel Iris | Intel HD 4400 |
| Storage | 256GB SSD | 256GB SSD |
| Optical drive | No | No |
| Dimensions (WDH) | 314 x 219 x 18mm | 320 x 223 x 14mm |
| Weight | 1.57kg | 1.39kg |
| OS | OS X | Windows 8.1 |
---