Arena swimming goggles maximise water performance, granting wearers the ability to see beneath the surface. Designed as over eyewear for professional swim and racing, they prevent water from penetrating the eyes and fogging a swimmer's visibility.
Lens Colour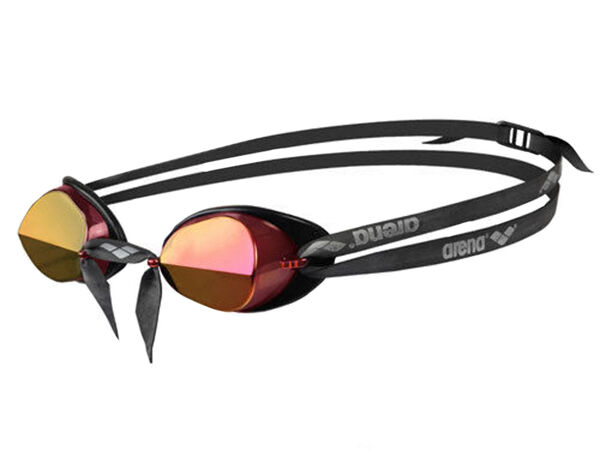 Metallic, or mirrored, lenses are dark-tinted and best suit outdoor use, as dimmed lighting can fog visibility; mirrored swimming goggles, such as Arena's tracks mirror goggles, are designed for frequent or competition wear. Conversely, clear or light coloured lenses, such as those present on Arena's X-Flex goggles, are ideal for indoor wear or early morning swims, as they let in the most light and can make your surroundings appear brighter. Still, dark coloured lenses, such as blacks and blues, offer increased versatility in terms of the different lighting conditions in which swimmers can wear them. To protect the eyes from UV rays, look for those that feature anti-UV coating. Some varieties, like anti-fog swimming goggles, have an anti-fog coating that prevents the lenses from fogging up during use; however, anti-fog liquid can be purchased separately. Low visibility can lead to swimmer collisions, bumping your head on the wall, or slamming into the lane line.
Lens Material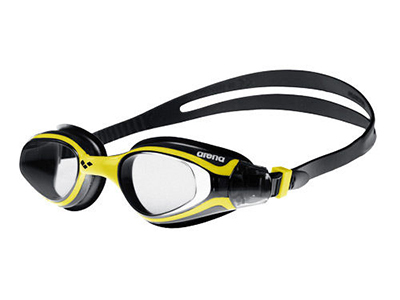 Arena swimming goggles are made of polycarbonate. Characterised as a crack-resistant plastic, this material tends to vary in quality. Optical swimming goggles feature higher-grade plastic, which in turn, enhances vision by reducing distortion.
Gasket
The gasket is the part of the goggles that creates a seal around the eyes. Arena goggles feature rubber and silicone gaskets; these materials stay soft and supple over time, unlike their foam counterpart, which tends to deteriorate with age.
Nose Bridge
Whether shopping for women's or men's swimming goggles, look for those that feature an adjustable nose bridge. This allows wearers to set correctly the distance between the eyes. While some goggles simply feature a tied-off piece of string, others, such as Arena's Pure mirror goggles, have a small rubber or plastic piece with multiple settings for tightening purposes.
Types of Goggles
Arena swimming goggles vary in design to suit different purposes. Competition swimming goggles are low profile, technical, and fit close to the eye socket to reduce drag; these swimming racing goggles are not designed for everyday wear and can prove uncomfortable if used as so. On the other hand, practice goggles are less technical and increasingly comfortable, as they are meant to be worn on a frequent basis. These goggles generally have more gasket rubber to soften eye pressure.