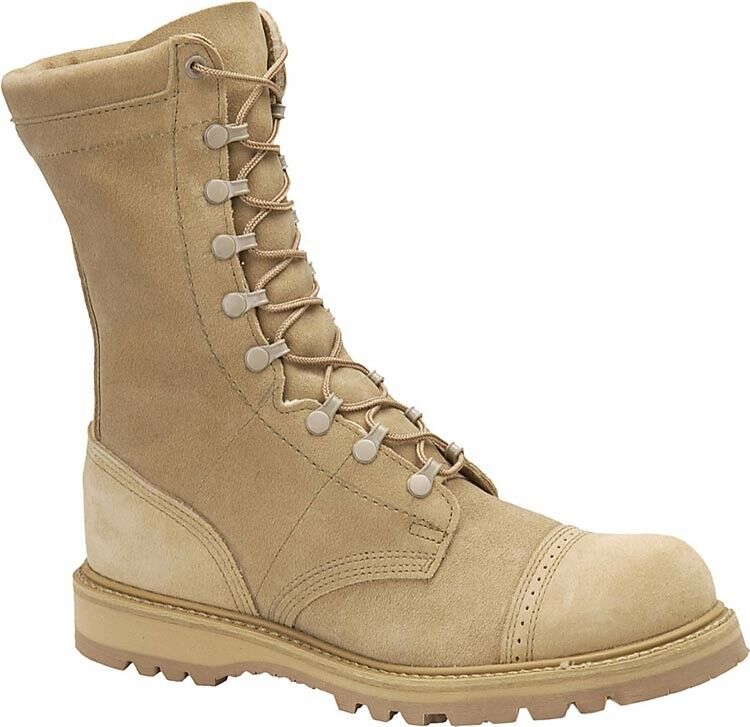 Army issue boots have been bought by civilians for many years, due to their solid reputation as being hard-wearing, durable and built to last. Whether the buyer is focused on collectable pieces of militaria,, or if they are in the market for a new pair of work boots, this guide will aid buyers in finding the perfect pair of army issue boots in terms of material, type, size and much more on eBay.
Army Issue Boots
Material
The materials used for army issue boots vary depending on the type of boot and the period they were made in. The main types of material army issue boots are made from are:
Leather – leather is commonly used for modern parade as well as standard army boots and most vintage and antique army boots will also be made of leather. Leather is quite durable and moulds to the shape of the wearer's feet, though it needs to be frequently treated with chemicals to be water-resistant.
Gore-Tex – Gore-Tex army boots are the most common form of combat boot, as the material is water-resistant yet still breathable, light but strong and very long-lasting. Gore-Tex boots also do not need to be given water-resistant treatments as the water-resistance is inherent in the material.
If the buyer is looking to purchase army boots of a particular material, they should consider what kind of boot would suit them and what they would be wearing the boots for. Leather army boots can look very formal, and go well with different types of clothing; however Gore-Tex boots are best suited for heavy-duty work and may be better for builders or warehouse workers.
Type
Otherwise known as the setting or area the boot is made for, the type of boot varies in design, material and even colour depending on where the boot is made to be used. Apart from the standard, non-specialised army issue boot, the main types of boot are:
Desert – made to complement the desert camouflage uniform employed by many countries for use in desert-based conflict. Desert army boots feature the familiar high tops employed by army boots and are able to be tightly laced to prevent material entering the boot, but are also made of breathable material and have the tan/sand colouring allowing them to match desert camouflage.
Jungle – army jungle boots are quite similar to standard army boots, with high tops and lacing, as well as usually being dyed black. However, they do feature soles with very deep, thick treads to enable good grip during wet and muddy conditions.
Parade – army parade boots are typically made of black leather, and are much more like formal work shoes rather than combat army boots. Though some have no grips – depending on the person the boot is made for, officer's shoes are often flat – they are still very sturdy and well-made.
Size
When buying army issue boots, it is very important for the buyer to consider the size of boot they will need. There are many sizes available and it is vital that the buyer find the correct size to ensure a secure but comfortable fit.
When buying, most listings will include the size of the boot but if unsure the buyer should make sure to check with the seller. If the buyer doesn't know if the size will fit them it may be best go half a size up and fill in the space with thick socks. This will also be the best tactic to employ when breaking the shoes in, as it may take some time for the shoes to adjust to the wearer's feet – particularly for new surplus leather boots, which tend to be rigid and cause blisters when they are first worn.
Country
Designs of army issue boots often vary depending on country, with the different requirements in terms of setting, material and use. These differences can be of great interest to militaria collectors, with varieties of designs not only appealing to wearers but to those uniform enthusiasts.
Countries such as the U.S. and British armies are well-represented on eBay, with their antique and modern surplus items making up a great proportion of the listed items. However, if the buyer wishes to buy items from another country they should use the search bar to check for any matching items.
Surplus
There are many army issue boots available online, and the buyer should consider whether they would prefer new surplus army boots,, or army issue boots that have been used and may have even seen service.
New surplus boots will be in mint condition; however buyers will need to break them in – which, as most people know, can be quite painful. Brand new surplus boots will also be more costly than those that have already been used. Used boots, however, may initially be more comfortable to wear, however they may not be in perfect condition.
When buying surplus boots, the buyer should consider not only the condition and cost of the army boots, but also whether they need them ready to wear right from the beginning.
Period
Many collectors of military items prefer to buy pieces from various periods of history, and army issue boots can be of great interest to collectors as designs, materials and makes have changed vastly over the years. Some items, such as ammo boots have been discontinued and are quite valuable – especially when in mint condition.
Many pieces of military equipment are identified by the conflict they would have served in, such as WW II or Vietnam,, and buyers can identify a specific period of interest through the search preferences or search bar. The buyer should keep in mind that some vintage items are not just for collecting, many items are still worn by buyers – showing their hardy materials as well as good design.
Why Use Army Issue Boots
Army issue boots are not just items for the army, and many people over the years have discovered the many benefits of wearing army boots as part of their work and everyday life. But why wear army issue boots? Some of the reasons are:
Comfort – once they have been broken in, army issue boots can be incredibly comfortable to wear, with Gore-Tex items in particular comfortable in all weather due to their breathable fabric.
Durable – army boots are built to withstand all weather conditions and various types of wear and tear during combat, so they are immensely durable and can easily last for years with proper care – making them a great investment.
Safety – many buyers purchase boots for their great safety bonuses, along with the high top design that supports ankles, many boots feature steel caps to protect toes which can be very helpful to builders and people who work with heavy objects.
Style – army is a style that constantly comes in and out of fashion, and with their long-lasting appeal along with their lifespan, the buyer can always have a pair in the cupboard ready for whenever they are needed.
Convenience – to make them as helpful as possible to the people wearing them, army boots have various factors added to make them convenient. Along with water-resistant Gore-Tex, the tight, high tops prevent anything from entering the boot, and the various kinds of tread available make sure that the wearer is unlikely to slip no matter how muddy the conditions are.
Buying Army Issue Boots on eBay
When the buyer has seen all the various factors that will affect their choice, as well as the reasons why to purchase, they must begin searching for army issue boots online. When searching for boots on eBay, the buyer should consider:
Price – for many people, the price of items is often the deciding factor in any purchase, and there are many kinds of army boots available at a variety of prices. Buyers can use the search preferences to adjust search results to match their budget, and with many items available at both Auction and Buy It Now there is a great deal of flexibility available when purchasing.
Size – the individual listings for boots should list their size, and the buyer can search the search bar to pick out the ideal size.
Type – whether buying antique or modern, jungle or desert, the buyer should bear in mind that along with the materials the prices of boots will also change.
Condition – with surplus boots available both new and used and prices changing depending on condition, the buyer should consider what condition they would prefer their boots to be in.
Local Seller – buying army issue boots from local sellers is an ideal way to keep shipping prices down.
If the buyer needs any more guidance on how to search eBay, they should make sure to consult eBay's Search Tips page for further advice on how to achieve the perfect search result. If they have any questions about any of the items they see listed, they should not hesitate to Ask the Seller..
Conclusion
As many buyers through the years have discovered – treated and kept well, army issue boots will continue to serve their owner in terms of comfort, safety and durability for a long time to come. With this guide, buyers will be able to purchase their own pair of army boots,, while considering such problems as materials, types and ages, on eBay.
When searching for army issue boots on eBay, the buyer should keep in mind the added benefits of using PayPal,, eBay's recommended way to purchase with additional eBay Buyer Protection..