The Same Ellsworth Kelly Screenprint Is Not Always The Same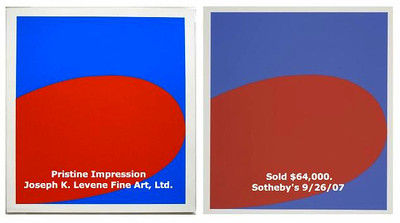 Ellsworth Kelly Red/Blue Color Screenprint: 2 Examples
Condition Overlooked When Buyers Buy On Price
Too often eBay Art Buyers make the wrong decision when comparing prices of the same Artwork from different Sellers, especially when the higher priced Art reflects differences in condition. Artwork in superior condition always becomes more valuable than Art that is torn, broken, repaired, faded, erased, reduced in size, or even worse, counterfeit.
Highest Price Art Not Always Best
The above is a side-by-side comparison of 2 examples of the same Ellsworth Kelly Red/Blue Color Screenprint. On the right, impression sold by Sotheby's New York in 2007 for $64,000, described "in good condition". On left, pristine impression of the same Ellsworth Kelly Red Blue Color Screenprint offered by Joseph K. Levene Fine Art, Ltd. for less than $10,000! The rare and desirable Pristine impression offered by Joseph K. Levene Fine Art, Ltd. looks as good today as it did when it was first published in 1964.
$64K Ellsworth Kelly Dull
The comparison demonstrates the Pristine Impression offered by Joseph K. Levene Fine Art, Ltd. is brighter than the impression of the same print that sold for $64,000 at Sotheby's. The "blue" & "red" of the $64,000 Sotheby's impression is not as bright as the colors on the impression offered by Joseph K. Levene Fine Art, Ltd. The comparison demonstrates the advantage of purchasing art without condition issues.
The Same Christo Pink Store Front NOT Always The Same

Christo Pink Store Front Mixed Media Print; 2 Examples
On left, a pristine example of Christo Pink Store front that has never been framed, hinged or matted and on the right, an impression sold by Christie's. You can immediately see the pristine impression that has never hung on a wall or been framed as a more intense color, and looks brighter. The paper is whiter, just like it was when Christo signed & numbered this limited edition. Will it cost more that the impression at Christie's? Most likely yes, and if it does, don't expect to pay the same price it fetched at auction.
Art Buyers Try Saving Money Buying Lowest Price Art
Many Buyers try to save money and only buy Art with the lowest price, but end up unknowingly purchasing compromised Art. Sometimes Buyers are mistakenly told a Work of Art is "perfect" when the contrary is true.
The truth is there is no savings as the Work is just not worth buying at all and the Seller description was purposely deceptive.
Many Online Buyers Buy Inferior Art
When comparing Art by price, Buyers are often misled when the Seller tells them the "Work of Art is "Mint", "Not Faded" and/or in "Perfect" condition, when the contrary is true, often resulting in purchase of inferior Art. The truth is there is no savings as the purchased Art is not worth buying.

Quality Art Appreciates
Many Art Sellers do not disclose condition, forcing Buyers to guess. Importantly, when a Condition statement is omitted, never assume the Art is satisfactory. Worse, many Sellers exaggerate condition and state a Work is actually better than reality.
• Some Internet sellers & galleries claim art is problem-free, even when photographs show otherwise.

• Many Internet art sellers, galleries & auction personnel don't provide objective Condition Reports.

• Many art sellers are not knowledgeable, including art galleries, auction houses, online auctions, etc.

• Other art sellers of Art are purposely deceptive because they realize the truth will ruin making a sale.

• Some Sellers are purposely misleading to deceive the unsuspecting art buyer.

• Many eBay sellers prefer don't include a condition statement since it will only decrease the price.

• Others omit "condition" on Invoices, if they even supply one, because it may create a potential liability.
Online Art Often Sold With Inaccurate Condition Statements
While the lot will often state there is no damage to the lot, the Photographs show otherwise. This is not an instance of occurring once, but is repeated with unfortunate frequency.

Buy Art From Professional Art Dealers
Having a relationship with a professional art dealer will always pay off in the long run. Many art sellers are not professional; some have not even inspected the art for sale, like Paddle8 which NEVER inspects the art it offers for sale online, nor have the connoisseurship to know if is compromised. Why risky your hard earn money on a maybe bargain?
Even Famous Name Auction Houses Are Inaccurate
You should not be fooled by famous auction house names as a guarantee of condition. Even famous name auction houses are incorrect about condition. Since all condition statements provided by Auction Houses are merely opinions , and nothing more, always inspect the lot yourself if you are knowledgeable, or hire an expert to do so on your behalf.
If You Need A Doctor, You Would Never Call A Plumber
There is a difference between amateur and professional art dealers, unless you like throwing money down the drain.

33% eBay Lots Sold Over $5K
3 Decades Multifaceted Fine Art Experience
Joseph K. Levene, a Jasper Johns and Andy Warhol Print authority, has 3 decades of multifaceted Fine Art experience, including perspective as Art Dealer, Online Gallery, Fine Art Executive and Collector. Joseph K. Levene, a Wharton Business School graduate, was previously President/COO, Petersburg Press, Inc., the International Fine Art Publisher; Director e-commerce, artnet; Invited Charter Member, Sothebys Online Fine Art Auctions.

Selling Fine Art Online For 15 Years
Joseph K. Levene Fine Art, Ltd. was invited by Sotheby's to join a select group of Professional Fine Art Sellers on Sotheby's Online Art Auctions. Sotheby's required each Seller Guarantee Authenticity and Condition of all Fine Art Lots offered on its auction site. Our Sotheby's Clients recognized the importance of a guarantee of Authenticity, especially for significant online Fine Art purchases. In addition to selling Fine Art online on eBay since 1999, Joseph K. Levene Fine Art, Ltd. sells Guaranteed Authentic Fine Art Online on Artsy, Art Fix Daily, Saatchi, Bonanza.