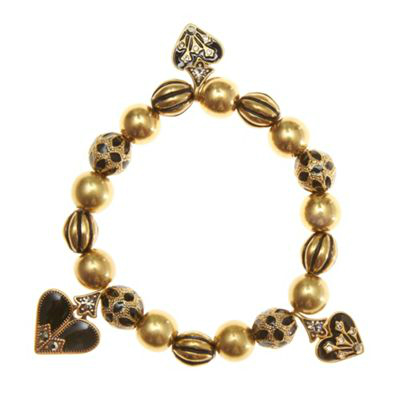 The Art Deco period of the 1920's and 30's saw an explosion of style and fashion. Taking its name from the 1925 Paris exposition, the style mixes bold colours and geometric designs in a celebration of machines and modernity. The Art Deco style expanded to include everything from architecture through automotive design, but perhaps its greatest flowering was in the decorative arts such as jewellery. For many Art Deco designers, bracelets proved an excellent opportunity to showcase their designs. They are large enough to give the designer room to work, but small enough to be easily worn and shown off. Art Deco bracelets can range in price all the way from affordable to expensive. With such a wide variety of costs and options, buying the right Art Deco bracelet can be as easy or as difficult as the buyer is wanting to make it, but for those willing to put in a little time and effort, it is usually easy.
Art Deco Bracelet Stylings
What makes an Art Deco bracelet stand out among its peers is the way the style uses bright colours and geometric lines to create an air of modernity with a classic line. Art Deco stylings were designed to stand out, create an immediate visual impact and sense of power and to reflect the sensibility of the age. The Cubist influence is highly evident in most Art Deco bracelets with the rectangular forms and straight lines. Another factor is that many Art Deco bracelets also take advantage of the third dimension in their design, the layering of geometric shapes.
Choosing an Art Deco Bracelet
The key to choosing the right Art Deco bracelet for any person or set of needs is based on knowledge. The more a person knows about both their needs and Art Deco bracelets themselves, the easier it becomes to make a sound purchasing decision. Anyone can buy an inexpensive bracelet based on the fact the label has the words "Art Deco" emblazoned on it, but that may not always be the best way to make a decision. There are more factors to consider than just the words on the label. Not all factors are equally important to everyone, but the only way for a buyer to know which ones matter the most, is by taking the time to consider all their options.
Start With a Budget
Whether buying for oneself or for another, it is important to set a budget before going out to buy an Art Deco bracelet. The price range is so great that without a budget a prospective buyer may find themselves looking at a bracelet that is more expensive than their car. With so many options to choose from, setting a budget is a necessary first step to ensure the buyer's attention remains focused on those bracelets they can actually afford without the need to take out another mortgage.
Modern vs. Vintage
Once the buyer has determined their budget, the next decision they should look at making is whether to buy a vintage Art Deco bracelet, or a more recent reproduction bracelet in the Art Deco style. Both are excellent options, and which one a person chooses depends as much on their priorities as anything else. The advantage to buying a more recent bracelet in the Art Deco style is simple: a person can often get a higher quality bracelet at a lower price than would be likely if they were buying a vintage bracelet with all the history it may carry. At the same time, someone who wants that piece of history can only get it by buying a vintage bracelet.
Pay Attention to the Materials
One of the most important things to consider when buying an Art Deco bracelet is the metal it is made from. Some alloys with a high copper content can sometimes stain the skin green. This is not an allergic reaction, but simply a part of the normal process of oxidation. It is a natural reaction between the skin and the metal. Those looking to avoid this should look for high carat gold and pure silver, as it has a higher proportion of precious metals and a lower proportion of copper. Thus, it doesn't mark the skin. However, it does require more of a budget, so this is something to consider.
Pay Attention to the Intended Wearer
Art Deco bracelets can range from the slim and elegant to the large and imposing, so before buying one, it is a good idea to consider the person wearing it. A slimmer bracelet is likely to look better on the arm of a small-boned person than a thick and heavy bracelet. By paying attention to the frame of the wearer and their colouration, a buyer can make sure they are buying an Art Deco bracelet the recipient loves rather than one they simply tolerate. Not all bracelets work with all wearers, and no matter how beautiful the piece, there is no point in buying someone a bracelet they cannot wear; or worse, one they refuse to wear. It is simply easier for the buyer buy the right Art Deco bracelet in the first place.
Buying Unique Art Deco Bracelets
One thing that is important to remember about vintage Art Deco bracelets is that many of them are unique. They were created by a single jeweller, not mass-produced, and so no two are exactly alike. This means that it is very important to pay attention to the specific bracelet that is being offered for sale rather than just the generalities of the description. They should not only read the entire description, but also pay attention to any pictures the seller makes available. This is where an astute buyer can get a feeling for exactly what they may be buying in a way that no prose description can possibly duplicate. Prose descriptions do an exceedingly poor job of describing things such as proportions, but they are easily shown in just a single photograph. Buying a bracelet this way may take a little more effort on the part of the buyer, but the payoff is that they can end up with an Art Deco bracelet unlike any other in the world.
The following table outlines how to proceed in order to find an Art Deco bracelet for any situation or occasion.
| Step | Description |
| --- | --- |
| Step One | Set a Budget |
| Step Two | Art Deco Style or Vintage Art Deco |
| Step Three | Consider the Material |
| Step Four | Consider the Wearer |
| Step Five | Examine the Bracelet |
With a little know-how in place, anyone can search with confidence for the right Art Deco bracelet. Afterwards, all buyers need to do is follow the simple steps listed above.
Buying an Art Deco Bracelet on eBay
eBay is an excellent place for anyone to buy an Art Deco Bracelet. All you have to do is enter the terms you want into the search box and watch the results come up on your screen. Once you have your results, you can use the sidebar filters to narrow them down. You can filter by anything from price range, to seller location, or even whether the bracelets contain gemstones or not. Once you have your search limited to just the right bracelets, you can use eBay's sort function to arrange them so that you can focus on the ones that best fit your needs.
After you have your list of Art Deco bracelets, the next step is to find the right seller. The place to start is at their profile page, where you can see everything from their feedback to their location. You can also see if they have any specific shipping or bundling policies, which can be of benefit to buyers who are looking to pick something up in person, providing the seller allows it, in order to avoid shipping costs.
Conclusion
Buying an Art Deco bracelet is not difficult. All it requires is a little time and knowledge. Art Deco is a geometric style that developed in the 1920's and 30's as an attempt to capture the power and speed of the the machine age and marry it to the clean classic lines of geometry. Anyone looking to buy such a bracelet should take the time to do their homework and determine what kind best meets their needs before starting their search. These bracelets can range in price from a throwaway gift, to something that is more expensive than a family car. This makes setting a budget very important as it is easy for a buyer to go over their budget if they are not careful. Art Deco is also a style that can support both the slim lines of an elegant bracelet, and the solid appearance of heavy gold, hence it makes a lot of sense for the buyer to ensure that the bracelet is a match for the wearer before buying it. Regardless of the buyer's budget or preferred form, buying an Art Deco bracelet is a simple matter of taking a little time to do the necessary research.