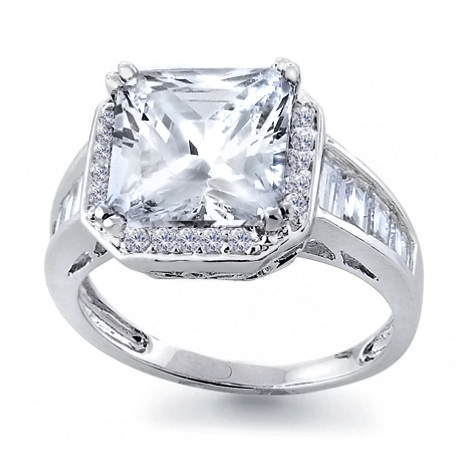 Every woman loves a diamond ring, and some beautiful ones were created in the Art Deco style. The Art Deco period was a rather short one that started in the early 1920s. Even though it did not last very long, the Art Deco period influenced every area of life at the time, and Art Deco jewellery pieces are still popular today. If a woman is looking for diamond rings in the Art Deco style, she should know a little about the different Art Deco styles. Some of the factors a buyer should consider are the diamond cuts that were used, the different metals that were used, and the various settings that were used.
A number of designers were very popular during the Art Deco era, some of whom are still famous today. When purchasing a diamond ring, the buyer should consider the quality and authenticity of a ring, as well as the size and condition. If a buyer loves a ring, but it does not fit right, she should look into resizing it. A buyer should also learn how to properly care for a diamond ring, and this includes cleaning it on a regular basis and storing it away from other jewellery.
History of Art Deco Style
As noted, the Art Deco style developed in the early 1920s. It was used heavily in jewellery, but it also influenced other areas of life, including buildings and automobile designs. The movement had a tremendous impact on design, but it was very short-lived. The Art Deco period ended in the early 1930s due to a number of problems, primarily the collapse of the American stock market, the beginning of World War II, and other events in history.
Art Deco Style Elements
The Art Deco period was a time when designers created entirely new looks, even when some of the elements came from previous periods. Some factors that go into selecting the design of an Art Deco diamond ring include the diamond cut, the metal, and the setting.
Art Deco Diamond Cuts
As technology advanced in the 1920s, Art Deco jewellery incorporated many more cuts of stones. Some of the different cuts used for Art Deco rings were emerald, triangle, pentagon, step, trillion, ballerina, and baguette.
Art Deco Metals
Platinum and white gold that were popular during the Edwardian era continued to be popular, but other metals were also used during the Art Deco period. Metals like silver, copper, and brass were used to give rings more of a contemporary look.
Art Deco Settings
During the Art Deco era, designers used a range of different settings for rings. Some of the popular ones were channel, pave, and filigree settings.
Ring Settings

Description

Two strips of metal with diamonds or other stones suspended between the strips of metal

Entire band is covered with small diamonds

Hard to see the band because of the stones

Thin pieces of metal twisted into elaborate designs with jewels set in them
These are a few of the different styles of ring settings that were frequently used during the Art Deco period. These settings are also still used today, so it is important to note that the setting alone does not make it an Art Deco ring.
Designers
During the Art Deco era, there were a number of famous jewellery designers, and some of them worked with diamonds. Harry Winston was well known for displaying beautiful diamonds in invisible settings. During the Art Deco period, Tiffany & Co. also made many stunning diamond rings. Some of their work included a mixture of diamonds and other stones, such as emeralds. Some of the designers from the period are still adored today because of their incredible designs.
Tips on Shopping for Art Deco Diamond Rings
Before making a purchase, a buyer should check the condition of the ring and make sure that it is the correct size. If a woman is purchasing an Art Deco diamond ring, she should also make sure that it is an authentic one from the Art Deco period. These are important considerations when one is trying to find the perfect Art Deco diamond ring.
Sizing a Ring
With older rings, it may be harder to determine the size. It is important to make sure a ring is the right size before purchasing it because resizing is not always an option. It is easier to resize a ring if it does not have a lot of stones set along the band, such as in a pave or channel setting, both of which were popular Art Deco settings. Simple bands that have very few stones are much easier to resize. A buyer may want to talk with a jeweller about resizing a particular ring before purchasing it.
Condition of a Ring
Before purchasing a ring, the buyer should investigate the condition. Older rings are not always in great condition. A buyer should expect to see some slight wear on older rings, and this may include softening of the edges of the ring. Rings that are in excellent shape should not have much wear, and they should have the original gems. A ring that has a damaged setting or flawed gems is likely to be worth significantly less than a ring in good condition, and this should be reflected in the price.
Authenticity of a Ring
It is possible to find both genuine antique rings and modern reproductions. Buyers must be careful when purchasing rings to make sure that they are authentic rings from the Art Deco period. Some designers use special marks to identify the jewellery they create. It is a good idea to check rings by Art Deco designers for these marks. Buyers can also ask to see other forms of authentication.
Quality of a Ring
When shopping for a diamond ring, a buyer needs to consider the quality of the ring. One thing to keep in mind is that today's standards for diamonds do not exactly apply when looking at older rings. In the case of the Art Deco period, people actually preferred to purchase diamonds that were slightly yellow, green, or rose in colour. Additionally, jewellers of the time did not have tools that were capable of detecting as many flaws as can be detected today.
Caring for Diamond Rings
After a buyer has purchased an Art Deco diamond ring, it is important to properly take care of it. Cleaning instructions depend on the setting of the ring, but a woman may be able to soak the ring in a solution of water and dish detergent for about thirty minutes to remove grime. It is not the best idea to soak rings with pave settings in this kind of solution because the stones are more likely to come loose. One should be mindful of the setting when soaking any diamond ring in water and soap for even a few minutes. After the ring is clean, it can be wiped off with a soft cloth.
To get a diamond ring extra shiny, a buyer can soak it in window cleaner after washing it. However, window cleaner contains strong chemicals, so a ring should not be soaked in it for more than a minute at a time. To make sure all of the window cleaner is removed, the ring should then be washed again. A toothpick can be used to clean any dirt out of the prongs or settings, but the owner has to be careful not to damage the prongs. Most diamond rings can be cleaned with ionic cleaners, but if there are other gemstones in the ring, then that is not a good idea. When storing a diamond ring, it is better to keep it away from other pieces of jewellery, including other diamonds. Diamonds can actually scratch other gemstones, and they can also scratch each other.
Find Art Deco Diamond Rings on eBay
If you are looking for Art Deco diamond rings on the eBay site, you can make use of the different search tools that eBay offers. The first thing to do is take advantage of the main search feature. Simply type keywords, such as 'art deco diamond ring&' into the search box. If there are too many listings to examine them all, you can use the filters and sub-category options on the results page to narrow the number of choices. This is one of the key features offered by eBay that makes it easier to find a product.
Do not forget about the feedback feature when making a purchase. This feature allows you to check what other sellers have said about a buyer. Before making a purchase, it is a good idea to check how many other buyers have used that seller and what they have said. After you have made a purchase, you can also leave your own feedback to help buyers in the future.
Conclusion
Diamond rings are almost always stunning, and this is especially true of many rings created in past decades. The Art Deco period was a very popular era when it comes to design, and it is still replicated in jewellery and many other items. Art Deco diamond rings have a number of stylistic features. For instance, a number of diamond cuts were used, and Art Deco designs commonly used a number of specific settings, including pave settings and channel settings. Some of the metals commonly used for Art Deco diamond rings were platinum, white gold, brass, copper, and silver. Tiffany & Co. was one of the most famous designers of diamond rings during the Art Deco era, but there were also many others.
Additionally, a buyer should consider whether a ring would need to be resized because resizing is not always possible with certain ring styles. The quality of a diamond ring and its authenticity are also important considerations, particularly when it comes to price. Due to the popularity of the Art Deco style, a buyer should be able to find both stunning authentic Art Deco diamond rings and equally stunning reproductions. Both styles can usually be found on a diverse marketplace like eBay, or buyers can visit local jewellery stores for reproductions or antique shops and specialty jewellery shops for authentic originals.