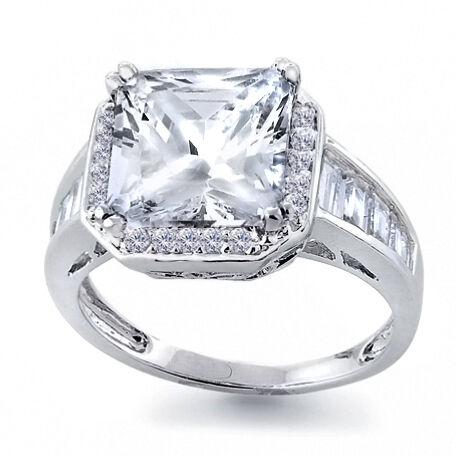 Buying an engagement ring is a difficult task that requires extensive research about gemstones, settings, and the metals used to construct the ring bands. Imagine how difficult it is to buy an engagement ring that specifies a specific era of artistic design. The art deco era that defined the roaring 1920s presents engagement ring buyers with limited, but very distinct, designs that include brilliant colours and creative geometric patterns. While the art deco era spanned, at the most, a couple of decades, it left an indelible impression of engagement ring designs. In fact, contemporary young couples opt for engagement rings that incorporate art deco styles and designs.
Men can buy art deco engagement rings at a number of venues, although most jewellers recommend shopping for the rings in person at a reputable jewellery shop. There is a growing trend of purchasing jewellery online, and men should consider the online option by going to the leading online auction site, eBay. However, men have to perform extensive research on art deco engagement rings before they set foot in the first jewellery shop or contact the first eBay seller. Men must study the art deco era, learn about the three primary art deco engagement ring styles, understand the six types of engagement ring setting, and finally, consider the factors that define the art deco engagement ring buying process.
The Art Deco Era and Engagement Rings
Art historians differ on when the art deco era made an impact on the jewellery industry. Some art historians point to the years between 1920 and 1935, while other art historians conclude that the art deco era spanned from 1910 to 1940. The differences in defining the era derive from where art deco designs took a firm hold of the jewellery industry. Most art historians agree that the art deco era lasted longer in Western European countries than it did in North America.
Art deco engagement rings typically possess a combination of bright colours, straight lines, and geometric patterns that produce an avant garde appearance. The flamboyant engagement ring designs reflect the mood of the era. During the 1920s, the economy soared and women were experiencing newfound freedoms. The right to vote precipitated a nascent women's liberation movement that translated into freedom of fashion expression. That freedom involved Egyptian, Asian, and Native American cultural influences that included colourful, contrasting gemstones, although many art deco engagement rings highlighted glittering diamonds that defined the lavish lifestyles of the roaring 1920s. The theme of shedding old, stuffy design rules has made art deco rings a popular engagement ring choice amongst contemporary young couples.
Art Deco Engagement Ring Styles
The prevailing art deco engagement ring theme is how jewellers set varied gemstones into a setting that displays brilliant patterns of myriad colours. Jewellers set one gemstone in the middle of the art deco engagement rings, and then surrounded the feature stone with other gemstones that can include rubies, emeralds, corals, and turquoise. Diamonds do not necessarily have to be the focal gemstone, though diamonds comprise the prevalent gemstone chosen by soon-to-marry couples. While there are numerous art deco engagement ring styles, couples shopping for such rings should focus on the three primary styles.
Domed Band
The domed band style features a narrower band in the back that comes to its fullest point at the front and centre of the art deco engagement ring. This type of art deco engagement ring has filigree designs of various carved patterns that can include floral and leaf geometric shapes. Single small- to medium-sized diamonds sit at the centre of domed band art deco engagement rings.
Horizontal
Also referred to as "East-West", the horizontal art deco engagement ring style encompasses the feature gemstone set lengthwise on the ring that makes it appear like a bar. Horizontal rings include multiple diamonds that intersperse with other gemstones, such as emeralds and sapphires.
Square Setting
Many jewellers recommend the square setting art deco engagement ring style because the square setting does the best job of promoting the glittering and sparkling diamond features. In this style, a single, round-cut diamond sits in the middle of the square setting. The setting looks similar to a gift box, although some square settings may be tiered.
Types of Art Deco Engagement Ring Settings
Since art deco ring designs can involve multiple types of gemstones, it is important to choose a ring setting that displays the gemstones in the most flattering light. Moreover, the setting secures and protects gemstones from incurring damage. When shopping for an art deco engagement ring, consumers may come across jewellers who refer to the setting as the "mounting". Whatever term is used, consumers should choose the gemstones for their art deco engagement rings first, and then select the setting that best highlights the gemstones' attributes.
Setting Type

Description

Prong

Three to six claws hold the gemstone in place

Allows the most light exposure from every angle

Combines the benefits of protection and appearance

Tension

Compression-spring pressure holds gemstone in place

Permits an abundance of light to enter stone

Difficult to resize

Bezel

Metal rim with edges that fully or partially surround the gemstone

Protects the stone from being nicked or chipped

Best protective setting

Bar

Vertical metal bars secure gemstone

Top and bottom of stone exposed

Pave

Three or more rows of small stones

Presents the illusion of bigger diamonds

Not recommended for fragile gems
In addition to the square setting, each of the other primary types of art deco engagement ring settings provide wearers with both visual and protection attributes. The question consumers must answer is which gemstone works best with which type of setting. Professional jewellers are the best resource for answering this important question.
How to Shop for an Engagement Ring
Shopping for an art deco engagement ring involves many factors. Research helps men decide on the cut, colour, and size of the featured gemstone, as well as the metal used to construct the setting. After deciding on the gemstone cut and setting material, men should not only decide on the following factors, but also rank each factor in terms of importance.
Ring Size
Buying any type of ring requires an accurate ring fit. Engagement rings pose more of a problem since men typically bestow engagement rings as a surprise. To obtain an accurate measurement of an art deco engagement ring size, clandestinely bring in another ring owned by the bride-to-be and utilise that ring for obtaining an accurate art deco engagement ring fit. Some settings do not allow for a resize if the ring does not fit. Therefore, obtaining the right ring size should be at, or near, the top of most ring factor lists.
Design
Art deco era designs are replete with creative bright colour and geometric pattern combinations. Choosing the right art deco engagement ring design is more about a woman's personal taste than anything else. Her wardrobe, other jewellery, especially rings, and clothing accessories all provide evidence of her personal fashion taste.
Budget
Engagement rings involve a substantial investment that often lead to creating a payment plan. This means men should set budget limitations on this expensive expenditure. Most of the budgetary considerations revolve around the type of gemstone chosen for the ring. Set a price range for the ring, which reduces the number of art deco engagement ring options.
Negotiate
Jewellers experience their slowest sales period during the summer. This represents the best time for men to negotiate ring price and features. Some jewellers may offer discounts on art deco engagement rings, while other jewellers may add a sapphire or emerald to the collection already displayed on the ring. Jewellers also prefer men who pay cash in full for engagements rings, and thus may provide incentives for making an art deco engagement ring sale.
Where to Shop for Art Deco Engagement Rings
Shopping for an engagement ring can test the patience of even the most meticulous buyer. However, shopping for an art deco engagement ring requires even more diligence. The extra layer of shopping complexity is due to more limited shopping choices. Most jewellers recommend that buyers avoid estate sales because of the inability to verify authenticity. There are numerous faux art deco engagement rings floating around the jewellery market, and ironically, the lack of authenticity does not derive from gemstone issues, but the authenticity of the art design on the ring.
Shop with reputable jewellers who take the time to answer questions and have the acumen to describe the type of art deco ring that was popular during that era. Reputable jewellers do a good job of preventing impulse purchases, and they also carry professional certifications that lend credence to their advice. Consider jewellers who have established lengthy histories of providing antique or vintage rings. Buyers who have vast knowledge of art deco engagement rings should consider the leading online auction website for their purchases.
How to Buy Art Deco Engagement Rings on eBay
eBay is the best online option for bringing art deco engagement ring buyers and sellers together. The virtual marketplace allows buyers to type keywords into the powerful search engine, and then navigate through search result pages until you find the seller that matches your shopping criteria. Type specific keywords, such as "engagement ring sterling silver" or "14 carat engagement rings", to reduce the number of search results. Once you find the right art deco engagement ring seller, go to the seller's product page to review accepted payment methods, delivery terms, and return policy guidelines.
Only consider buying an art deco engagement ring from one of eBay's Top-Rated Sellers. These sellers have established long track records of offering high-quality products and running fair auctions. Look for the electronic ribbon icon that eBay places by each qualified top-rated seller's product photograph. You can also review customer feedback that eBay compiles on seller product pages. While a year worth of positive feedback provides a good indication of seller reputation, you want to find sellers who have garnered positive feedback for selling jewellery, preferably engagement rings. Once you form a business relationship with an eBay seller, inquire if that seller runs an eBay Store where you can purchase products directly.
Conclusion
The art deco era has made an indelible impact on the jewellery industry. Artistic designs from that era have influenced the appearance of brooches, bracelets, and rings, especially engagement rings. Brilliant colours and creative geometric patterns highlight the designs of art deco engagement rings. While there are almost an unlimited number of styles, men should focus on three primary styles that set the foundation for deciding on which art deco engagement ring to choose.
As with any other type of engagement ring, men must decide on the type of setting that protects a gemstone, or collection of gemstones, from damage. For art deco engagement rings, how a setting promotes the appearance of gemstones may be a more important factor in choosing the right setting. After all, the art deco era is about visually stunning artistic designs. Once a setting in chosen, men then have to obtain the correct ring size, decide on a ring that is based on a woman's personal taste, and create a budget to prevent reckless spending. The most important art deco engagement ring decision of all may boil down to where men shop for the rings. Whether a man shops for the ring in a jewellery shop or goes online to eBay depends on how much knowledge the man has about art deco engagement rings.