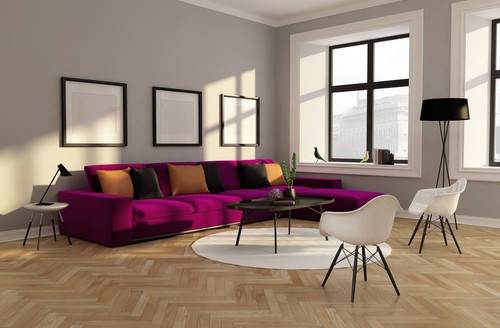 Buying an art deco table can be fraught with a quite few difficulties. Generally, consumer information for this trendy, yet contemporary, genre of table is a little bit sparse. Many people aren't even sure what art deco refers to, they just hear it as a catch phrase to describe architecture. This buying guide intends to bridge that knowledge gap and provide information that will help consumers make a confident and satisfying purchase of an art deco table.
This buying guide includes: the history of art deco, and brief description of what exactly it was; a description of the standard components of an art deco table; different types of art deco tables; factors to consider while buying art deco tables, and finally, methods to maintain an art deco table after it has been purchased.
Armed with information, the buyers can find the table that best connects to them, their decorating style, and the room they intend to place their table.
History of Art Deco Tables
The art deco movement began after World War one in Paris, France. The ethos of the movement was about embracing the new technologies of modernity. This was a turn of the century philosophy that was an offshoot of industrialisation and urbanisation. It created new architecture and industrial design concepts that would fuse these technologies with the new materials that were available. Art deco would make use of steel, glass, plastic, and leathers in the construction of its consumer goods like no other era before it. In the words of Bevis Hillier: "Art Deco's ultimate aim was to bridge the old conflict between art and industry..." This worthy aspiration shines through in many of the products that came from this tradition, the art deco table being one of them.
The art deco movement enjoyed international acclaim in the 1930's and 40's. During which time tables that embraced newer materials and stepped beyond the previous Art Nouveau traditions were popularised and created. The cultural legacy of those tables has helped them retain their popularity as items in contemporary homes today.
Discover Art Deco Tables
As the entire city of Chicago was imprinted, in particularly during the 1930's, by the legacy of art deco architecture it can hardly be a surprise that interest in this aesthetic period is still alive and well. Whether consumers are interested in reproduction tables that retroactively bring back the art deco era, or true antique art deco tables, this eBay category has a range of art deco tables to choose from.
The elegant styling and intricate detailing of art deco tables has made them a coveted addition to many collectors' homes. By blending the traditions of old-world craftsmanship with new-world materials, the art deco table has a look and feel that can be incorporated into virtually any décor aesthetic.
Parts of an Art Deco Table
Below is a list of the common components of a table.
| Part | Description |
| --- | --- |
| Table Top | The flat surface or top of a table where objects are placed. |
| Apron or skirt | The under carriage of the table that connects the legs with the top. |
| Leg | The leg supports the table top and raises it vertically from the ground. |
| Knee | The higher portion of the leg. |
| Foot | The very lowest portion of the leg that touches the floor. |
| Stretcher | A cross section piece used in some tables to connect the legs together in order to add stability to the table. |
| Drop Leaf | A portion of the top that extends beyond the apron that can be hinged to the sides of the table. A drop leaf allows a table to be extended if required. |
Types of Art Deco Tables
Some of the main art deco table types available on eBay are listed below with descriptions.
| Type | Description | Advantages | Considerations |
| --- | --- | --- | --- |
| Coffee Table | Long and low table designed to be placed in front of a sofa. | · Convenient for placing drinks and food on and gathering around socially. | · Not easy to use easily if not sitting low on a sofa or on the ground. |
| End Table | A small table placed at the end of a sofa or chair. | · Often a lamp is placed on an end table. | · Not much space for things to be placed on it. |
| Kitchen/ Dining room table | A table designed for formal dining. | · Generally a large table that can fit several people around it. | · Often cumbersome to move. |
| Console Table | Two legged table attached to a wall. | · A compact table often used in hallways. | · Must be placed next to, and fastened to, a wall. |
| Nested Table | A larger table, with smaller tables "nested" underneath it. | · Allows for the smaller table to be brought out for different arrangements. | · More difficult to move as there is more than one table. |
| Card/game table | A smaller table that allows people to play games on it. | · Often has markings for specific games. | · Markings on table may make it less attractive for other uses. |
Factors to Consider When Buying an Art Deco Table
Original versus a reproduction - As the dominant period of art deco occurred in the 1930's and 40's there still are a lot of original art deco tables around for sale. A table from this era will often be in very good condition and could be a good purchasing option. Bear in mind, however, that it is possible to get a new reproduction of these tables as well. The choice as a consumer is to decide whether it is an original or a reproduction that is preferred. Both are available on through antique stores and online.
Condition - If you are purchasing an art deco table from the true art deco period a little wear and tear is actually good thing. These items are on the verge of being considered antiques and antiques are supposed to show a bit of wear and tear to authenticate their age. Buyers should be concerned if there are signs of improvement to the item. A tell tale sign that an item has been augmented or repaired is if the colouring of the table's wood and paint is extremely consistent and uniform. Antique items should show some random discolouration.
What type of table suits your space - With different types of tables available, each with different sizes and styles, consider how you would like to use your art deco table and the space that it will occupy. The smooth elegance of art deco tables makes them easy to pair in any room; however, it is a functional piece and should be matched to the use that it is intended for.
How to Care for an Art Deco Table
As art deco tables come from a period more than 80 years back, as a practice one should treat these tables as if they are antiques. Generally, just provide a little more maintenance to them. Clean the table regularly with a damp cloth, and if the table has wooden surfaces apply wax to the table at least twice a year. Be wary of spray waxes that contain silicone as it often has the effect of drying out woods by depleting their natural oils. Also, keep the table in a space that does not have large fluctuations in temperature and humidity. Constant and direct sunlight to the table could warp and discolour the paint and wood veneers. By protecting your art deco table against temperature and moisture extremes, it will provide lasting beauty for many years to come.
Famous Designers of Art Deco Tables
Ludwig Mies van der Rohe (1886-1969)
Jacques-Emile Ruhlmann (1879-1933)
Sue and Mare (1919- onward.) An artist and architect combination.
Wiener Werkstätte – A Viennese workshop that produced acclaimed art deco pieces.
Accessories and Add-ons for an Art Deco Table
Art deco tables are an art form unto themselves and rarely need any embellishments or accessories, but there are a few items that would showcase the piece and add to its beauty.
Lamps to light up the area and highlight detailing
Antique rugs to rest the table on
Period cards and board games for games tables
Finding an Art Deco Table on eBay
Once you determine the type of Art Deco Table you want to purchase, visit the Furniture portal on eBay, click on 'tables' and start searching item listings. The Categories list on the left-hand side of the eBay page helps to narrow the search.
Searching for an Art Deco Table on eBay
Search eBay listing titles for specific words when shopping for art deco tables. For example, to find an art deco coffee table, type 'art deco coffee table' into the search box and then click the Advanced button to customise the results.Also visit eBay's Search Tips ppage for more advice on searching for art deco tables with keywords. If you can't find the exact antique rug you want, try shopping eBay Stores.
Conclusion
The major factors that need to be addressed for a successful purchase of an art deco table are finding the right table for your space and finding a table that connects to you. Armed with a little consumer knowledge this process should be easier. eBay suggests that you take your research even further and look at other buying guides and other outside sources of information. The more that you can find out about the art deco period, the more satisfying your purchase will be.
Once you have collected all your information, you can buy an art deco table safely and securely on eBay.