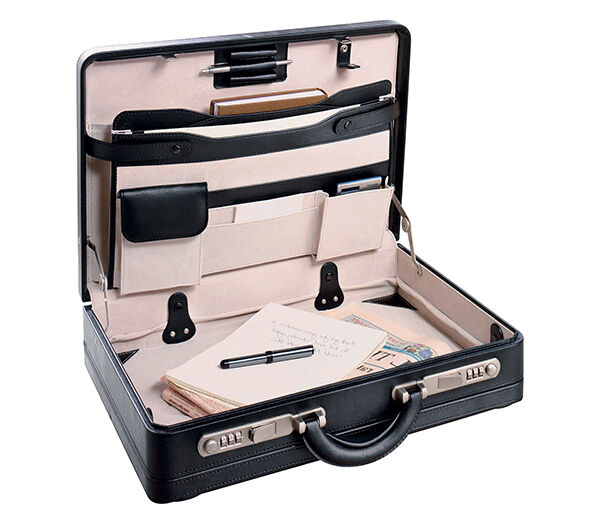 An attache case is a special sort of briefcase that features a hard shell. Traditionally, attache cases were small, slim, and used simply for carrying important documents. Over time the definition of an attache case has relaxed a little, and it now encompases almost any hard-shelled case.
This guide looks at some of the most popular types of attache case available, and considers the advantages and disadvantages of each type. It also looks at the advantages in general of an attache case over other types of case, and considers the purposes for which attache cases are most suited. For those consumers who may be considering buying an attache case, the guide also offers advice on where to find a good quality case at a reasonable price. Because an attache case is considered to be a fairly specialised item, consumers often experience difficulty in finding a wide enough selection of attache cases in high street shops. The rapid growth in Internet shopping means that online markets such as eBay now offer a very good range of attache cases, including new, used, and well known branded items.
Advantages of an Attache Case
The rigid exterior of the attache case allows the user to carry important documents or other sensitive items with confidence, even on long or demanding journeys. Unlike soft briefcases, which can be crushed, bent, or otherwise distorted, a good quality attache case will withstand life's knocks and bangs. Of course, the extent to which it comes up looking pristine and unscarred afterwards will depend on the quality of the materials it is made of. A truly first rate attache case will shrug off most impacts without visible damage, but such cases can be expensive.
Types of Attache Cases
The traditional attache case was generally small, slimline, unobtrusive, and rather exclusive. Think in terms of the smartly dressed gemstone dealer, with a case full of samples discretely chained to his wrist, or the international financier carrying bearer bonds worth a large fortune. These were the types of individuals who traditionally chose to protect their key interests with the aid of an attache case.
Over time, attache cases have become more popular, and larger in size. Although the basic design of an attache case has remained as just a narrow rectangular box with a handle, within this concept there are now a number of possible variations. Firstly, there is a choice of materials that the attache case can be made from. None of these materials is necessarily better or worse than the others, they simply have distinct characteristics. Which material is more suitable for a particular buyer will depend on the purpose for which the case is being bought, and the budget available.
Leather Attache Cases
Leather is always a desirable option for any form of luggage or case, and it tends to have a high visual appeal. This is particularly so if it is the sort of fine quality, well tooled leather seen on upmarket items. Such pieces consist of a strong wooden frame bound with leather, and probably finished with solid brass locks. They may be lined inside with soft calf leather or suede, perhaps with a padded base and other internal refinements. Feed the leather occasionally, guard it against excessive moisture, and generally cherish it, and this sort of case will repay the investment in time, money, and effort with a lifetime of service and pleasure. In fact a top flight leather attache case will last more than a lifetime, with the potential to become a treasured family heirloom.
Aluminium Attache Cases
Aluminium varies greatly. Smooth, impeccably finished aluminium with an almost matte finish can look very classy, and cost the earth. On the other hand there are also cheaper, more practical, even industrial looking aluminium attache cases , of the sort that photographers have used for decades to carry their delicate and expensive equipment. And there are many in between, which are tough, long lasting, everyday cases. All these sorts have their place, depending on the purpose and budget of the buyer.
Although aluminium is a strong and relatively light metal, it does not follow that it is always the best protection for the contents of an attache case. Items can often suffer damage as a result of rattling around within a hard shell. Before making a purchase, it is important to decide what the case is going to carry, and consider whether the interior is suitably laid out to hold the intended items snugly.
Hard Plastic Attache Cases
For budget conscious buyers, a tough plastic shell can be a very good option. Although they may not compete with leather, modern plastics can still look appealing and even sophisticated, with large, flat expanses of textured black offset by silver trim. At the same time, plastic is relatively light in weight, while offering high levels of both protection and durability.
Leatherette Attache Cases
These are different from hard plastic shells, in that they are made to resemble a leather attache case but are covered instead in artificial leather. The best examples can look quite appealing, although the worst may look rather less desirable. Finding a good example however can provide an excellent everyday working case at a fraction of the cost of leather.
Attache Case Features
In addition to the choice of materials, attache cases can also be distinguished by other features. These include such advantages as expandability, in-built wheels, and, more prosaically, differing interior layouts to help ensure that items are properly stowed. There are also ultra-specialised attache cases, such as those for the security conscious financier carrying his bearer bonds, which use dye to deface the contents if they are opened improperly, but these are too specialised to fall within the remit of this guide.
Expandability
Although large volumes of documents are more typically carried in a soft-sided briefcase, many of which have an expanding capacity, attache cases also can come with this feature. Such expanding attache cases usually use a leather or plastic gusset to shift the upper and or lower leafs of the case outwards. When not required, the gusset is simply closed and secured with a popper or buckle.
Shoulder Straps
Again, shoulder straps are more commonly seen on soft-sided briefcases, but they can feature on attache cases too. Normally they would be removable, as they are loved by some users but shunned by others.
Wheels
Larger attache cases, particularly those intended for use by business travellers, may have this facility. Sometimes the wheels are detachable, but in a few examples they are a permanent feature.
Interior Stowage
Although inevitably invisible from the outside, the type and layout of interior stowage is a significant distinguishing feature for many attache cases. Is the case intended for use primarily carrying documents? Or will it carry a laptop, tablet, mobile phone or other devices? Traditionally attache cases were fairly plain inside, with perhaps a few pen pockets and maybe some gusseted leather leaves to divide up sets of documents. Nowadays, most attache cases have pockets for mobile phones, laptops and other equipment, turning them into all-purpose office equipment carriers. Not surprisingly, given the almost obligatory need to stow a laptop, many attache cases have become quite large in size.
Buying an Attache Case on eBay
If you are considering buying an attache case , the first thing to decide is what it will be used for. If it will be expected to carry both a laptop plus sufficient papers to earn its keep, unless you have an ultra-portable laptop you should avoid the smaller, traditional sized attache cases.
Having decided on the purpose and set your budget, the next thing is to consider the relative importance of function and style. If you simply need an everyday attache case to commute with, a tough plastic version may be ideal. If you frequently attend business meetings in plush, corporate offices, you may want to splash out on something more stylish. For business travelers, an expandable attache case may give the extra capacity needed for an overnight trip, while a set of wheels can take the strain off your joints.
Due to the economic constraints of maintaining stocks across a variety of styles, colours and materials, high street stores carry only a limited range. For buyers seeking more choice, attache cases can also be purchased from online retailers such as eBay. As the stocking constraints which apply to the high street are not relevant online, at eBay you can find a very impressive range of attache cases spanning the full spectrum of styles, materials, and colours. You can choose between new and secondhand attache cases, search for different types of materials, and even find well known brand names.
Conclusion
Originally intended to protect important documents, attache cases have moved on from their very specialised early uses and are now a common type of hard-sided briefcase. Attache cases can be constructed from a variety of different materials such as leather, plastic, or aluminium, with each offering its own advantages and limitations and ranging greatly in price. They can also vary in their design, with some functional attache cases ideal for commuting, or offering the ability to expand, while others with wheels are designed to facilitate easy traveling. Some attache cases place style and the finest quality materials high on their list of attributes. These will be very expensive, but will last a lifetime. Which type of attache case is most suitable for a particular buyer will depend on that buyer's needs, budget and style preference.
Because of the wide variability of attache cases available, high street stores can carry only a limited selection. Online retailers such as eBay offer a wider choice of attache cases, making eBay an ideal place to find the perfect attache case.