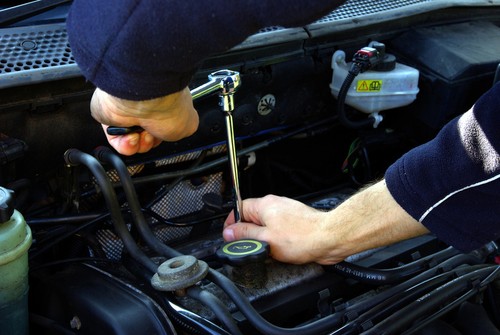 Investing in a good quality set of automotive hand tools is a must for motorist who prefer to look under the bonnet and fix problems themselves. However, it takes some research in order to choose the right combination of tools because buyers need to consider factors such as price, product quality, and whether the tools will be sufficient to complete the job. Shoppers have access to a large array of tools, so to stock a tool box properly they should focus on the essentials.
Firstly, they should have an array of spanners, a set of Allen keys, and a set of screwdrivers. With all of these tools, having a variety of sizes is essential because the screws, nuts, and bolts used in cars vary widely in their size and form. Buyers should also consider purchasing pliers, which have a distinct advantage when tinkering with a car. When shopping for essential automotive hand tools, buyers can visit garages, DIY shops, and other bricks and mortar locations. The online site eBay also offers a large selection of products, great prices, and the convenience of shopping from home.
Types of Spanner and Wrench
Spanners and wrenches are available in many forms, but they are all designed to loosen nuts and bolts. The most basic types are ring and open-ended spanners. However, there are also socket spanners available in different sizes.
Ring Spanners
Ring spanners have circular enclosures at both ends, where each end is a different size. These enclosures fit over nuts or bolts and provide the leverage to loosen them.
Open-Ended Spanners
Open-ended spanners have crescent-shaped attachments at both ends, where each end is a different size. These attachments fit around nuts or bolts and twist them by gripping two sides.
Combination Spanners
Combination spanners are a fusion of both ring and open-ended spanners. In a combination spanner set, both ends are the same size.
Socket Spanners
Socket spanners are commonly used by many motorists loosening nuts and bolts. They have a socket that fits over the bolt completely and holds it in place securely. Socket spanners are usually sold in a set containing several parts: a handle, drive, extension, and the sockets. All socket spanners have a handle that can take several forms, including a ratchet, sliding T-bar, or screwdriver handle. Socket spanners have a drive, which extends outward and holds the sockets in place. Drive sizes include 1/4 inch, 3/8 inch, and 1/2 inch variations. Some sets can be purchased with a spanner for each drive size. A socket spanner set may also include one or more extensions to adjust the reach of the tool.
Sizes for Socket Spanners
Sockets are measured on one of two scales: metric, or across-flat (AF). AF sizes are measured using the diameter of the top of the bolt and are typically denoted in 1/64 inch increments. Some sets may include both types of socket. These socket sizes are given in the table below.
Socket AF Size
(in)

Socket Simplified AF Size
(in)

Socket Metric Size (mm)

Socket AF Size
(in)

Socket Simplified AF Size
(in)

Socket Metric Size (mm)

4/64

1/16

1.5

24/64

3/8

9.5

5/64

--

2

28/64

7/16

11

8/64

1/8

3

38/64

19/32

15

10/64

5/32

4

44/64

11/16

17.5

14/64

7/32

5.5

48/64

3/4

19

18/64

9/32

7

56/64

7/8

22

20/64

5/16

8

64/64

1

25
Choosing the correct socket size is important because an improperly fitted socket can damage the bolt or cause injury to the mechanic. So, buyers should consider purchasing a socket spanner set with many socket sizes to give them greater versatility.
Torque Wrenches
Torque wrenches are used for tightening nuts and bolts with precise amounts of force, which can avoid mishaps such as stripped threading, sheared bolts, and cracked casings. Torque wrenches can indicate the force by using several scales, including foot lbs, newton metres (Nm), or less commonly, kg/m. Buyers should look for a scale with a smooth graduation, as this allows for greater precision. A digital display may also be beneficial, but is not strictly necessary if the components are of good quality. Accuracy is also important when buying a torque wrench. Look for an accuracy of a minimum of 4 per cent, but 2 per cent is even better.
Types of Allen Key
Allen keys, sometimes called hex keys, are essential for a variety of tasks in car maintenance, including electrical work. Allen keys have a hexagonal, or six-sided design, typically bent into an L-shape to make it easier to slip them into tight spaces to loosen bolts. Allen keys are most often sold in sets. Some versions have a case that holds all of the keys, but allows motorists to remove individual keys as needed. Other sets mimic the design of a Swiss army knife, with each of the keys folding out when needed. Some Allen keys may have a T-shaped handle that makes them easy to turn. Like sockets, Allen keys come in a variety of sizes, including metric and imperial measurements.
Types of Screwdriver
Motorists should have a good set of screwdrivers in their tool box. Look for a handle that is comfortable to grip, but sturdy enough to twist. Some models of screwdriver may have a ratcheting mechanism, which is convenient because the mechanic does not need to refit the screwdriver constantly and shift his or her grip.
As with spanners, screwdrivers come in a variety of sizes. An incorrect size can damage the screw, making it difficult to remove. Therefore, the greater the variety of screwdriver sizes available, the better.
Types of Screwdriver Bit
Some screwdrivers are equipped with various bit types, which determine what types of screws they can remove. For a compact storage solution, look for a screwdriver with swappable bits. Even if the screwdriver does not have on board storage for all the bits, a small case takes up less room than a dozen or more screwdrivers.
There are many variations on the screwdriver bit. However, the most common to use in cars are the slotted, Phillips, Pozidriv, and Torx bits. A slotted screwdriver bit consists of a single, straight piece that is designed to span the diameter of the screw head. A Phillips bit takes the shape of a square cross. The design of a Pozidriv screwdriver improves on the Phillips head by adding four smaller contact points around the bit. The tip of a Torx bit screwdriver resembles a six-sided star. Other common types of screwdrivers include square and hex-shaped bits. Some screws now have tamper resistant features that require the mechanic to have a special type of screwdriver to undo them.
Types of Pliers
Pliers are used for gripping components during automotive work, and are frequently used when wires, clips, and pins come into play. Pliers can vary widely in their design. The table below highlights a few key types of pliers that may be of use when working on a car.
Type of Pliers

Description

Adjustable (channel lock)

Offers adjustable jaws that open to various sizes as needed

Used to cut wires and cotter pins with extra hard cutting edges

Locking (vise grips)

Used to hold two parts together in a tight, secure grip

Features long, tapered jaws for holding small parts and reaching tight spots

Usually includes a wire cutter and a wire stripper

Slip joint (combination)

Features one adjustable jaw, and both flat and curved jaw surfaces to accommodate both flat and rounded objects

Snap ring (lock ring)

Offers a notched, or toothed, design to keep the pliers in place

Designed to remain parallel to the surface, with moveable jaws
When shopping for pliers, choose a good mixture of characteristics that can accomplish a variety of tasks. Comfort is a key factor, because pliers are often gripped very tightly. Buyers may also consider shopping for handles that have good insulation against electrical shocks.
Buying Automotive Hand Tools on eBay
eBay is an online marketplace made up of a network of independent sellers. Buyers can find a variety of automotive accessories, including hand tools, by taking advantage of eBay's built-in search engine. To begin, enter a keyword, such as "multi bit screwdriver" in the search box. eBay automatically lists all of the products that match your query. You can use both generic and specific keywords to search for items, with phrases such as "automotive hand tools" or "Stanley pliers".
Narrowing Search Results
After you have entered a search term, apply the product filters to ensure that only the most accurate products appear on the results page. You can apply other filters to specify a condition or price.
After you have located an item, check the seller's feedback history. Good comments and high ratings from previous buyers are a good way to be confident in your purchase. Visit the eBay Help Centre to learn more about how feedback works. If you have any questions about items, use the "Ask a question" feature on the listing page to contact the seller.
Conclusion
Having the right tools is the easiest way to make sure that any job is done correctly. When it comes to automotive hand tools, buyers should stock their tool boxes with some essential items. Firstly, spanners, help to loosen and tighten nuts and bolts. The most basic spanners are ring and open-ended types, but buyers can also purchase combination sets. Socket spanners are designed to remove any type of nut or bolt easily. However, buyers should try to find a set with a large variety of socket sizes. A torque wrench makes it easy to tighten bolts with a specific amount of force and Allen keys are also useful for working on a car.
Other essential supplies for a tool box include a large set of screwdrivers, consisting of several bit types and sizes. Buyers can shop for ratcheting or swappable bit models for greater convenience. Finally, an array of pliers ensures that buyers can manage the remaining tasks with ease. Whatever types of automotive hand tools buyers need, they can always find them on eBay.