BC Rich NJ Mockingbird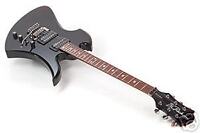 BC Rich has no obligations to conform to acceptable design standards as the company was conceived to embrace non-conformist designs, which appealed to ill-tempered metal heads exclusively. However, that`s not the case these days as many sensible players begin value tone & playability, over looks. The mockingbird on review here has the mildest protrusive design; maybe it`ll appeal to you…
Neck
The immediate concern when one grabs the NJ Mockingbird`s neck, is its finished texture. Gibson fans would feel at home but be assured that there are unfinished neck rear options in other series offerings, if you prefer the maple feel instead of paint. The profile here is best described as a deep U, I can feel marked fretboard edges to differentiate it substantially from a D profile. Default frets are adequately jumbo but they didn`t help compensate the rather wide overall width. No chance to test the tuners- locking nut… The overall paint job is blemish free, well worth the asking price.
Body
The mocking bird design is actually a tampered singlecut, with thoughtful bass-side cutaway to supplement upper fret access, which the deep, treble-side provides. The overall outline of this guitar is very lap-friendly, less the elbow area which your picking arm rests on. My elbow keeps knocking against it during play. The dual humbuckers are ring-mounted to the body & the floyd-type vibrato has a flushed default setting which reflects adequate effort in the factory setup. The guitar in its entirety has a fairly acceptable weight, it`s not far off the vibratoless LTD F-50 which I subsequently tried after playing this guitar.
Playability/ tone
This mockingbird really tested my patience, I`m of course referring to the elbow area body extension & the wide, fat, finished neck. My picking arm gets limited playing posture which hinders certain picking styles. The neck gets sticky fairly quickly during play & I kept fumbling on certain licks, I`m simply not used to the neck, I fare batter with my Body Art Ironbird. Despite the locking nut, tuning`s off after a left-hand vibrato exercise, that`s pretty bad by my standard- I didn`t whammy, wonder what`d happen if I did…
The tone is what made up for the playability shortcomings, the bridge humbucker sounded very full on maximum drive. It`s very fat, unlike what you hear from Ibanez`s Axis or Infinity pickups, which are excessive in midrange, lacking in bottom end. The neck unit even had traces of twang which you`ll appreciate but the overall neck tone has a tendency to mud-out at increased volume. The clean tones on board were acceptable but not as rich as you`d like it to be. Throughout the audition, I very much played the bridge humbucker which I believe you`ll like if you are into lots of drive.
Last say
Despite its more restrained look, the Mockingbird didn`t offer a drastic player friendly feel compared to its more protrusive cousins, the Warlock & Ironbird. If you are into all things metal, this Mockingbird would adequately satiate your appetite but no sparkling cleans from this guitar, that`s for sure. I`d be more accustomed to this guitar over prolonged playing but my immediate discomfort lies with that tail-end area of the guitar, where my elbow rests. Even the Explorer design has thoughtful angles to ensure the elbow is free from physical restrictions during play. Slash has longer arms than me, the reason he dotes his Mockingbird, which didn`t get in the way of his playing. Nevertheless, you`d do well to try this one rather than be repelled by this review. This guitar has a arguably fair asking price, but the Ibanez RG320 is much more enticing & it lists for much lesser. BC Rich isn`t lousy, it just doesn`t appeal to some of us.
Have fun and I hope you've found this guide useful. If you've learned something or you have further clarifications, feel free to drop us an email. We'll love to hear from you!
Do also visit our store for specialized guitar backing tracks. At DollarBackings, we've a wide range of unique and original guitar backing tracks covering all genre and all playing styles! See you soon.
Regards,
DollarBackings Admin
Your #1 source for Professional Guitar Backing Tracks