BED AND MATTRESS GUIDE (QUALITY ISSUES AND CONCERNS).

"Please note: Some sellers are using our pictures to advertise inferior products!"

At Stag Stores Limited we have always prided ourselves on being able to offer competitive prices whilst never compromising on quality.
In our quest to maintain an inventory of high quality products that consistently exceed our customer's expectations, we decided to provide a comparison between some of the products we are selling, with those that some of our competitors are selling.
In order to do this we have taken the time to purchase some of our competitors equivalent products and to take photograph's showing just some of the differences between the items we are advertising on eBay and those sold by others.
Our aim here is to not name and shame other eBay sellers, but simply to help protect you from buying inferior products. We strive to keep every one of our customers happy and hope that this information will make your experience on eBay a little more satisfying and a little less frustrating.
And finally, just because a seller is using the same images to advertise their products it doesn't mean that they will be exactly the same; Remember, a picture may say a thousand words but it doesn't necessarily show everything!
Stitching:
In the below photograph's you can see that our leather beds are double stitched to a very high standard, whereas some of the cheaper equivalents sold on eBay are only single stitched and look appalling in comparison!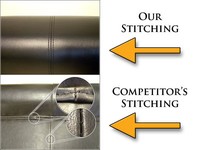 Click here to view full size images.
Fittings:
Some sellers are advertising beds with fittings that are often over tightened causing the leather to twist; the metal bolts and the construction of our beds are far superior. Additionally, the images below show the issue of poor quality stitching is reinforced and looks like it's likely to pull apart over time.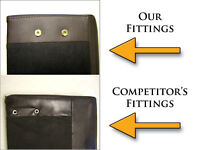 Click here to view full size images.
Sleighs - 1:
We sell a range of different sleigh beds but we have found that the overall thickness of the head and footboards can vary greatly. As you can see, the ones we have for sale are much wider. In addition ours have much smoother looking curves than some of the others advertised online; in the second image the scroll on the headboard looks misshaped!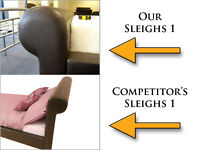 Click here to view full size images.
Sleighs - 2:
Below you will see another example of one of our sleigh beds compared with one of our competitors. It clearly illustrates the difference in quality of the stitching and overall finish of the leather.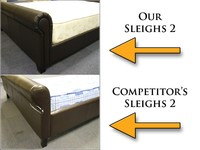 Click here to view full size images.
Scrolls:
Once again you can see that the overall thickness of the head and footboards on our Sleigh style frames are thicker in comparison to those sold by some of our competitor's. This is also true for the width of our scrolls, which also include much more padding and therefore have a much more attractive finish.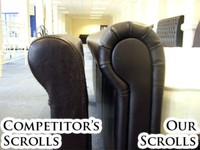 Click here to view full size images.
Chesterfield Buttoning:
The depth of the buttoning on Chesterfield beds can vary greatly depending on where you buy them from. Our Chesterfields have been designed with the original Chesterfield-style sofas that they are inspired from in mind; this means they feature very deep-set buttoning which creates an eye-catching creasing effect in the leather.
Many of those advertised on eBay cannot be passed as Chesterfields; the buttons are often not set deep enough and the beds can look cheap and unauthentic.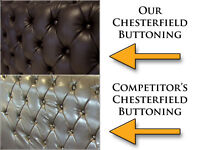 Click here to view full size images.
Slats:
We use a sprung wooden slatted base on the vast majority of our beds which means they are both strong and comfortable. Our slats come with a set of plastic caps to attach them to the bed framework. The caps easily clip in and out of the frame and as you don't have to worry about screws it is extremely quick and easy to fix the slats to the frame.
As shown in the second image some sellers are using slats that will need to be screwed into the frame. This is not only more time consuming, but will also make it awkward should you need to disassemble and reassemble the bed at any point. Over time the screw type slatted bases can also become loose as the screws gradually strip away the wood within the holes. This will eventually mean that you will either have to replace the screws with larger ones or in some cases replace the bed completely.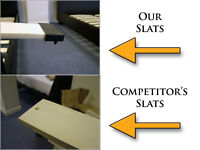 Click here to view full size images.
Slat Connections:
On our double-sized beds the slats are split into two with a centre support bar down the centre . This makes the construction much more rigid and secure than those with longer, non-sprung slats that run the entire width of the bed. Additionally, the plastic caps that we use are very strong, unlike the stapled material which believe it or not, you can still find on some bed frames; this weak material simply doesn't offer the bed frame any extra stability or support.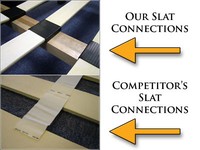 Click here to view full size images.
Ottoman Hydraulics:
The hydraulic pistons that come with our Ottoman Storage Bed are made in Germany, world leaders in engineering and innovation. This means that they are manufactured to strict European safety standards. Most other sellers provide poor quality pistons made in the Far East. These inferior pistons have been known to leak and malfunction resulting in the bed collapsing and causing serious injury.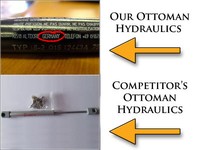 Click here to view full size images.
Standard Mattress:
With mattresses it is much more difficult to gauge exactly what you are buying online. However, we have found that the quality of mattresses can vary more than anything. Although it can be difficult to know just from a photograph and small description, we have tried to show a comparison between our lowest price mattress with the equivalent from another eBay seller below.
You may make a small saving with some of the cheaper mattresses sold online but hopefully you can see from the photo's below that in doing so you may be compromising on quality. The thickness of these cheap mattresses can be insufficient; therefore we guarantee that every single one of our mattresses is at least 8 inches thick!
Furthermore, the quality of the fittings is of paramount importance. Unscrupulous sellers try to give the impression that their mattress is thicker by using longer springs but only 300 grams of filling to reduce cost, whereas we use a minimum of 1000g of polyester filling which provides a comfortable mattress and a good night's sleep.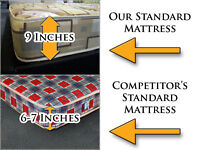 Click here to view full size images.