BMW Cars
This is one of many illustrated classic car guides I've created for the community. I hope you enjoy it. If you wish to find out more about the classic BMW car art featured in this guide please click here.
This guide includes several classic BMW cars.
BMW 507 ( 1956-1959 )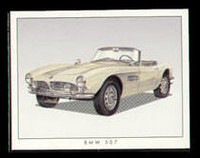 The 507 convertible was one of BMWs most attractive ever models, but sadly the car was too expensive to sell in the numbers anticipated on the US market. Its performance was good for a mid-fifties machine, with a top speed of 124mph. Power came from a 3.2-litre 150bhp pushrod overhead-valve V8 engine and the exceptional styling was by Albrecht Goertz. Only 252 cars were manufactured.
BMW 2000C / 2000CS ( 1965-1969 )
In une 1965, BMW returned to the sports-coupe theme once again and announced the 2-litre coupes, which were constructed by Karmann at Osnabruck. There were two models, the 2000 C ( Coupe ) and the 2000 CS ( Coupe Sport ) both using the same engine but the latter having twin Solex carburettors and a raised compression ratio, taking the power output to 120bhp. Total 2000C and 2000CS production was 11,720 cars.
BMW 02 Touring ( 1971-1974 )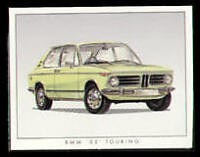 From Januar 1971, using the engines of 1600, 1800 (not UK) or 2000cc, BMW built a new hatchback body on the 02 theme and called it the Touring. Possibly ahead of their time, the Touring models never sold well, their sales volume of only 29,230 cars was less than six percent of the 1600/2002 total of 499,479. Bes of the bunch was the tii version of the 2-litre engine which produced 130bhp.
BMW 3.0CSL ( 1971-1975 )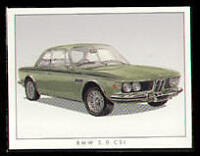 The ultimate development of the CS coupes, the CSL was a lightweight alloy-bodied coupe with a three-litre straight-six engine producing 206bhp and giving a top speed of almost 140mph (225km/h). The factory-racer versions of the model were a dominant force in the European Touring Car Championship at the time. A total of just 1,039 lightweights were built between 1971 and 1975.
BMW 2002 Turbo ( 1973-1974 )

There could be no mistaking the 2002 Tubo. It was distinguished from the more ordinary 2002 models by its flared wheel arches and the spoiler on the boot lid, designed to keep the powerful BMWs rear wheels firmly on the ground. Europe's first production turbocharged car, power output was boosted to an impressive 170bhp, which was enough to give a top speed of 131mph (211km/h). Only 1,672 were produced.
BMW 635Csi ( 1978-1989 )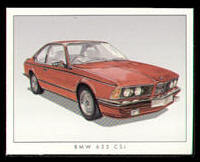 The two-door 6-series models, the 630 and 633 Csi became available from March 1976, and whilst these were fine models they lacked some of the sporting penache of the earlier coupes. With this in mind, BMW offered the BM 635 Csi from July 1978, fitted with the 218bhp six of 3453cc. Top speed was 138mph (222km/h), with a 0-60 (0-100Km/h) sprint performance of around 8 seconds.
BMW 323i ( 1978-1983 )
Production of the 3-series range began on 2nd May 1975. Once more the basics of a single overhead camshaft engine, with trailing arm rear-wheel drive, plus MacPherson strut front suspension were adhered to. Rack and pinion steering replaced the work and roller layout and BMW made no secret of the fact the 3-series had been designed with the forthcoming small six-cylinder in mind. 323i illustrated, available in Britain from 1978.
BMW M535i ( 1980-1981 )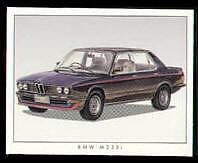 Produced towards the end of the original 5-series production run was the superb M 535i. It used the 3.5-litre 218bhp six-cylinder engine, with up-rated suspension and braking, and was good for 140mph (225km/h). BMW's quickest and most agile saloon of the period, the M535 i can be recognized by its deep front air-dam, side-skirts and boot spoiler. M-Sport badges are not always present.
BMW M1 ( 1978-1981 )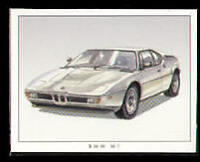 The M1 was BMWs first supercar and although originally designed for endurance racing, it was later built as an exclusive road car. It used a spaceframe tubular chassis, a glass-fibre body and a 277-bhp 3.5-litre straight-six. Only 450 examples of the limited-production M1 were produced, each virtually hand-built and packed with features normally only associated with racing cars, a collectors' dream.
Thank you for reading my guide and I hope you found it interesting!