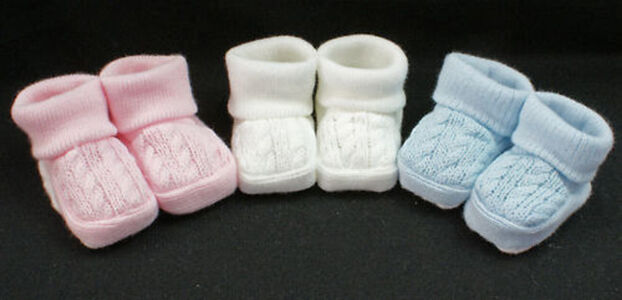 When a baby is born and brought home after months of anticipation, it is only natural for parents to worry about the baby all day and night. Is the baby still breathing? Is the baby warm enough? Is the baby hungry? Is the baby crying because he or she does not want mummy to get any sleep tonight? While not all of those questions can be answered definitively, many of those worries can be eliminated through preparation and understanding what a baby needs.
One such relieving solution comes in the form of baby booties, which help keep a baby warm day and night by preventing heat from leaving the baby's body through the feet. Some family members crochet or knit baby booties by hand months before they even see the little feet for the first time. Other parents receive store-bought booties as gifts at baby showers. Some parents also use hand-me-down booties from when they were children or from their other children or friends.
The potential problems with booties are that not all booties fit right, or the fabric may irritate a baby's sensitive skin, or the baby outgrows the booties faster than exhausted parents can say, 'It's your turn to get out of bed'. Luckily, baby booties are constantly sold in brick and mortar baby stores, and both new and used booties can be found online at large marketplaces like eBay.
Common Materials Used in Baby Booties
All different types of baby booties can be found, and it is important to know more about the materials that are used in these different styles, especially if a little one has any allergies or is prone to skin irritation. Choking hazard is another concern, and age should be taken into consideration before giving babies booties with beads, buttons, or other baubles that could end up in an infant's mouth.
Material

Description

Found in many of the yarns used to crochet or knit patterned booties

Hard to clean

Shrinks in the dryer

Fleece

Woollen-type fabric derived from synthetic fibres

Mostly polyester, although natural fibres may also be used

May be waterproof or stretchy

Buttons

Used to decorate various types of booties

Can detach from booties and pose a choking hazard for babies not under supervision

Beads

Used for formal baby booties that are more decorative than functional

Can detach from booties and pose a choking hazard for babies not under supervision

Rubber

Can be found in some synthetic blends

Common for store-bought booties

Used to provide traction on booties for walking babies
Various other fabrics and materials are used to make baby booties, as well, but the chart above notes the most common options. A vast array of colours, patterns, and styles can be found to satisfy virtually every taste.
Various Baby Bootie Styles
Many families love to dress their newborn babies in styles that reflect the parents, and baby booties give new parents many fun possibilities. For instance, sports fans can find booties with their favourite team's logo, or stylish mothers can turn their babies into miniature fashionistas with booties that reflect current trends in the fashion world. Finding the perfect style to put on a baby is essential, as booties are often seen as a symbol of welcoming the baby to family traditions, whether those traditions are style- or sports-oriented.
Style

Description

Traditional style for newborn baby girls

Characterised by showing ankle and the top of the foot

Mary Jane booties have a strap across the top of the foot with a button, like the shoe

Tall boots that hide the ankles

May come in different colours and have different characteristics

Reflect the style of men's loafers

Typically brown in colour with a boat-like shape

Booties patterned to resemble tennis shoes

Feature shoelaces and various colours

Booties that look like cowboy or cowgirl boots

Sports-Related

Resemble hockey skates, basketball shoes, soccer cleats, or other sports-inspired footwear

Some styles feature the colours and logos of specific sports teams

Booties with faces of monkeys, lions, cats, dogs, or other animals
The chart is certainly not meant to be all-inclusive, but these particular looks are definitely popular. Booties with stars, hearts, and geometric shapes also enjoy some popularity, as do booties that are gender specific to either boys or girls.
Making Baby Booties from Scratch
If buying a pair of pre-made baby booties is too impersonal for the newest addition to the family, DIY methods present fun learning opportunities and give baby booties sentimental value. If this is the case, however, the process should begin months before the baby is born to ensure that the product is finished in time for the arrival of the newborn. Starting several months ahead also leaves room for any mistakes or flaws in the design for first-time knitters or crocheters.
Crocheting is an easy-to-learn option. Yarn can be bought in brick and mortar stores and online through websites like eBay, as well. The size of the bootie is completely dependent on the size of the crochet hook that is used, not the tightness of the stitching, and this is a benefit for new crocheters. For reference, a size F hook produces 10.16 centimetre bootie soles, while a size D hook produces 8.89 centimetre soles. Bootie crocheting tutorials can be found in craft stores, and how-to videos can also be found online for special guidance. When beginning the baby booties, the soles are finished first, then the booties' toe top, followed by the edging, with the tie or loose string of yarn added last.
The same method is used when knitting booties. Knitters start with the soles and finish with the booties' ties. Like the crochet method, the size of booties depends on the size of the knitting needle. For baby booties, size 7 and 8 needles are recommended. Tutorials can be found in brick and mortar craft stores as well as online.
There are various other methods that can be used to make baby booties using other materials. Pieces of fabric can be sewn together to make booties, for example, but crocheting and knitting are the most traditional methods for making baby booties that could potentially become sentimental heirlooms.
Taking Care of Baby Booties
Maintenance of baby booties varies, depending on the fabric or material that is used in the booties. For instance, polyester-based booties can be cleaned in a washer and dryer, but handmade, yarn-based booties need to be hand-washed in the sink and hung to dry. Washer-friendly booties with baubles, such as buttons or beads, should be turned inside out before being placed in the washer or dryer to prevent the decorations from falling off. A definite positive is that booties do not need to be washed often since newborns generally do not dirty their feet. However, while washing booties does not need to be frequent, bathing the baby and his or her feet is important, as bacteria can linger between the booties and the feet.
Finding Baby Booties on eBay
Besides the large selection, the benefit of shopping for booties on eBay is the buyer's ability to search for specific items and then narrow down the results by price and condition. This ensures affordability and satisfaction with every purchase and allows buyers on tight budgets to consider gently used options. By inserting keywords like ' cowboy baby booties' into the search box, the perfect pair of baby booties can be found within a matter of a few mouse clicks. The lack of geographical boundaries on eBay also gives parents the opportunity to consider buying culturally themed booties from all over the world.
It is important to research the reputation of sellers on eBay before committing to a purchase, especially when buying baby booties in used condition. The size, comfort, durability, and quality of the baby booties can only be ensured by thoroughly reviewing the selling reputation of the chosen vendor. Looking at the feedback left by previous customers allows you to feel confident about a purchasing decision and increases the odds of your satisfaction with the chosen booties.
Conclusion
When a fresh-faced newborn enters the home, the last thing that parents want to worry about is the protection or comfort of any part of their baby's body. Baby booties not only keep a baby's feet warm, but they also keep the feet clean and button-cute. A plethora of styles are available for family and friends to choose from to adorn those adorable little toes. The possibilities include everything from cowgirl-inspired booties to crocheted loafers that look just like Dad's shoes.
Friends and family can also choose to make booties themselves if they happen to be skilled at crocheting or knitting. Alternatively, pre-made booties can be found in brick and mortar baby stores or online at baby-related retail websites or large, diverse marketplaces like eBay. Whether baby booties are purchased or made by hand, the perfect collection of baby booties is the ideal (and adorable) solution for little cold feet.