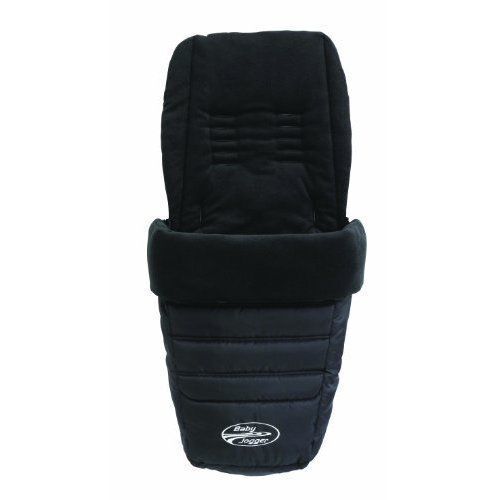 A footmuff is an added component to a jogger stroller, especially when the weather gets cold. A footmuff helps keep a baby's feet warm and cosy during inclement weather, and a padded footmuff makes baby comfortable and ensures an enjoyable ride. Baby Jogger makes footmuffs specifically to fit its brand of jogger strollers, so a perfect fit is ensured. Footmuffs typically have a soft inner lining to keep infants warm, and the front part of the footmuffs can be removed for easy access.
Footmuffs can be used on jogging strollers for children up to 24 months, so buyers get a lot of use out of their footmuffs. Footmuffs come in various styles to easily fit certain models of jogging strollers, and they also come in a variety of colours to match the strollers and look stylish. Protect baby from rain and cold weather when riding in a Baby Jogger stroller with a sturdy, functional footmuff that is useful for up to two years. Choose the right footmuff based on the existing stroller style and colour preference.
Select a Footmuff by Colour
Baby Jogger footmuffs come in many colours to match the entire line of jogging strollers perfectly. Some of the colours available are red, purple, green, black, and beige. Buyers looking for specific colours should narrow the search for footmuffs based on colour by selecting the colour preferences from the available colours listed. This only shows consumers footmuffs in their preferred colour shades.
Some footmuffs are dual coloured, and buyers can select footmuffs with a black or grey inner fleece lining, for example. Some footmuffs offer a cream coloured lining as well. Shoppers should select the colour combination which best expresses their styles as well as the colour of the jogging strollers. Black on black is always a classic colour choice for a footmuff, and it looks posh with a black Baby Jogger stroller.
Select a Footmuff by Style
When it comes to the types of footmuffs buyers can choose from, the most important way to choose the right footmuff is to know the stroller style the footmuff is going to be used for. Since Baby Jogger footmuffs correspond to the stroller models, this creates a good fit for the strollers. All of the Baby Jogger footmuffs are made with removable front aprons, and are they fully padded and lined with fleece.
Baby Jogger footmuffs use zippers which are easy to get on and off of the strollers, and they are easy to remove the fronts of to simply create pram liners. The footmuffs are also easy to take care of, and can be tossed into washing machines for simple cleaning.
Multiple Fit Footmuff
Baby Jogger footmuffs which are labelled multifit do fit almost all of the Baby Jogger strollers except for two models: the City Versa and the City Select. These models need their own footmuffs. Multifit footmuffs fit a wide range of the Baby Jogger strollers including the City Mini and the City Elite. In addition, these multiple fit footmuffs are versatile, functional, and look stylish on a number of Baby Jogger stroller models.
City Select Footmuff
The City Select footmuff is only compatible with the City Select Baby Jogger stroller, and does not fit properly on any of the other Baby Jogger models. For buyers who have this stroller, the multiple fit footmuff does not work either. Buyers need to purchase the footmuff that fits the City Select model only, which is only one style of footmuff specifically designed for this stroller model. The City Select footmuff comes in all of the available colours that the multifit footmuff comes in, so consumers still have a wide array of shades to choose from to match their City Select Baby Jogger stroller.
City Versa Footmuff
The Baby Jogger City Versa stroller is another model which has its own specific footmuff and is not compatible with any other types of footmuffs, including the multiple fit footmuffs. Consumers need to read the seller's instructions carefully to select the proper footmuff for the stroller the footmuff is going to be used for to ensure they are getting a matching product that fits the stroller properly.
The model of the footmuff should be mentioned in the seller's description of the product. The City Select and the City Versa are the only Baby Jogger stroller models which have their own specific footmuffs; all of the other Baby Jogger models can simply use the multiple fit style footmuff for a good fit.
Selecting the Right Footmuff for Each Stroller Model
It is simple to find the right footmuff for each stroller model, considering the multifit footmuff fits a wide array of Baby Jogger strollers, and there are only a couple of models which need a different type of footmuff to ensure a proper fit.
For consumers who have a Baby Jogger stroller that uses the multifit type of footmuff, it is simpler to shop. For consumers who have a City Select or City Versa model, they must purchase that exact type of footmuff to ensure that it fits the existing stroller as it should, to provide comfort and protection for the infant.
Type of Footmuff

Multiple Fit Footmuff

City Select Footmuff

City Versa Footmuff

Baby Jogger Stroller the Footmuff Fits

City Mini Stroller-single and double

City Mini Stroller-GT and 4-Wheel

City Elite Stroller

Summit XC Stroller

City Select Stroller only

City Versa Stroller only
Simply select the proper footmuff according to the type of stroller. Some buyers may want to purchase different brands of footmuffs for their Baby Jogger strollers, but the Baby Jogger brand of corresponding footmuffs is really the best option for the best fit, and when shopping for footmuffs on eBay, the price is affordable. Baby Jogger is a high-quality brand that also makes superior footmuffs to go with its strollers. While the Baby Jogger brand of footmuffs also fit on other brands of strollers, the fit is ensured with the Baby Jogger stroller and footmuff combination.
How to Buy a Baby Jogger Footmuff on eBay
To purchase a Baby Jogger footmuff on eBay to keep your infant warm and toasty during cold winter days, simply use the home page or any internal search page bar to key in the specific words for your search, such as " Baby Jogger footmuffs ". This brings up a variety of footmuffs for you to choose from, and you can narrow your selection according to colour if you desire. Once you have narrowed down your search to a couple of footmuff options, compare the items by price and condition, and read the descriptions the sellers provide very carefully to get all of the information about the footmuffs. If you are purchasing a used footmuff, make sure it is in excellent condition and any rips, stains, and tears are noted in the description.
A good way to search for a quality buyer on eBay is to ensure that the merchant has the Top-rated seller badge on his or her page. Look at the seller's feedback comments and ratings from other buyers. This can help you find the perfect seller to buy from. Once your transaction ends and you have successfully received your item, go back to the seller's page and leave your own feedback, which helps him or her in future transactions, as well as help other buyers. If you are actually planning on buying a Baby Jogger stroller and footmuff, some sellers offer a set with both of these items included, or you may be able to create a bundled shipment with both items for a discounted price.
Conclusion
A Baby Jogger footmuff is a necessary addition to any baby's jogger stroller, especially if the stroller is the Baby Jogger brand. For parents on the go, cold weather can be limiting, but it does not have to be. Simply use a Baby Jogger footmuff to keep a little one warm while out and about, and a fleece lined, breathable footmuff keeps baby secure and cosy during rainy or chilly days. Used in conjunction with a rain shade, a footmuff keeps baby from getting wet on inclement days. While Baby Jogger footmuffs can retail for high prices in specialty boutiques and stores, they are an affordable buy on eBay, and there are many footmuff options to choose from. The inner lining of the footmuff can also be taken out for less cold days to adjust the warmth of the footmuff.
When purchasing Baby Jogger footmuffs, buyers should ensure they are getting the proper footmuffs for their exact stroller models so the fit is correct. A good footmuff can last for up to two years and accommodates a child from infancy to two years old. For buyers who use their Baby Jogger strollers frequently, this is a worthwhile expense, especially for consumers who get affordable deals on Baby Jogger footmuffs by shopping on eBay. Keep infants warm all winter long with soft, comfortable, and plush Baby Jogger footmuffs which offer a custom fit for the Baby Jogger line of strollers.