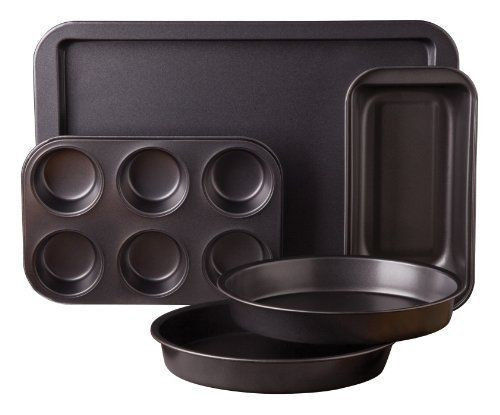 Bakeware sets are collections of matching items used for cooking and/or serving a variety of dishes. They include a generous assortment of ovenproof containers, such as cake tins, loaf tins, pie dishes, roasting dishes, and many more. Bakeware sets come in diverse materials, shapes, and sizes, and there is a great deal of choice available. Follow these steps for a complete guide to buying bakeware sets.
Key Features of Bakeware Sets
Before beginning to search for available products, it is worth thinking about the key features of bakeware sets in order to decide what fits the lifestyle of the household and, of course, the requirements of the chief cook. Style, appearance, materials, and essential elements should all be taken into account. Here are a few pointers to consider.
Style and Appearance of Bakeware Sets
As they are collections of matching items, a certain amount of thought needs to be given to the aesthetic aspect of choosing the type of bakeware sets that are used for oven to table service. This means that their appearance can be equally as important as their ability to function well. eBay has an enormous range of kitchen goods including bakeware sets in the most popular colours, namely blues, greys, pinks, and reds - as well as a variety of traditional and contemporary finishes and patterns.
Materials Used in Bakeware Sets
Popular materials include ceramic, glass, silicone, and a variety of metals including carbon steel, stainless steel, and enamel; note that metals are not suitable for use in microwave ovens. In addition to whether or not they are microwaveable, sets may be selected on the basis of how easy they are to keep clean, and whether or not they are safe to put into a dishwasher.
Ceramic
A popular choice for tableware, ceramic sets are made from clay hardened by heat. The traditional stoneware shapes for bakeware sets are circular, oval, and rectangular, and the conventional glazes are white, cream, and brown. In recent years these have given way to new shapes and colours, including square dishes in aubergine, lime green, teal, and Mediterranean blue.
Silicone
Less of an option for oven to table during elegant dinner parties, and more attuned to children's parties or other occasions when style equals bright colours, silicone bakeware sets can make the whole business of cooking and baking into a fun task. This is a relatively new material, flexible, and able to withstand extremes of temperature, and is, therefore, much used in the manufacture of freezer as well as oven utensils.
Types of Bakeware Sets
Despite the fact that there is no uniform number of pieces in bakeware sets, many consistently feature between four and seven pieces, although children's bakeware sets often contain up to 17 or 18 pieces. Some sets are designed for food preparation, some for serving, and some for both.
Professional Bakeware Sets
With a minimum of five pieces, and made of carbon steel or stainless steel, sometimes with a copper base, professional bakeware sets for baking normally include one 12 cup muffin tray; 2 nine-inch round cake pans; one 15-inch cookie sheet; and, one 8-inch square cake pan. This basic set makes it possible to prepare fairy cakes, muffins, or other small cakes; tarts, flans, quiches and sponge cakes - the last of which requires two tins of equal size; biscuits and scones, and square cakes or loaves of bread. These sets will normally be non-stick, easy to clean, and safe to use in a dishwasher. Alternatively, bakeware sets for baking and roasting contain a slightly different selection of items.
The muffin tray is usually included, as is a 15-inch rectangular baking sheet. However instead of a selection of cake tins, roasting bakeware sets often include a deep roasting tin, a shallower baking tray and a roasting and cooling rack. All these pieces stack together for easy storage. This set will suit cooks who make savoury dishes more often than sweet ones, or who already have a selection of cake tins that suit their requirements.
Children's Bakeware Sets
Silicone is the most popular material for children's sets for the preparation of food as it comes in bright colours and cannot be scratched, dented, torn, or otherwise damaged. Having their own utensils is a great incentive for children to experiment with cooking - that, and being able to eat the results afterwards. Most sets will have a variety of items that may include some or all of child-sized mixing bowls, whisks, rolling pins, mixing and measuring spoons, and spatulas. Cookie and pastry cutters in fun shapes are almost always included, and many sets include muffin cups and miniature tart trays. Children will enjoy making their own very simple recipes from start to finish.
Oven to Table Bakeware Sets
With the focus on presentation at table, rather than food preparation, these sets are often made of ceramic, glass or Pyrex and contain items suitable for preparing ingredients, cooking and serving. A typical glass set, for example, might include a 9in x 13in baking dish; a 2-litre casserole with cover; a 2.5-litre mixing bowl with lid; a 1.5-litre mixing bowl with lid; and, four 6-ounce custard cups with lids. Ceramic bakeware sets are often sold without lids, and commonly include, for example, a casserole dish; a square roasting dish; a rectangular roasting dish; and, four ramekin dishes.
Buying Bakeware Sets on eBay
Choosing the right bakeware set is straightforward once the purchaser has determined exactly what is required. First, determine the ideal components of the set - consider whether it will be used principally for baking, or whether a set that includes roasting utensils will be more appropriate. Think about whether it is for adult use only or whether children will want to lend a hand, as this may determine what materials will suit best. If cooking is done mainly in a conventional oven, any material will suffice, whereas if a microwave oven is used a lot, bakeware sets made of non-metal materials will be most suitable. Finally, remember to factor in the amount of storage space available in the kitchen, especially if the conclusion is that a separate children's bakeware set may be needed.
The Buying Process
By browsing eBay's selection of goods, the purchaser can get a good idea of prices and, when confident that the right bakeware set has been identified, it is time to examine the listing in more detail. Where goods are for sale at a stated price, the process is easy and purchasers should note that the stated postage and packing cost is in addition to the product price. When goods are being auctioned, then the bid system is such that the highest bidder will get the product. eBay has a number of tools in place to help bidders manage their transactions easily.
Find Bakeware Sets On eBay
The first thing to do on eBay is to register for an account, which is free and simple to do - just click on the Register link on the home page and follow the instructions. Then, choose the Home & Garden category from the Furniture & Living menu on the left hand side, scroll down to locate the Cookware, Dining & Bar sub category, which includes an enormous selection of kitchen goods. Typing in "bakeware sets" will give an overview of the available products, which can be further modified by selecting preferred features in the menu on the left hand side, for example materials, colours, and brands.
Conclusion
Buying bakeware sets can be more convenient and more economical than purchasing a range of individual items, such as cake tins, roasting tins, and tableware. There is a wide range of choices on eBay in terms of materials, sizes, colours, and suitability for specific cooking tasks. Buying products is quick and straightforward, with online information, advice, and help readily available.