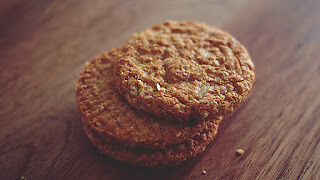 Has disaster struck? You've just finished making a batch of biscuits and they haven't turned out perfect. Don't worry, have a look at the below tips to make sure your next batch are back to baking perfection.


My biscuits have spread:

The mixture may have been placed too close together on the tray, make sure you leave at least 5 cm between each biscuit.
The mixture may have been too wet. Check to make sure wet ingredients were measured correctly and check if extra flour was needed.
The mixture may have contained too much fat or sugar, ensure measurements were correct and if biscuits taste too sweet slightly reduce the amount of sugar.

My biscuits have stuck to the tray:

If the biscuits are still soft to touch, they may have needed longer in the oven.
Check that the correct oven temperature was used, the oven may have been set too low or it was not pre heated sufficiently.

My biscuits came out dark and hard:

The oven temperature may have been too high, remember that fan ovens need reducing by 10 degrees.
The biscuits may have been in the oven too long or not positioned correctly. Remember that when baking, trays are best placed in the centre of the oven. Trays near the bottom of the oven often cook the under side too quickly.
A dark colour may indicate that too much sugar has been used in the recipe, which has caused the biscuits to darken, check quantity in the recipe and reduce if needed.

My biscuits have not cooked evenly:

Make sure that the biscuits are roughly the same size and thickness. Check biscuits 5 minutes before the end of cooking time and remove any which are already golden.