Baking trays are useful for cooking many different types of food, and should not miss from your kitchen, no matter if you bake often or just the Sunday roast occasionally. You can select from different sizes, different shapes, and even different heights based on your baking needs and the oven you use. While you need to consider these aspects when purchasing baking trays, you can choose a tray that offers you the most versatility and ease of use in your kitchen.
Baking Tray Size
Baking trays come in a range of sizes, and size is a good way to choose a pan. Measure your oven's width and depth before buying a baking tray to make sure it fits. Choose either a large or a small baking tray, as long as it fits comfortably in your oven, but is large enough to hold your meals. In addition, consider selecting a baking tray based on the number of people for which you typically bake.
Baking Tray Material

Baking trays come in a range of different materials including steel, enamel, aluminium, copper, silicone, carbon steel, and stainless steel. Silicone trays are suitable for baking desserts, such as muffins or loaf cakes. Many silicone trays are made expressly for baking cakes of a specific shape, such as rose, heart, or even cartoon characters. Steel trays are great for anyone who wants a heavy-duty tray or a springform pan. Aluminium trays are lightweight, easy to store, dishwasher safe, and rust resistant.
Baking Tray Lips and Rims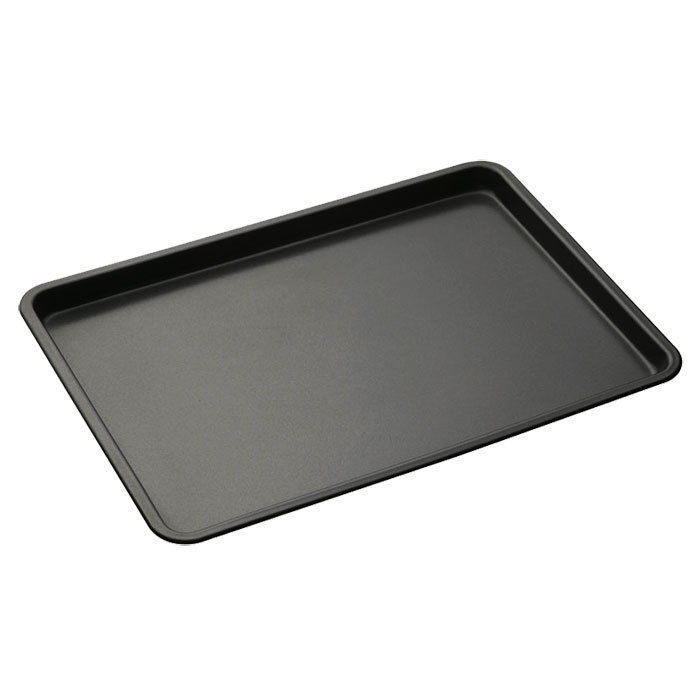 Many pans feature different types of lips and rims, and the height usually affects the main use of the pan. For example, pans with very low lips or rims are perfect for baking cookies, scones, buns, and rolls. Pans with medium lips are better for baking low cakes, brownies, and potatoes. Trays with high lips are great for roasting meat, baking dishes that include a sauce, or making casseroles.
Baking Tray Sets
If you plan to bake a range of different meals, then a baking tray set may be a better option than a single tray. A baking tray set generally includes two to eight trays of different sizes and, sometimes, different shapes. For example, most Concord baking sets contain trays of the same type, but a Masterchef tray set might include several different types of pans.
Baking Tray Liners and Coatings
Some baking trays are available with liners and coatings. These help keep whatever you are baking from sticking to the pan and usually make cleaning easier. However, liners and coatings can sometimes affect the flavour of the food, and usually increase cooking time.