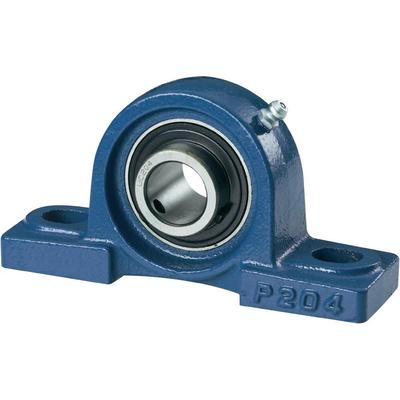 Ball bearing unit information
Ball bearing units consists of pre-lubricated sealed ball bearings and a housing which varies in shape.

They are capable of aligning themselves efficiently using the spherical fitting surface between the bearing and housing, effectively preventing overloads due to misalignment.

Our Koyo and JIB branded Ball Bearing Units are highly accurate and feature excellent load resistance. They are completely sealed, and provided with a re-lubrication feature. Ball bearing units without a re-lubrication feature are also available.

Longer lubrication life The solid grease lubricating the bearing has been heathardened and is a mixture of lubricant and ultra high moleculer weight polyethylene. The solid grease reduces leakage, prolonging lubricant life especially when used under conditions of vibration or centrifugal force. Also, this grease will not homogenize when water penetrates into the bearing raceway.

Pillow Block Types

Pillow block type units (UCP, UKP, NAP, NAPK)
Thick section pillow block type units (UCIP, UKIP)
Tapped-base pillow block type unit (UCPA)
Higher center-height pillow block type unit (UCPH)
Light duty pillow block type unit (BLP, ALP)
Compact series pillow block type unit (UP)
Stainless-series pillow block type unit (UCSP-H1S6, USP-S6, UCSPA-H1S6)
Pressed steel pillow block type unit (SBPP, SAPP)

Interchangeability

The basic dimensions are the same as current Koyo and JIB units and are also compatible with units from other manufacturers ISO standard.