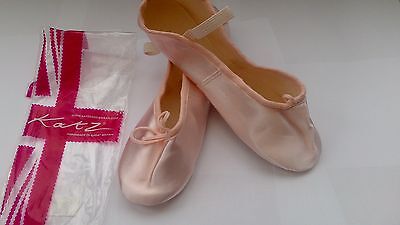 To find the size of ballet shoe you require you need to add one and a half sizes to your outdoor shoe size. So if you are a UK size 5 you will need a size 6.5 ballet shoe size. A UK child size 13 would need a ballet slipper size 1.5. There is usually a drawstring in the ballet shoe to adjust the width fitting to fit your foot. Pull the drawstring carefully and tie in a bow. The bow should be tucked away into the ballet shoe when worn.
Ballet shoes are meant to fit the foot snugly (almost like wearing a sock). They are made from soft materials that are designed to give a little when worn. There is no right or left shoe so it is wise to mark the bottom of each shoe the first time they are worn. They will soon mould to the shape of your feet so it will be obvious which foot they should be worn on.
If after time your feet grow a little and the ballet shoes feel tight it is always best to undo the drawstring and pull the shoes a little to release the tension. This will give a little extra room in the ballet slippers.