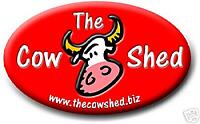 Handy Hints
Be organised: have everything you need ready - food, marinade, seasonings, equipment and tools - and at the grill side before you start grilling.

Never stab the food when turning it, always use a pair of tongs to grip and turn. Stabbing meat with a fork will allow tasty juices to drain away into the fire.

Foods will cook faster in a covered grill - resist the urge to peek except when basting or turning.

Tender cuts of meat can be marinated in as little as 15 minutes! Less tender meats need to be marinated at least 6 hours.

If using wooden skewers, soak in water thirty minutes before using so ends won't burn during grilling time.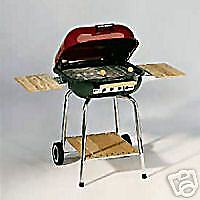 Grilling Poultry

As a general rule of thumb, grill boneless, skinless chicken breast halves over Direct Medium heat for 8 to 12 minutes or until the juices run clear and the meat is no longer pink in the centre, turning once halfway through grilling time.

Grill bone-in breast halves over Indirect Medium heat, bone-side down, for 30 to 40 minutes or until the juices run clear and the meat is no longer pink in the centre. If you like a crispy skin, you can place the breasts skin-side down over Direct Medium heat during the last five minutes of grilling time.

Whole chicken and turkey is safely cooked when the juices run clear and it reaches an internal temperature of 170ºF in the breast and 180ºF in the thickest part of the thigh.

When taking the temperature of a whole bird, be careful not to let the thermometer probe contact bone. It could lead to a false reading.
Grilling Beef
Choice cuts, because of their more abundant marbling, are the best for the grill (unless, of course, you can get your hands on Prime grade).

For a tender, juicy steak let the meat stand at room temperature for 20 to 30 minutes and salt it just before grilling. After removing the steak from the grill, let it rest for 5 to 10 minutes to allow the juices to redistribute.

To get the best grill marks on your next steak, lightly brush or spray the steak with an extra-virgin olive oil just before placing it on the cooking grate.

Marinate less tender cuts of beef like flank steak before grilling. To tenderize, a marinade must contain an acidic ingredient such as fruit or vegetable juice, yogurt, wine, or vinegar.

To keep your steak or chop from curling around the edges, slash the outer layer of fat at 1 inch intervals.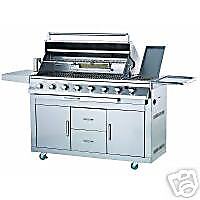 Grilling Vegetables
Want to wow them at your next backyard bash? Serve grilled asparagus. It's easy and oh, so delicious!

Most vegetables cook quickly on the grill, so keep an eye on them.

If you like beets, grilled beets will shoot you right over the moon. Simply brush a whole beet, top removed, with a light coating of oil and grill over Indirect Medium heat for 1 to 1-1/2 hours or until tender.

If your vegetables are being charred on the outside but raw on the inside, try parboiling them before putting them on the grill, then lightly brush with olive oil and grill until tender, turning once.