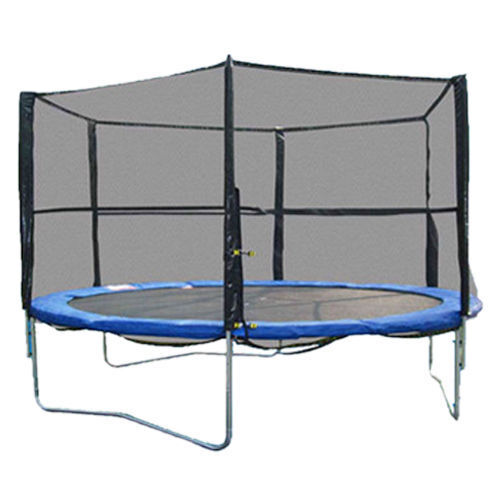 Since its inception trampolining has increased in popularity. It has become a new hobby for many whilst others are giving the sport serious consideration due to its health benefits. Even the most basic routines consist of a workout that targets arms, legs, back and core. In turn, muscle strength and lung capacity also receive the effects of the physical exertions trampolining can have.
Purchasing the correct trampoline for the home can be a challenging task with safety standards topping the list of requirements. eBay has everything required to maintain a safe and durable trampoline in the home environment.
Types of Trampolines
Before exploring eBay's variety options it is advised to learn about the types of trampolines for sale.
* Backyard (Round) - For recreational use. Comes in sizes 12ft by 12ft and up. Models in this class place versatility over sturdiness and would be acceptable for those looking for a basic trampoline.
* Backyard (Rectangle) - The rectangle variation of the backyard trampoline. These are usually made of robust materials and carry a more professional look than its round counterpart.
* Gym/Olympic - Used in official competitions and tournaments. The largest trampoline currently available.
* Rebounder (Mini) - Used for simple aerobics training, not suitable for full exercise routines due its small stature.
Not all trampolines offer the same features or degree of resistance. It is well known that most trampolines carry small similarities but in the large part they are constructed with a different use in mind. Perspective trampoline buyers should know what they want from their purchase and how to stay safe once their new trampoline is set up.
Trampoline Positioning
When purchasing a trampoline, it is important to consider its position, whether that is in or out of the house. Certain areas will offer unique safety benefits. Keeping an area of space around the trampoline is crucial no matter where the trampoline is situated. Doing this ensures that there is enough space to get on and off the trampoline safely, whilst also ensuring that whilst on the trampoline the user will not clash with walls or surroundings. If possible buyers should also avoid positioning a trampoline on concrete, a soft service such as grass will allow the legs of the trampoline to become rooted and offer a sturdier base. Doing so will also provide extra protection should someone fall from the trampoline. Other things to consider when positioning a trampoline are:
* Place on a level surface.
* Place in area of wind resistance.
* Situate away from trees and debris.
The above guidelines will not only help provide an added level of safety but will help improve the users trampoline experience.
Trampoline Maintenance
Trampolines are built for longevity and should come with a standard five-year guarantee. If they are looked after properly you can get fifteen years or more out of your investment when buying from new.
* Springs and Pads - If they do need replacing do not hesitate to do so. They are crucial to keeping the trampolines frame in place and it is better to be safe than sorry.
* Legs - Always ensure that the legs are locked in place when setting up and using the trampoline.
If the trampoline is based outside it would be advised to take the trampoline down during the winter months in order preserve its lifespan. Maintenance isn't the first thing that springs to mind when purchasing a trampoline, in part due to their noted longevity as a piece of equipment. But be aware of possible wear and tear, as keeping on top of it will keep it useable long after its warranty has expired.
Trampoline Safety
Due to the nature of a trampolining, safety is something that is not to be taken lightly. If the trampoline is being used by children an enclosure or net is a must own piece of equipment. Such is designed to keep the user safe in the confines of the trampoline area, which can minimise the risk of injury. Ensuring safety should be a priority and taking the following steps can help keep all who utilise the equipment protected.
* Keep a safety perimeter of 2.5m or more around the trampoline.
* Only one person should use the trampoline at any given time.
* Children should be supervised at all times when using a trampoline.
* Children should use a trampoline that is suitable for their age range and weight.
It also key to pay attention to what takes place on the trampoline itself when it is being used, specifically in the case of children.
* No somersaults.
* No jumping off to the ground.
* No crawling or swinging of legs underneath the trampoline.
* No shoes on the trampoline.
* No jewelry on the trampoline.
* Avoid wearing loose fitting clothing.
Instilling these simple precautions will help keep users of the trampoline safe and reduce the risk of serious injury.
What to Look Out for When Buying a Trampoline
When buying a trampoline it is important to know what makes a good quality unit. Frames that are constructed from galvanised steel are the most common due to their rust protective nature, for indoor trampolines it is not essential but still beneficial. A galvanised steel frame should also be proportionate to the mat and the springs it supports; this is in order to keep exposed metal to a minimum. This also offers the user the maximum amount of jump space. The key elements of a well-built trampoline include:
* Weld Free Construction - Trampolines of this nature usually carry the "Tramp Klamp" tag. They offer concentrated strength in the key areas of the frames build; this in turn allows the trampoline to support a greater amount of stress than basic welded joints.
* Zinc Coated Springs - Springs face exposure to harsh weather. When treated with zinc they have increased durability and can withstand tougher conditions.
* Pad Covers - They keep the trampolines springs and metals protected and are interchangeable, with some offering better resistance to weather than others.
* Testing - Trampolines should have undergone rigorous testing and research before reaching production. The results of such tests should be noted before committing to a purchase.
A reputable trampoline will provide not only long-term fun but also a durable, high performing and strong piece of fitness equipment.
Who is Using the Trampoline
Trampolines are one of the few fitness products that are accessible to everyone. Anyone from age 6 or older can utilise this unique product for fun or aerobic purposes. When deciding to purchase a trampoline it is important to know the type of activities it is intended for and who will be the primary user of it.
Children will use a trampoline for fun but if buying for a child consider how relevant the item will be a few years down the line. If the child is serious about taking up trampolining as a hobby it may be worth investing in a larger model.
Adults generally invest in a trampoline for health purposes due to the excellent workout that it can provide. In some instances an aerobic trampoline will be all that is required.
Using a trampoline as an adult means paying careful attention to the weight limits on current market models. They dictate the degree of impact that the bouncing surface can withstand. Consistent impact of a weight that is too much will cause increased wear and tear and eventually complete failure of the trampoline.
Trampoline failure can result in serious injury and even death. Know your weight before purchasing a trampoline in order to help keep you and other trampoline users safe.
How to Buy a Trampoline on eBay
eBay has trampolines that cater for all tastes and requirements. Using the sites simple yet sophisticated navigation system click on toys and games. Once you are into this section find outdoor toys and activities.
From there shoppers will be able to locate trampolines. This will show all the related items currently available and allow for open browsing. If shoppers wish to narrow down their results further they should use the search function that is located at the top of the page.
Sellers offer a variety of models, variations and sizes in both new and used form. When looking at auction listings pay close attention to both the uploaded pictures and descriptions. You can also ask the seller for more pictures or question them on the items details if you are looking for more information. Buyers should feel comfortable with the item before committing to purchase.
Once decided on the trampoline you wish to buy either place a bid, best offer or complete an immediate purchase via buy it now. After winning an auction make payment via PayPal in order to take advantage of the buyer protection program.
Conclusion
Taking up trampolining can be an exciting and fun hobby with tremendous health benefits. It has been known to improve both athletic and cardio conditioning given a sustained use. However safety issues can be a concern for some attempting this sport for the first time.
Using this guide, common sense and eBay's wealth of options means that purchasing the right trampoline that suits your safety needs is a simple process.