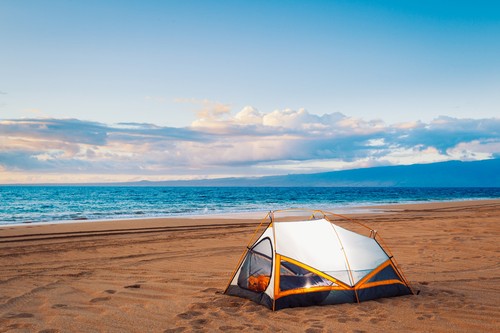 For buyer's who enjoy outdoor activities and excursions a beach tent may well be a worthwhile investment. Contrary to popular belief a beach tent does not just have to be used on the beach to provide shade from the sun, it can also be advantageous to use a beach tent in any of the following places:
Parks
camp sites
a back garden
picnic areas
A good shelter in the form of a sturdy beach tent is a worthwhile investment and will make a trip or excursion more comfortable and enjoyable for everyone involved. There are a variety of beach tents on eBay in a range of:
colours
shapes
sizes
materials
brands
Regardless of the intended use, a beach tent can prove to be a very convenient piece of kit whether it is for reading a booking in the shade or for keeping a child out of the sun's rays.
What are Beach Tents?
Beach tents are not so different from normal camping tents, in the sense that they are made from the same sturdy material, which generally means polyester or water-resistant nylon. There are usually up to three large openings or a single zippered door for easy access in and out.
While beach tents aren't generally intended for sleeping in, and it's against the law to camp overnight on many UK beaches, it's a possibility. They could also be used for sleep-overs in the garden, as shelter or for playing in parks or by lakes, rivers or other open spaces.
The other great benefit to these items is that they fit a family of two adults and a couple of children. Some tents have floors made of the same materials as the tent, others come without a floor.
Benefits of Beach Tents
Beach tents provide a great addition to just having sunglasses. Advantages of owning a beach tent include:
Maximum protection from the elements - that includes wind and sand as well as rain and showers, spray from the sea and the harmful UV rays of the sun. They'll also do quite a lot to make the buyer feel warmer if the day gets colder.
Beach tents also protect belongings so the buyer won't have to worry about getting everywhere. It's also easier to keep water away from valuables and prevent any water damage.
It is better to be safe than sorry when it comes to crime, even on the beach. When possessions are left unwatched there is still danger of opportunist thieves. With a tent, valuables and other belongings are shielded from prying eyes as well as the elements.
Additional privacy –nobody expects to have privacy on the beach, but beach tent owners will find a beach tent helps them relax as a family or group of friends. The privacy of a beach tent also means that owners are able to change in and out of swimwear in privacy and without wrestling with beach towels.
Food is protected and kept out of the sand and sun. There will also be a storage place where picnics can be kept and food can be prevented from spoiling.
Beach tents offer protection for babies and young children and provide them with a shady place to have a rest or nap. Very young babies should never be left in direct sunlight for any length of time. Beach tents also double up as nappy changing stations.
The tents are easily anchored in the sand or soft ground with wooden stakes, and can be put up with great ease.
Different Types of Beach Tents
This type of tent transforms itself from being a small pile of tarpaulin into a temporary family shelter with one effortless motion. Pop up beach tents can be put up very quickly and with great ease. It is also easy to pack these tents away at the end of a long day with minimal effort required. Pop up beach tents are weighed down by sand bags in the corners so they are very light weight to carry around. While these are sometimes more expensive than other types of tent, the eBay buyer might find the extra expense to be worth it.

Cabana beach tents offer shade for the whole family while also offering everyone a great view of the ocean, or perhaps the park, since these models are open on one side.

They can also be zipped up so that it is possible to get changed in private.

These cabana models are highly convenient and self-erecting, and they often come with a special SPF coating so that there's extra protection from the sun. It is possible to buy these as pop up tents from eBay.co.uk.

These are intended for at least two people, while the biggest are large enough to be the setting for a party or other event. Canopy tents can be used instead of marquees for a celebration in a garden. It can take a few people to put up a canopy tent but they are ideal for camping trips, barbecues and festivals if the buyer is part of a larger party.

Conveniently for parents and guardians beach tents for small children and babies are available to purchase from the wide and varied selection at eBay.

These are lightweight, easy to put up and offer shade and shelter for a baby or child on a beach, in a park or even in the living room as a place to play. These are also useful for young children, who will love having their own space to play in, or perhaps eating their lunch in a separate tent to the grown-ups.

And, of course, as well as being fun, these tents provide a very important function considering how sensitive and delicate a baby's skin is.
What to Consider When Choosing Your Beach Tent
The buyer will need to consider which type of beach tent will work best for their needs. If the buyer has children who like building sandcastles all day, they could choose a tent without a floor. A smaller, completely enclosed model could be ideal if a toddler is unlikely to nap unless all of the outside world is blocked out.
There are various important factors to take into account, including:
Size
Material
Ease of use
Style
Colour
Size
It is important to think about how many adults and children are likely to use the tent, whether there will be picnic chairs and tables inside it, and whether standing up inside the tent needs to be an option.
Material
Most beach tents come with UPF protection, which means that the material has a coating to keep off some of the sun's rays. The coating is usually on the highest point of the tent. If the sides are not protected, this may allow for better ventilation, but the buyer should bear in mind that the sun many not be kept off a child at all times.
Ease of Use
It is an important factor to consider how heavy the tent kit will be to carry from the car to the sand, or wherever the destination, especially after a long and tiring day on the beach.
The buyer needs to think about:
How easy the tent is to put up and take down again?
How sturdy it when it's erected?
What location will it be used in?
How much space does it take up in the car or garage when not in use?
All these things contribute to a beach tent's general user-friendliness.
Colour
Some children may insist on a particular colour for a beach tent, especially one they're playing in a lot.
Beach tents come in all sorts of bold designs and bright colours so it will not be difficult for the buyer to find one that suits their tastes. Equally, a really brightly coloured tent can be easy for children, or anyone for that matter, to find when they are coming out of the sea at a different point to where they entered.
Buying Beach Tents on eBay
If a buyer is looking for a great selection of new and used beach tents at affordable prices it would be wise to consider eBay.co.uk. Many eBay vendors offer free shipping, making life even easier.
It is possible to speedily refine and narrow down any search using keywords. The buyer just needs to type words related to the specific item of choice into the search box to find the listings matching the specifications. For tips on shopping using keywords, buyers should go to eBay's Searchtips page. It is also possible to visit eBay Storesfor a further variety and help.
Conclusion
Few things make for a better family day out than at trip to the beach. To get the most out of this precious time and the great feeling of freedom it offers, it is best for the buyer to be properly equipped. EBay has everything needed for the perfect day out as well as tents, from beach umbrellas to toys and chairs.