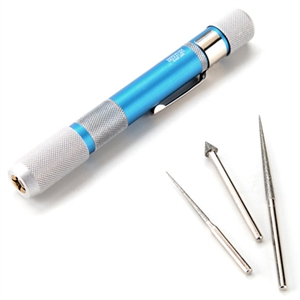 The main function of a bead reamer is to make the edges of bead holes larger or smoother. This is one of the basic tools used by crafters when working with beads. Most models of bead reamers are suitable for a wide range of beads, regardless of the material they are made of. A bead reamer consists of a handle and a tapered grinding tip, which may sometimes be embedded with diamond dust in order to be used with beads made from glass, ceramic, or gemstones.
Buyers can choose from several types of bead reamers and the decision should be made according to the characteristics of the beads crafters intend to use for a certain project. It is important to use a bead reamer especially when working with bulk beads, as these may not have drill holes in the same size. By learning more about choosing a bead reamer and how to use it effectively, buyers can make sure every jewellery project they work on is a successful one.
The Benefits of Using Bead Reamers
The main benefit of owning a bead reamer is the fact that crafters can get perfectly smooth centres for the beads without damaging them. Beads that do not have the right hole size or perfectly smooth centres may cause the thread to wear off over time, thus ruining a perfectly fine piece of jewellery. Less than perfect holes are a characteristic of beads and pearls bought in bulk, and for this reason a bead reamer is a must have tool for anyone interested in jewellery making as a hobby.
Besides using a bead reamer to remove the abrasive edges on beads, crafters can also use this tool to make the beads larger in order to accommodate different types of thread. Enlarging holes in beads is a procedure that needs to be done carefully in order to avoid destroying the beads. A bead reamer can help jewellery makers perform this task safely, as the tool is specially designed to enlarge holes in beads safely and rounding them out for excellent results.
Types of Bead Reamers
When shopping for bead reamers, buyers can choose from two main types. Commonly, bead reamers can be either manually operated or battery powered. Professional jewellery makers may want to opt for battery operated beam reamers for practical reasons. Ultimately, the buyers' decision should be based on their preferences and budget.
Handheld Bead Reamers
Handheld bead reamers are often cheaper than battery operated bead reamers. They can offer good results for a wide variety of beads, especially when the reamers are used with the right grinding tips for a specific bead material. However, they require a fair level of practice in order to produce professional results.
Battery Operated Bead Reamers
Battery operated bead reamers are great for enlarging holes in the beads and rounding them out, and these tools are often preferred by beginners. These types of bead reamers often come with a set of batteries included, as well as one or more tapered tips. Battery operated beam reamers may feature a grinding tip covered in diamond dust, which is ideal for penetrating crystal, Bali silver, or hematite beads.
Tapered Tips for Bead Reamers
Buyers can opt to purchase extra tapered tips for handheld or battery operated bead reamers. This is recommended for those who work with a large variety of beads and require different multiple tip sizes. These bead reamer tips are usually available in sets with a gripping handle of sorts, similar to the interchangeable tips that come with screwdrivers. Most bead reamers come with two such tips, one that is extremely thin pointed and one that has a more conical appearance.
How to Use a Bead Reamer Correctly
Using a bead reamer incorrectly may result in destroying the beads, which can in turn ruin an entire jewellery making project. For this reason, buyers should make sure they know how to use a bead reamer correctly in order to get the best possible results. The good news is that virtually any bead, even if it looks unusable, can become perfect for a project with a little work using a bead reamer.
An important thing to keep in mind when using a bead reamer is to keep its tip constantly wet. If the tip is not keep lubricated at all times, the diamond dust coating may strip off, thus making the tip unusable. In addition to that, water is important because it keeps the bead cool in order to prevent overheating, chipping, and cracking. In order to make sure the amount of humidity is ideal when working with beads, many users prefer to submerge both the tip of the bead reamer and the bead into a small amount of water. Water cooling is essential especially when it comes to battery-operated bead reamers, as the process may cause a lot of friction that may otherwise damage the bead.
Once the user makes sure the tip of the bead reamer is wet enough, it is time to start enlarging and smoothing the centre of the beads. Users need to work on each bead separately as it is not possible to enlarge several beads at the same time. Users should ream the beads one by one until they achieve the desired shape, smoothness, and size for each of beads.
New vs. Used Bead Reamers
When shopping for bead reamers, buyers have the option to choose between new or used tools. Each of these options comes with both advantages and disadvantages. An important criteria to consider is the price. New bead reamers are often more expensive than used ones, especially for high-quality models from well-known brands. Buyers can get a better price by opting for a used bead reamer, but they need to pay close attention to the condition of the item. It is often a better idea to opt for a used high-quality model than try to save some money by buying a low-end product in a new condition.
Buyers who decide to shop for a used bead reamer should make sure the item they buy is in a good condition before making the purchase. Those who opt to buy the product in a thrift store for example can easily check out the condition of the item in person. However, buyers who are looking to purchase a bead reamer online should pay close attention to the product description provided by the seller in order to be able to determine the condition of the item. Looking at the photos can also be helpful when it comes to deciding whether a used bead reamer is a good choice. Buyers can also save some money by opting for a used bead reamer and a new set of tips that can actually transform the tool into a brand new one.
How to Find Bead Reamers on eBay
If you are looking to buy a bead reamer to help you with your jewellery making projects, a great way to do so is by using eBay. On this website you can find a variety of models manufactured by different brands and available from a range of sellers from all over the world. Even though buying a bead reamer may seem like an intimidating process for a beginner, by choosing to look for it on eBay you can get access to a multitude of models that can make the search easier.
In order to save time when shopping on eBay for a bead reamer, you should start by typing the words 'bead reamer' into the search bar of the website. You immediately get several pages of results that you can quickly browse through in order to find the right model for your needs. If you want to speed up the search process even more, you can narrow down the results according to your preferences and budget. You can choose to only see new or used items and list them by price. Remember that reading the product description carefully is highly recommended when shopping on eBay in order to make sure the item you buy is ideal for your requirements. If you are on a budget and want to save some money on delivery fees, you can do so by choosing to buy from an eBay seller located in your area.
Conclusion
Bead reamers are essential tools for anyone who has an interest in jewellery making. Whether buyers are amateur or professional jewellery makers, they need a bead reamer in order to be able to create fine pieces of jewellery without damaging the beads. Using bead reamers is not too difficult and the results should be perfect every time, provided that one has a quality tool and uses it according to the manufacturer's instructions. There are multiple models of bead reamers available on the market and buyers can choose one according to their needs and budget.
By choosing to shop for bead reamers on eBay, buyers can make sure they have a good selection of products to choose from. The website provides buyers with a easy to use platform and an intuitive search system that can truly make the search for the right bead reamer a breeze. In addition to that, the fact that the products are available from different sellers from all over the world offers buyers plenty of flexibility when shopping for bead reamers on eBay.