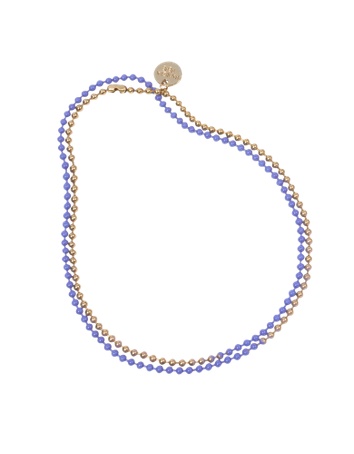 Beaded necklaces are a great accessory, and they come in many different styles. Some different styles of beaded necklaces are chokers, princess necklaces, opera style, and bib style. A buyer should think about different factors when purchasing a beaded necklace, including the necklace's length and weight and the material from which it is made. Beads are made of a variety of materials, including glass and wood; one should keep in mind that the material choice affects the necklace's weight, so some may find a very long necklace of glass beads to be uncomfortably heavy. Beaded necklaces come in all the colours of the rainbow, making them a great accessory, a fun way to add a pop of colour to an outfit. When choosing a beaded necklace, a woman needs to think about the rest of her outfit, so she creates a comprehensive look. It is important to take care of a beaded necklace, which means storing it properly. Beaded necklaces are available at many bricks and mortar stores, as well as online stores such as eBay.
Styles of Beaded Necklaces
Beaded necklaces come in a variety of different styles. Some of the various styles include choker necklaces, bib necklaces, princess necklaces, and opera necklaces. These necklaces vary in their shape, length, and size. Some of them are better suited for formal occasions while others are a great option for wearing everyday.
Choker
A choker is a short necklace that fits tightly around the wearer's neck. This kind of necklace may be a single, simple strand of beads several chains of beads woven or twisted together; or a simple pendant on a ribbon, chain, or string, with a few beads as ornamentation. For special occasions, one may wish to wear a pearl choker. A basic choker necklace can be worn every day.
Princess Style
A princess style necklace is approximately 45.6 cm (18 in) long. This kind of necklace is very popular because it looks good on a lot of women; additionally, it camouflages a thicker neck, and. Another advantage of a princess necklace is that it works with a variety of neckline styles.
Matinee
A matinee necklace is about 61 cm (24 in) in length. This style of necklace is a single strand of beads or pearls that rests just at the wearer's cleavage. This is a classic style of necklace that also looks great with professional attire and is suitable for work.
Opera
An opera style necklace is approximately 81 cm (32 in) in length. As its name suggests, an opera necklace is ideal for formal occasions. This style of necklace can be worn in either single or double strands; with double strands, one of the strands of beads generally is shorter, while the other one falls to about the breastbone.
Lariat or Rope Necklace
This is a longer type of necklace that is often made of strands of pearls; however, a rope necklace can also be made of other lightweight beads. A rope necklace is similar to an opera necklace, but often the two sides are crossed together. This is also an excellent choice for formal occasions.
Bib Necklace
A bib necklace is a style that has been popular at different times over the years. The style is large and dramatic, and can be either triangular or circular in shape. A bib necklace has multiple strands of beads and may have other beads or stones hanging off of the strands.
Factors to Consider when Choosing a Beaded Necklace
When shopping for a beaded necklace, a buyer must consider a number of different factors. Chief amongst these are the weight and length of the necklace; however, the buyer also needs to think about what kind of beads the necklace is made of, what colour it is, and how to pair a beaded necklace with an outfit.
Weight of the Necklace
The weight of the necklace depends on several factors, including how many beads are in the necklace and what kind of beads are used. Some necklaces are made of very small beads while others are made of much larger beads along with stones. If a necklace is lightweight, it might move around a lot, but if a necklace is too heavy then it can make the wearer feel weighed down and become a nuisance.
Length
One should also consider the length of the beaded necklace. Necklaces that are up to 61 cm or less in length need a fastener, but if they are longer than that the wearer can simply slip it on. Necklaces often have different names depending on how long they are. Though longer necklaces are a fun, often elegant style, they can get in the way when trying to do chores or other tasks.
Different lengths of necklaces have been in style during various eras. For instance, long necklaces were in style during the 1920s, while short necklaces were in vogue between the 1930s and the 1950s; the 1960s and 1970s found long necklaces back in style once again.
Kinds of Beads
Those looking for beaded necklaces should know that there are many different types of beads from which to choose. Some of these include wooden beads, glass beads, and precious stones.
| Type of Bead | Description |
| --- | --- |
| Glass Beads | Come in a variety of shapes, sizes, and colours; a very versatile option |
| Wooden Beads | Made from a variety of woods including ebony, rosewood, and sandalwood; often are painted bright colours |
| Precious Stones | Made from a variety of precious stones including ruby, aquamarine, and amethyst; well suited for more formal necklaces |
These are just a few of the different styles of beads from which a buyer can choose. The choice should depend on the occasion and the buyer's own preference.
Colour
With so many different materials from which beaded necklaces can be made, the buyer has a virtual rainbow of colours from which to choose. Basic colours, neutral colours, or precious stones go with a lot of outfits. Alternatively, a necklace in a bright colour can add an interesting accent.
Coordinating a Necklace and an Outfit
The buyer should also think about what style of necklaces work well with different outfits. A basic choker or princess style necklace pairs well with jeans and a t-shirt, as well as other casual outfits. For a glamourous night out, a woman may want to consider a bib necklace. Pearls are also elegant and classy for a night out, as are beads made of Swarovski crystals or other sparkly glass beads. A valuable accessory, a beaded necklace can provide the finishing touch to an outfit.
Caring for a Bead Necklace
It is important for a buyer to take care of a beaded necklace, which mostly involves cleaning and careful storage. One must be careful when cleaning a beaded necklace: certain materials require specific methods of cleaning so as not to damage the beads. One must also know how to properly store a beaded necklace. Many women hang their beaded necklaces on a hook on the wall; however, this can stretch out the necklace. Moreover, some strings tend to kink and tangle easily, so one should store them carefully.
It is a good idea to store beaded necklaces away in some kind of container. If the necklace is made of precious materials, it should be wrapped in a soft cloth and stored in jewellery box. Beaded necklaces should be kept out of hot environments because heat can damage a variety of materials, including mother of pearl, pearl, tortoise shell, and coral. If there are any instructions provided about caring for a necklace, the buyer should follow those specific instructions.
How to Buy a Beaded Necklace on eBay
If a buyer is looking for a beaded necklace, she has no further to look than eBay. One can use its various tools to search the vast inventory of beaded necklaces. Typing simple keywords, such as 'bib beaded glass necklace', into the search box brings up a long list of results. You can then browse through the listings to find the perfect necklace for you. If there are too many listings, you can try to narrow down your choices using either categories or filters.
Another tool you should know about, especially if you are new to buying on eBay, is the feedback feature. Feedback allows you to see what other buyers have said about a seller, in their own words. When reviewing feedback for a specific seller, you should look at both the amount of feedback and the quality of feedback. In turn, after you have made a purchase you can leave your own feedback, which helps future buyers.
Conclusion
Beaded necklaces are a fashionable and versatile accessory, and they come in many different styles, colours, and lengths. Some of the various styles of beaded necklaces include a bib necklace, a choker, princess style, amongst others.
There are several factors a buyer must consider when selecting this kind of necklace, chiefly the size and weight of the necklace. The buyer should also consider the kind of beads and the colour of beads. A woman may want a neutral necklace that goes with many outfits, or a brightly coloured necklace that makes a statement. One should coordinate a necklace with an outfit to create a complete, well finished look.
Care of beaded necklaces is important. To keep a beaded necklace in excellent condition, one must store it properly to prevent the string from stretching out. Depending on the string used, necklaces may also need to be restrung occasionally. Beaded necklaces can add the finishing touch to outfits casual and dressy, and make a great addition to a jewellery collection.