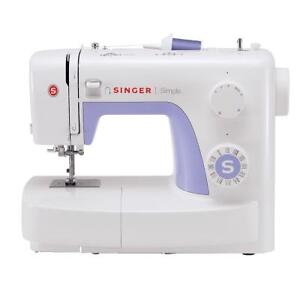 For those who are learning to sew, a basic, easy-to-use sewing machine is essential. The equipment need not be expensive or have a lot of specialty features. If it is a used machine, it should be well-maintained and in good repair. If new, it should sew straight stitches and be easy to thread and operate.
Beginner sewing machines are available from virtually every manufacturer in the industry. For the beginner, learning to identify the right machine for present and future needs can be a challenge. However, by making a list of criteria for selecting the right machine and using it to compare each model, even buyers who are completely new to sewing are able to make informed purchasing decisions.
Beginner Sewing Machine Essentials
Buyers searching for a basic sewing machine for constructing clothing, curtains, and other items for household use should consider mechanical models. Unlike the more complex, computerized sewing machines that are programmable for fancy work, mechanical sewing machines are based on the same platform that has been used for generations.
Beginner Sewing Machine Controls
Entry-level mechanical sewing machines share many basic design elements that make them easy for beginners. The primary features include a pedal control, a tension adjuster, a stitch selector, a speed setting control, and a bobbin winder.
The Pedal Control on the Beginner Sewing Machine
The pedal control attaches to the sewing machine via a cord. It sits on the floor and starts and stops the machine when the user presses down or lets up on it with a foot, like an automobile accelerator. The pedal control is essential because it leaves the hands free to guide fabric while sewing. Look for machines that come with a basic, pressure-activated pedal control without any special settings for easiest operation.
The Thread Tension Control on the Beginner Sewing Machine
The tension adjuster dial on a typical, beginner-level sewing machine is located at the top or on the front of the model. It is marked with numbers that indicate different degrees of thread tension. It is built with inner discs that loosen or tighten thread tension. Each sewing machine's manual lists recommendations for tension settings that are best for straight stitch sewing.
This control is essential because if the thread is not taut, the stitches are loose and ineffective. However, if the thread is too taut, it will break frequently, causing time-consuming starts and stops to rethread the machine. For best results, look for a sewing machine with an easily accessible tension control and just a few numeric settings.
The Stitch Selector on the Beginner Sewing Machine
The stitch selection control on a mechanical sewing machine is usually a dial that is located on the front of the unit. Typically, this dial includes diagrams of the different stitches available, and the user selects the stitch by dialing to the appropriate diagram. The beginner machine need not provide more than a straight stitch with reverse and a zigzag stitch.
A second dial, or controller, allows the user to select the stitch length. In the case of straight stitches, this ranges from very short for locking the ends of seams, medium length for common seaming, and longer length for basting and gathering fabric. For zigzag stitching, the stitch length selector determines how close together the zigzag pattern will be. Close zigzag is effective for buttonholes while wider zigzag stitching is useful for preventing raw edges from raveling.
The stitch controls are essential for sewing even the simplest projects because they facilitate carry out tasks such as basting and quick hemming in addition to straight seaming. Look for a machine with stitch controls that are conveniently located, easy to decipher, and are designed for basic options rather than complex variations.
Speed Control on the Beginner Sewing Machine
A speed selector is crucial when the user is first learning to sew. The ability to set the machine on a slow speed makes it easier to guide the fabric and sew straight seams. Gauging the appropriate foot pressure for starting, stopping, and sewing is an acquired talent, so until the user is more experienced, the speed control keeps the machine running at a manageable velocity.
A speed selector is essential for learning basic skills as well as doing advanced sewing that requires extra care. Look for a basic sewing machine with at least three speed settings. One with a dial is better because it facilitates more incremental control over the machine's operation.
Bobbin Winder on the Beginner Sewing Machine
A bobbin winder refills the bobbin thread when it runs out. The bobbin is a small metal or plastic spool that holds the thread that catches and locks the stitches in place. Because it holds less thread than the top spool, the machine operator must stop and rewind it several times during a typical project.
A bobbin winder is essential for operating the machine. Some winders are located on the top of the unit and require bobbin removal for winding while others are designed to wind the bobbin within the machine. When comparing bobbin winders, look for those that are most convenient to access and operate.
Print or save the following feature checklist for comparison purposes when browsing machines for sale.
| Control | Location | Function | What to Look For |
| --- | --- | --- | --- |
| Foot Pedal | Plugs into machine at side or back | Stops and starts machine with foot pressure | Basic pedal function, added features |
| Tension Dial | Top or front of machine | Tightens or loosens pressure on thread | Easy access, fewer than five basic settings |
| Stitch Selector | Front of machine | Determines the type of stitch the machine is sewing | Straight and zigzag options, easy access, clear diagrams |
| Speed Selector | Front or side of machine | Sets the machine stitching speed | Easy access, at least three settings |
| Bobbin Winder | Top, side, or within the machine | Replenishes bobbin thread | Ease of operation, convenience |
Built-in Extras on Beginner Sewing Machines
Many models intended for beginners come with several decorative stitches in addition to zigzag. While these are not essential to basic sewing tasks, they are fun to use from time to time. When comparing machines with several built-in stitches, consider which ones would be the most useful.
Most new, entry-level sewing machines have built-in buttonhole functions that make finishing shirts, jackets, and other clothing with buttons easy and quick. Compare the buttonhole procedure each machine requires to see which one is the least complicated and user-friendly. If unable to test the machines in person, look up reviews written by those who have to see how they rate each model's buttonhole function.
Accessories for Beginner Sewing Machines
When shopping for a sewing machine, it is easy to be overly impressed with those models that come with lots of accessories. Basic sewing tasks require very few extra attachments, but all machines should come with an adequate number of bobbins and needles, plus machine oil and cleaning tools. A couple of alternative feet for the needle area make specific clothing construction functions easier. A zipper foot puts the pressure on one side of the seam line, leaving the area above the zipper free so that the machine will not jam up on the bulk of the zipper teeth. A zipper foot is a standard accessory that should be included with the machine.
A walking foot is designed to feed thicker fabric more evenly through the machine, preventing bunching and crooked seams. Buyers who plan on sewing heavier fabric, such as denim, or thick items, such as quilts, should find out whether a walking foot accessory comes with the machine or is available as a separate purchase.
Threading the Beginner Sewing Machine
The ability to thread a sewing machine quickly and easily is important to an enjoyable sewing experience. Nothing is more frustrating while sewing than thread that continually breaks or tension that is off due to an incorrectly threaded machine. If possible, test different sewing machines at a dealership and ask the salesperson to demonstrate the threading procedure. Look up reviews of particular beginner sewing machine models to see if other users have noted any difficulty.
Finding a Beginner Sewing Machine on eBay
To shop for the perfect sewing machine for a beginner's needs, visit eBay's home page. Type the phrase "beginner sewing machines" in the search box near the top of the screen. If desired, search in All Categories, or select the Crafts category from the drop down box, and then hit Search.
Browse through the results to see what is currently available for sale. If looking specifically for a used sewing machine, select Used on the left sidebar on the page. To find a machine within a certain price range, key in those numbers in the price boxes on the left sidebar.
Conclusion
The first sewing machine someone owns sets the standard for future purchases. If the model is user-friendly, has all of the essential features for the beginner, and is available for an affordable price, a buyer will enjoy his or her purchase more, and use it more often. Comparing machines according to some basic criteria helps even the inexperienced find the best buy.