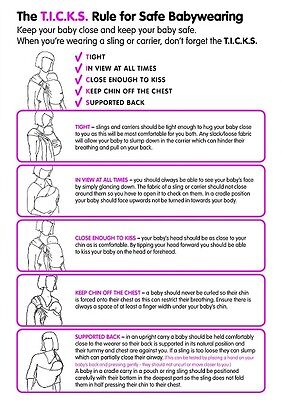 What you need to know.
First of all we'll start with the basics, there are two different types of carriers; ergonomic and non-ergonomic. Non-ergonomic carriers are usually narrow based, (baby bjorn style). These hold all the babies weight at their crotch, giving little or no support to their legs and hips. The curve of the babies spine is also held in an unnatural position, which makes long periods of wear uncomfortable for both wearer and baby. Ergonomic carriers are designed to support baby in a knee to knee position, this means that the fabric of the carrier spreads evenly from knee pit to knee pit. This supports the baby in their natural 'frog' position. Ergonomic carriers are not designed to be used facing out, unlike the non-ergonomic design. Please read Boba ['s] 9 reasons why not to wear your baby facing out for more information as to why. As your baby gets older and is able to support their head, you may want to try a hip or back carry so they can see more of what's going on around them.

Now for the confusing part! Ergonomic carriers come in the following styles, stretchy, ring slings, wraps, buckle carriers, half buckle carriers, mei tia, and pods. There is no right and wrong for which type to go for, it is all down to personal preference. Look up your local sling library and have a go at practicing and find which one suits you and your baby the best. If you can't get to your local meet then don't worry, many do postal hires so you can still try before you buy!

For affordable brands have a look into little frog, didymos, lenny lamb, babyhawk and palm and pond. For newborns look into Victoria Slinglady, Moby and Liberty.

http://www.ebay.co.uk/itm/Victoria-Slinglady-Stretch-Wrap-Sling-baby-carrier-suitable-from-birth-EU-TESTED-/110841129010?pt=UK_Baby_Carriers&var=&hash=item19cea56832

Don't be put off by some of the price tags either, ergonomic carriers hold their value when it's time to sell on.

Now that you know the basics, happy shopping and happy baby wearing!