Beginning your crochet journey
Crochet is a lovely relaxing hobby, and requires very little initial investment so you needn't feel too committed from day one. This guide, written as a BzzAgent for @Ebay_UK Guides, will give you the basics you need to begin this new hobby.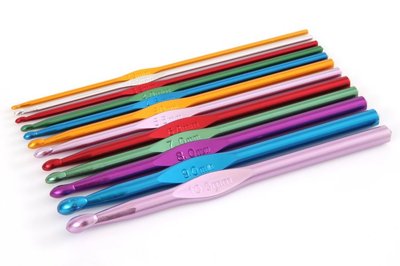 Hook Sizes
There are a wide variety of hook types and sizes on the market, when really as a beginner you will only need one, maybe two. Most crochet beginners will start with the basic granny square. These work up quickly and give you something tangible that you've managed to create so quickly that it inspires you to keep going.
If this is the way you're going to start, you should start with the basic 4mm hook (US G-6). A 4mm hook covers the majority of double knit (DK) yarns/wool on the market in the UK, and will make up a decent granny square. Another option is the 5mm hook (US H-8) which will cover worsted/aran weight yarns. Once you have mastered the craft then you can expand with difference sizes according to the yarn and pattern's requirements. Often a yarn will give a recommended hook size on the label. However, it is worth baring in mind that some crochet with more tension than others, and you may need to adjust your hook size to get the required tension when crocheting garments (with something like a granny square or a blanket it doesn't matter so much - you would just adjust the number of stitches to get your required size).

Larger sizes are usually for bulkier yarns (or tighter tensions), and smaller sizes for more delicate, intricate work (or when your tension is too loose).
Hook Types
When looking for a hook as a beginner, you will probably want an economical one to get started with. You can upgrade as you progress in the craft (or stick with your original if that is your preferred type of hook). This would generally be an aluminium hook, widely available in craft shops or stores with a craft section. These tend to be simple aluminium hooks with a consistent shape all the way down. Light and easy to use, they're the perfect starting point for a beginner - as well as being low cost!
Personally I would avoid plastic ones entirely. They may be lower in cost to the aluminium ones, but they're so cheap and light that they're not as easy to use as you might think, and are unable to hold the wool tension as you go.

Once you have decided that crochet is a craft you might like to continue with you might want to upgrade your hooks. Many prefer to stick with the aluminium style, and that's perfectly fine. However, you might like to try another style to see if that suits you. There are wooden, bamboo, steel, aluminium, plastic, as well as hooks with a variety of handles for comfort (rubber, plastic, wood, etc). My personal choice is the Clover Soft Touch range, which has a soft plastic handle, as I find it the most comfortable to use of all those I have tried so far, but you may need to try a few to get your own favourite.
Yarn/Wool
When you're a beginner you might get a bit thrown off by the different types, weights, and thicknesses of wool on the market. I would say that your best bet to start with is a double knit weight (DK), otherwise known as 8-ply. Here in the UK at least, this is the most widely available of weights, and will be useful for a wide range of projects. As a beginner you can easily acquire DK yarns from all sorts of places really cheaply - you can go from paying 50p (for small balls) to £5 or more depending on what it is made from (synthetic/natural) as well as size and quality, but to start with you might want to use the most economical you can find. On eBay you can also find mixed bags on offer with leftovers from other people's projects which are great for making granny squares that often use scraps anyway.
And that's it!
That's literally all you need to get going. There are some great online tutorials for getting started - watch a few videos and then jump in. It really is the best way to learn. As I said, I would start with a granny square and then go from there. Once you've got that down, you're off and running.