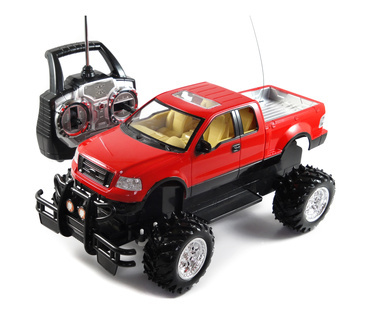 Radio controlled cars, or RC cars as commonly known, are mechanical replicas of full-sized vehicles which are powered either by fuel or electricity. This guide will look at electric radio controlled cars that are powered by batteries and the benefits of using one of them.
It will also look at how and where to shop in order to make a purchase, specifically by using eBay – a site that has plenty of battery-operated radio control car as well as spare parts for them within its listing to cater the UK.
Characteristics of Battery-Operated RC Cars
· Electric powered motors use high capacity batteries to make the car run.
· Due to the lack of a substantial engine and fewer components inside, they are lighter and therefore easier to pick up and handle.
· Their lightweight nature allows them to accelerate at a quick rate, although they can't reach the top speeds of nitro cars.
· As they run on batteries, they may take a longer time to charge before they can be used. Investing in an adequate charger will make this process shorter.
· Top speeds of electric models can vary depending on the model, although anything above 30mph is rare.
· The motors used are categorised as brushed or brushless. The difference is technical to explain and more information on both can be found online but essentially, brushed motors incorporate a conductive mechanical brush that connects with a device called a commutator to power the motor. Brushless models do not include the same mechanical system but still uses electrical magnets to generate power.
The table below explains the advantages of both versions:
Brushed Motors

Brushless Motors

- Brushed motors are less expensive to construct and therefore usually less expensive to buy than brushless models.

- They have a simple control mechanism which makes them easier to manoeuvre.

- They can operate in more extreme environments due to their lack of electronics.

- Unlike brushed motors, constant maintenance is not required for brushless models.

- They have a higher speed range but also a low noise generation.

- Will not overheat as much as brushed models as heat dissipation is better.
Why Choose a Battery-Operated RC Car?
This section will look at the advantages of choosing an electrically powered radio controlled car over a fuel powered version.
· The emergence of more powerful electric motors in the past few years, with highly developed brushless engines have allowed RC cars to match the performance of some nitro powered vehicles.
· They are generally a quieter car to use than nitro versions as they don't include an exhaust. This is advantageous if wanting to use the car in built-up areas as it has less chance of annoying neighbours in the vicinity.
· Their cleaner nature makes them more suitable for use indoors as fumes won't pollute the house.
· They are more affordable all round for consumers to make a purchase; some brand new models are available for as little as £15. On websites such as eBay it may even be possible to purchase one for less, especially if prepared to use the auction facility or invest in a second-hand model.
· Battery-operated radio controlled cars will have a reverse capability that most fuel powered vehicles don't have. If wanting to replicate the feel of a real car then being able to produce certain turns which require a backwards motion is necessary.
· When the batteries have been inserted into the car, you are free to get going straightaway with controlling the vehicle.
· Due to their simple mechanics, regular maintenance is not needed for battery-operated cars as much as nitro versions.
Disadvantages of Battery-Operated RC Cars
· To provide a balanced argument to buying a battery-operated vehicle, a more objective look must be made at all the options available in the market. In reality, you should know that electric models are suited for a certain type of activity and for drivers at a certain level before making a purchase.
· However, if looking for your vehicle to reach the higher speeds or even to race with against other RC cars, nitro powered cars are much more suitable as they can provide steady and constant power to the engine. They are also preferred by racing car enthusiasts who take up the activity as a hobby rather than just an occasional pastime. This is not only because of their improved performance credentials but also because they can be modified with add-ons that can enhance their enjoyment even further.
Buying Considerations for Radio Controlled Cars
· When coming to buy a battery-operated car then think about who will be using it on a regular basis. Due to their more simple nature they will generally benefit amateurs or those making a first-time purchase.
· For youngster's aswell, there are plenty of toy models available for low level prices, especially on sites such as eBay where second-hand RC cars may have been listed as children grow out of using them.
· Also consider where the car will be used in terms of the location and on what sort of surface. Remember battery-operated vehicles are only really suited to smoother surfaces but can also be used indoors. Their quiet output will also not create any noise pollution if being used in a residential area.
· Different models and brands can be searched out when coming to make a purchase also. For example, there are replica models of BMW's and other leading car brands which are designed in the same manner as the real full size vehicle. This gives a more realistic feel to driving the miniature version.
· Knowing where to buy from is another important factor to consider. There are many websites that stock radio controlled cars which are powered by batteries although it may be difficult to come to a decision with so much choice on the market.
· Take a moment to consider what type of car is needed, what level it will be used at and how often it will be used. Then scour the web to find reviews of the different models that fall into the desired category. This will provide a more objective view when coming to make the final purchase.
· Knowing what to pay is another concern for shoppers as prices will vary for different models. Even shopping on eBay, where many models can be found at reduced prices, it can still be difficult to know if the car being bought is actually worth the price displayed. The following section will look at how much the average going rate is for radio controlled cars on eBay.
Knowing How Much to Pay for RC Cars on eBay
Checking the price of what previous battery-operated radio controlled cars have been sold for on eBay gives a more educated value of what to pay. Of course, the value of the items sold on eBay may be different than those sold on professional electronic sites. This is because of the items on eBay are listed and bid for by regular people and are not independently regulated. This section will run through how to see all the radio controlled cars that have previously been sold on eBay.
· Firstly, click on the advanced search link which is located next to the search bar on the eBay home page. Type in the relevant keywords into the search bar in context with what model is preferred.
· Then scroll down and tick the 'Selected Items' box. Pressing search will direct to the results page.
· Here, all the previous RC listings that have ended within the previous 15 days will appear.
· Depending on which particular words have been typed into the search bar, the results that appear may either be too plentiful or too few as to find an efficient figure of how much to be paying for an electronically powered RC model..
If there are too many results to choose between make sure the 'completed listings' option is still selected and then use the preference menu bar on the left hand side of the page to narrow down the results.
If only a small amount of listings have appeared on the results page then perhaps the keywords used are too specific. Try altering these or even check if the spelling is correct. Alternatively, by ticking the 'include in description' box next to the search menu, eBay will look for the keywords in the description and not just the item's title.
· Also consider which selling format the results have been listed as. For example, brand new radio controlled cars will almost certainly be more expensive than second hand models.. This may alter the price you have in mind when coming to set a budget. Choose between the Auction and Buy It Now listings by using the advanced search facility or by selecting the relative tab just above the results.
Remember, when looking through the auction listings the same two cars may have sold for completely different amounts. This is due to the fact that the auctions on the site are unique and dependant on who has bid for them. The Buy It Now results will give a more sophisticated measure of what should be being spent on a radio controlled car on eBay.
· By using the advice above and now looking through the more refined list of RC cars that have been sold on eBay in the last 15 days, some items will display the price in green whilst others will be in red. Green means the price displayed has been the winning bid. Red shows that it hasn't sold for that price and is too much to be paying.
How to Buy a Battery-Operated RC Car on eBay
· When it is roughly known how much to be paying for a battery operated car on eBay, then a purchase can be made either via the auction or buy it now facilities.
· If the exact model is known then typing this into the search bar will bring up all the desired results. Alternatively, narrowing down the selections by using the advanced search tool or the preference menu on the left hand side of the page is useful buying a non specific radio controlled car is acceptable.
· Make sure to read the item's description carefully, along with the seller's history to give you more confidence in placing a bid. Using Paypal is the recommended way of completing a transaction.
Conclusion
Battery-operated radio controlled cars are easier to set up and maintain than fuel and nitro models and recent innovations have made some of the top-end models perform equally as good as well.
Amateur toy-grade vehicles can be bought as well for beginners and younger users, or simply to be used as a progression up to more powerful nitro models.