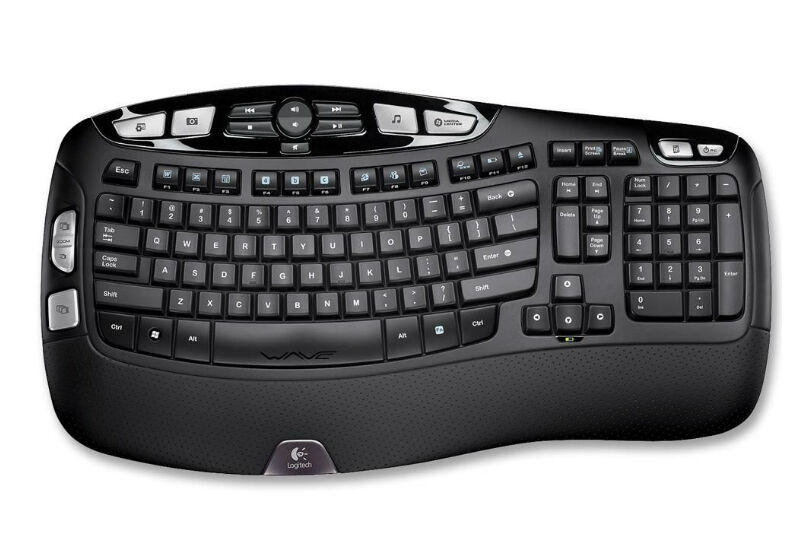 Many people use laptops as their main computer to save both space and money. Laptops take up much less space than large desktop computers, and are much more energy efficient. Instead of purchasing both a desktop and a laptop, many people choose to simply purchase a laptop as their main computer. Since laptops are all-in-one computers, the keyboard and mouse pad are attached to the computer, and are often smaller than standard keyboards. Adding a wireless keyboard and mouse to a laptop makes it easy to work on the computer in a fixed location. Wireless mice and keyboards are also affordable solutions for laptops with a broken keyboard or mouse pad, since it is often very expensive to replace the broken pieces or the entire laptop.
Wireless mice and keyboards are purchased in brick and mortar electronic stores or online using eBay. Wireless equipment may get expensive, but because of the large selection on eBay, finding an affordable wireless keyboard or mouse is simple and affordable. Before purchasing wireless laptop keyboards or mice, it is important to understand the variations of wireless laptop keyboards and mice, as well as the benefits of each.
Benefits of Wireless Laptop Keyboards and Mice
People choose to add separate keyboards or mice to their computers for different reasons. Separate keyboards and mice are easier to manoeuvre, and do not typically overheat like laptop keyboards or mouse pads. Also, separate keyboards and mice are an affordable option for broken laptop keyboards, or mouse pads, since the other option would be to replace the entire laptop altogether. Laptop keyboards and mice are either wireless, or connected to the computer through a USB cord or other input. Although wired laptop keyboards and mice are efficient, there are many benefits to choosing the wireless options.
Portability
Unlike mice and keyboards that need to be attached to the computer with a wire, wireless keyboards and mice are portable, making it easy to move the keyboard and mouse to a comfortable spot. Wired keyboards and mice usually have relatively short cords, making it hard to move the keyboard or mouse around. Wireless mice and keyboards are also ideal for computers that use television screens as monitors, making it easy for users to control the computer from anywhere in the room. If space is an issue, a wireless keyboard and mouse can easily be moved around the room and used from the desk, table, or couch as long as the signal is strong enough.
Less Clutter
One of the biggest downsides to cords is how much clutter they cause in any given area. Most computers require a number of cords, which makes it hard to organise a desk or hide the cords. Wireless keyboards and mice allow the keyboard or mouse to be moved around without causing tangled or unsightly cords. Multiple cords may also pose a fire hazard if a cord shorts or becomes frayed. Wireless keyboards and mice have the same capabilities as wired keyboards or mice, but are much safer and cause less clutter in the workspace.
More Inputs
Wired laptop mice and keyboards usually connect through the computer's USB input, or another specific input. The most affordable options for keyboards and mice are universal, and connect to any type of computer or laptop through the computer's USB input. Most laptops only have a few USB inputs. The downside to connecting the wired keyboard and mouse to the laptop is that they use the computer's USB inputs, and make them unavailable for other things.
Aside from keyboards or mice, USB inputs connect speakers, memory cards, MP3 players, or other devices to a computer or laptop. If the USB inputs are being used by the mouse and keyboard, other devices cannot be connected to the computer. Wireless keyboards and mice connect to the computer through radioactive waves or infrared signals instead of cords, leaving the USB or other outputs available for other things.
Universal
Like mice or keyboards that attach through a USB input, wireless mice and keyboards are universal and usually fit any type of laptop or computer. Wireless mice and keyboards use radio or infrared signals to connect to a receiver, which can be installed into any type of laptop or computer. Since wireless mice and keyboards are universal, buyers do not have to worry about purchasing a specific brand to match their laptop.
Types of Wireless Keyboards
Another consideration when purchasing a wireless laptop keyboard, is which type best suits the needs of the intended user. There are different types of wireless keyboards with different features, so understanding the different types helps the buyer come to an informed decision on which type of wireless keyboard is right for them.
Regular Wireless Keyboards
Regular wireless keyboards are the standard, basic type of keyboard with no added features or benefits. They are the most simple, but they are also usually the most affordable. For buyers looking for a cost effective option, regular keyboards can easily get the job done, without leaving the buyer in the position to have to spend a fortune.
Washable Wireless Keyboards
Washable wireless keyboards are wireless keyboards made to be easily cleaned. Washable keyboards are ideal for public offices where germs would be an issue, such as a doctor's office or restaurant. Most washable keyboards are semi-waterproof, so the keyboard can easily be cleaned in case of spills. They are also very easy to wipe clean without causing damage to the individual keys. Washable keyboards are available in different sizes, and are available in full size options as well.
Foldable Keyboards
One of the more technologically advanced keyboards are foldable keyboards. Foldable keyboards are usually made of a soft material such as rubber, and they can easily be folded to fit in a bag or pocket. Aside from being extremely portable, many foldable keyboards are more quiet than standard keyboards, and are more space efficient as well.
Types of Wireless Mice
Like wireless keyboards, there are different types of wireless mice that use different forms of technology to connect to the computer. Wireless mice work best on a flat surface, possibly even supported by a mouse mat. Before purchasing a wireless mouse, consumers should understand the different types of wireless mice to find the best option for their needs.
Optical Mouse
Optical mice were the first type of wireless mice that use infrared technology to communicate with the computer. The computer is able to track the red light on the bottom of the optical mouse to determine its location. Optical mice are usually very affordable, and are great for those who are looking for a basic wireless mouse for their laptop.
Radio Frequency Mouse
Instead of using infrared technology, radio frequency mice use RF technology to communicate with the computer. A RF transmitter is planted inside the mouse and a RF receiver must be connected to the computer. The RF transmitter sends a signal to the RF receiver in the computer to tell the computer its location.
Bluetooth Mouse
The last type of wireless mouse is a Bluetooth mouse. Bluetooth mice also use infrared signals, but the signals are able to connect to other Bluetooth enabled devices such as tablets, printers, or cellular phones. Bluetooth mice have the largest range of any wireless mouse, reaching about 33 feet away.
How to Purchase Wireless Laptop Keyboards and Mice on eBay
After considering the benefits of wireless keyboards and mice, and determining which types are best for the intended purpose of the keyboard and mouse, you are ready to start shopping. Shopping for a wireless laptop keyboard and mouse on eBay is not only easy, the competitive pricing and large selection on eBay makes shopping for a wireless keyboard and mouse affordable too. To begin your search, you can start with the use of keywords in the keyword search bar. If you are looking for a specific type or brand of wireless keyboards or mice, you can search for that particular type without wasting time. To browse different types, and the different prices of each, you can use a more broad term, such as 'wireless keyboard'.
Wireless keyboards and mice vary in price, from cheap to expensive, so they are easy to afford on any budget. eBay makes it easy for users to stick within their budget by allowing them to set a price maximum. By setting a maximum price, users do not have to waste time looking through options that are outside of their price range. Not only does eBay make it easy to find an affordable wireless keyboard and mouse, users are able to search from the comfort of their own home.
Conclusion
Wireless mice and keyboards make it easy to manoeuvre on a laptop without the clutter of multiple cords. Many people are more comfortable typing on a full size keyboard and using a physical mouse, therefore adding a keyboard and mouse to their laptop is an affordable way to accommodate their needs. Choosing a wireless mouse or keyboard leaves computer inputs open for other uses as well, such as speakers or music devices. Also, they are much more portable than options that need to be connected to the laptop, and can be moved around to find a comfortable place in the room.
If a laptop keyboard or mouse pad is broken or damaged, an external keyboard or mouse is an affordable solution to the problem, instead of having to replace the whole piece or computer altogether. Regardless of the use, there are many benefits to wireless laptops and keyboards, and purchasing them is quick and easy with the help of eBay.