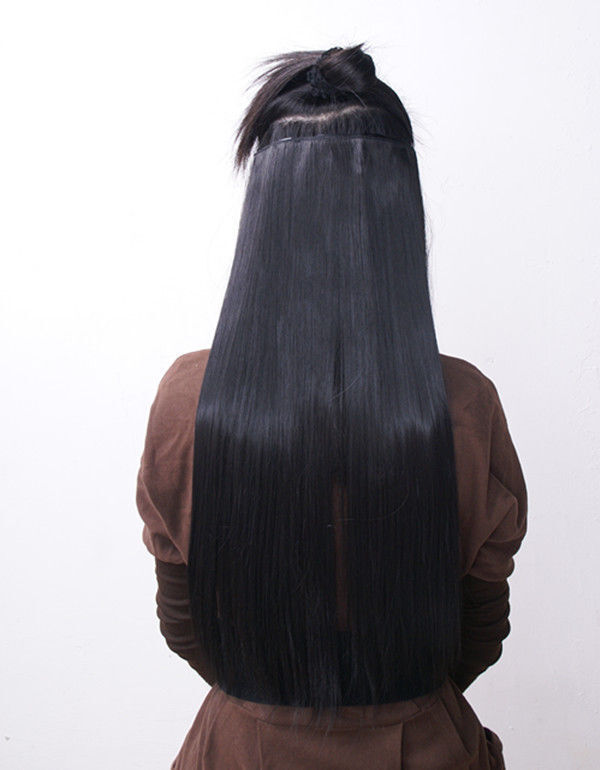 Hair has been an important part of a woman's allure since the Renaissance, and probably further back than that. Hair, though, can be damaged easily or permanently by illness, the environment, and other factors. Extensions are not the only attempts people have had in creating beguiling locks in the name of beauty over the centuries.Wigs and other hair pieces have been popular since the 18th century. Those are not the only kinds of artificial hair now available. Modern science has given the beautician synthetic hair, though many prefer the more natural look of human hair.
Hair extensions are lengths of synthetic or natural human hair that attach to a person's scalp or hair to add thickness, length, or both. People can receive hair extensions from any hairdresser or beauty salon, though there is also the option of acquiring home kits for personal application from beauty supply shops and online shops, like eBay. When installing hair extensions, of course the most natural look is needed or there is not much point in doing it. Understanding hair types, extension types, and application methods can help consumers get extensions that are indistinguishable from natural hair.
Hair Type
Hair can be thin, thick, curly, straight, wavy, fine, frizzy and more. Most categorise hair into four types: straight, wavy, curly, and kinky, with various subcategories within the four. The type of hair a person has is important in securing natural-looking extensions, because the hair additions need to look exactly like natural hair. If you are looking for extensions made from natural human hair, there is a difficulty because not everyone's hair is exactly the same.Hair for extensions is generally sourced from China, India, Russia, and Europe. European hair is, more often than not, touted to be the highest quality, with Asian hair having the lowest. Most hair sourced from China is made into off-shelf wigs and machine-made extensions.
Options for Natural Looking Extensions
An important part of wearing extensions is making them look as inconspicuous as possible. Making sure the extensions blend naturally with a woman's real hair should be a primary goal.
Texture
Hair can be rough or fine or somewhere in between. A person with fine hair is best served by European hair, as these fibres are generally fine to medium density. Chinese- and Asian-sourced hair is coarse, though Indian hair is of better quality.
Colour
Make sure the hair colour of the extension matches that of the woman wearing them. That is, unless the person is looking for significantly different hair colours. Some women wear pink, green, or blue extensions all the time. Extensions can also be used to add some highlights, or more tones, to natural hair. If the goal is to thicken or lengthen natural hair, however, finding the right hair colour for an extension is recommended.
Unprocessed hair looks more natural, but the difficulty lies in the fact that a woman has to search harder for natural hair extensions in exactly the same colour as their natural hair. It is easier to find hair that has been coloured during processing because there is more variety.
Cut
Extensions can be trimmed or cut to complement the wearer's natural hair style, or even change it. Blending extensions into the wearer's natural hair depends on the kind of extension and the application methods used.Synthetic extensions can be used to hold a style longer, but real hair does not. It would be easier to blend human hair extensions because they behave the same way as real hair.
Application Methods
There are many ways of attaching a hair extension, but concealing those methods make the difference between natural looking hair and obviously fake locks. For instance,clip-ons can create unsightly bulges under hair. The solution is to get high-quality extensions and ask professionals to apply them.
Synthetic Hair vs. Human Hair
Hair extensions are made of eithersynthetic hair or human hair. Knowing how they are different, or the advantages of each, can help the individual choose the most natural hair extensions available to them.
There are many reasons why a woman could choose synthetic hair extensions, but the general consensus is that when searching for a natural-looking weave, human hair has more advantages despite the fact that they can cost up to 10 times more than synthetic extensions.
Buying Hair Extensions on eBay
Hair extensions can be acquired from different salons, offline and online. Local hairdressers can set your extensions professionally and with good quality material. Online beauty sites and shops can help you get a better selection, including websites like eBay. Simply typing "hair extensions" into the eBaysearch bar gives you thousands of hair items from which to choose. A more specific search term, like "light golden blonde hair extensions" can offer you results that more closely match the items for which you are looking. Of course, you can search for a generalised term, like "European hair", and then narrow down the results using eBay's site tools. It is possible to modify your results to see only those with specific hair lengths or for specific purposes. It is also possible to order the results based on price or condition.
Always remember to evaluate the product carefully before purchasing. It is difficult to determine hair quality online. Carefully check the pictures the seller posts and the descriptions to be sure you have the most natural-looking hair extensions you can purchase. A seller with a good reputation of offering quality products increases the chances that you get extensions that are long-lasting and of good quality.
Conclusion
It is not enough to get hair extensions that lengthen and thicken one's natural hair; it is also important that these extensions look natural when attached. There is no point in using extensions if people can see they are fake, after all, the entire goal is to make the wearer look more attractive. The buyer has to take into account a number things if the goal is to make the extensions look as natural as possible, like hair type and quality, texture, application methods, whether high-quality synthetics would look better than low-quality human grown hair, and more. Most natural-looking hair extensions are expensive as they use high-quality European remy hair. Lower-quality human hair extensions can do just as well, though a person has to put more care and effort into making them look as passable as top-quality extensions can appear. Extensions can be purchased online and offline, in the salon at the local shopping centre, or on the eBay site.