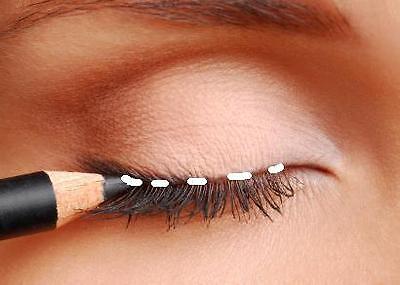 by BZZAGENT KMARIE ANDERSON
I have always found eyeliner awkward to apply because it never seem right, it either can be crest as your dragging it along the lid. So I tried many liners from pencil to liquad to see which would help me, still had the same results. so I looked around to see what the best way to apply eye liner than look like a pre - schooler apply it. Before you use make up around the eyes, do your face make-up always use a primer brfore your make up this will make it last longer.
So the best tip I found that has seemed to work for me, to gentle hold the eye lid down, use your thumb to hold in place this give you a flat straight surface, so you have a better chance of applying than that bumpy look, which nobody wants. As this can be a bit tricky unless your a make-up artist or have your own secrets in apply, draw in across in small line then you can join in up like dot to dot. For the lower lid look up an this should be any easier lid to do, alway take you time and be gentle on the lid.
For the eyes make sure you put a eye primer on first close to the eyelid where your applying the liner this will help it last longer, apply you eye shadow on next, apply your eyeliner as close to the lid as possible, then your mascarra to finish the frame work of the eye.
http://www.ebay.co.uk/sch/i.html?_from=R40&_sacat=0&_nkw=eyeliner&rt=nc&LH_BIN=1
link to eyeliners sold on ebay
http://www.ebay.co.uk/itm/Waterproof-Cosmetic-Beauty-Makeup-2-Pcs-Smooth-Eyeliner-Pencil-Black-Eye-Liner-/201096868612?pt=UK_Health_Beauty_Make_Up_Cosmetics_Eyeliner_PP&hash=item2ed24eb304
i like the pencil eye liner, like these sold by an ebay seller.