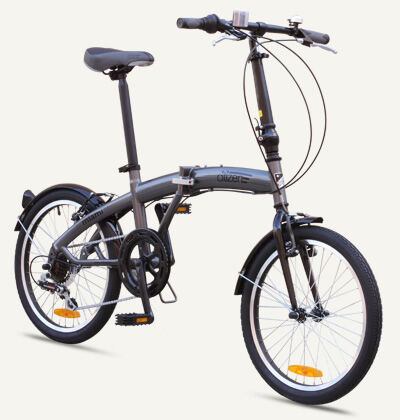 Present-day bike frames are usually made up of several hollow tubes which are fused to create a "diamond" or "double triangle" form. Essentially, this basic shape hasn't altered in more than 100 years, but technological advances mean that today more varieties on this basic theme are available than ever before.
The bike frame is the core of any bicycle so if a cyclist is interested in investing it's one of the most crucial places their money should go. Other parts of the bicycle, like stems and bar, can be more easily changed, as can things like tyres and saddles, which have as much to do with individual preference as anything else.
Equally, wheels can also be updated, and, in fact, it doesn't make sense to have a super-expensive pair of wheels on a frame, which is just not up to the job. Even a costly rear mechanism is no substitute for a high quality frame.
The buyer will also need to consider:
Size
The type of riding done most frequently
Frequency of bike use.
Frame Materials
There are number of different materials a bike frame can be made out of, and so this is clearly a key choice. Each will have different advantages and potential drawbacks. All of these kinds of frames are available from online auction site eBay.
Bike Frame Material

Aluminium

Aluminium bike frames have been around for some 30 years, before which all cycles frames were built from steel. They are put together with high strength glue or via a welding process.

Very lightweight and hardwearing- this is another choice that many cyclists favour, for road and mountain bikes, especially racers and mountain bikes, among others, and aluminium frames can be found at both ends of the price spectrum from most manufacturers. The cost is affected by the quality of the material used, and how much working has gone into the tubing.

Aluminium frames have also increased in popularity in recent years, but this metal was first used in bicycles toward the end of the 1800s.

Aluminium frames have the added advantage of not rusting, so little upkeep is needed. This makes this kind of frame ideal for cyclists who go touring frequently, and mountain bikers, in fact any cyclist who is regularly out in the wet.

Bike frame tubes made of aluminium are often made from thicker walls, though this doesn't necessarily make them greatly heavier as a result.

Affordability is another good advantage of aluminium bike frames, and this material also suits cyclists whatever level of experience they have.

Titanium

Titanium bike frames have a quality known as resiliency which means that the machine takes a little more of a rider's downward stroke pedal energy while giving back more on the return or upward stroke than its carbon counterparts. Some riders even feel as though they are being helped up hills, or feel less tired on longer rides.

Many of the shocks of uneven ground will be absorbed, making titanium frames a good choice for mountain bikers and off roaders. So a comfortable ride on a flexible machine is offered.

In fact, titanium offers all the comfort advantages of a steel frame, and great longevity, but without the additional weight.

Titanium frames are generally to be found at the more expensive end of the market, but there are still some great bargains to be had, especially if the buyer shops online somewhere like eBay.

Carbon

Bikes with carbon frames are generally the lightest machines to be found, and this lack of weight comes without any compromise in terms of durability.

The quality of the materials and how much work goes into the tubing decide the eventual price.

Carbon is a fibre rather than a metal, and so gives a more visible "grain" appearance than other materials. Bikes made out of it come as either single piece machines or are constructed from different tubes. The fibres can be arranged to minimise stress and strains on the machine.

Bear in mind that the technology for carbon bike frames is still quite new, and has still not proven ideal for long-distance touring, and so may not suit everyone. But it's possible to buy road and mountain bikes with carbon frames.

One potential disadvantage is that carbon frames are not the most flexible ones – every bump is felt – but equally a full carbon bike is so light that riders can accelerate and maintain speed incredibly quickly.

But prices are coming down, and many who have carbon frames love its flexibility, and say it offers a smooth ride.
Type of Frame
There are two main types of bike frame, although hybrid cycle frames offer a combination of characteristics of both. All types can be found and bid for or bought on eBay.
Racing Bike Frame
Road bike frames are lighter and slimmer than their off-road and mountain bike counterparts to save weight on smoother surfaces. The geometry of racing bike frames is also slightly different. While the cyclist may move at greater speed, they may pay for that with reduced comfort and stability.
The more modern style of frame has a sloped top tube, and this reduces the size of the triangle formed, making it theoretically stiffer than the other kind of frame which has a straight upper tube.
Mountain Bike Frame
Mountain bike frames are heavier and chunkier to absorb the impact of being off-road and may feel more comfortable and stable.
Higher quality frames have thinned tube walls in the middle, and thicker ones at the ends of the frame to save weight and strengthen welded joints.
While novice and intermediate riders may want to go for a traditional diamond frame, while those who want rear suspension may need to have a more advanced kind of frame geometry, as may those who take competition more seriously and so want a higher level of performance or to save on weight.
Most mountain bike frames come with a sloped upper tube running between the front of the bike and the saddle. This can be cleared if the rider comes off, and nearly all frames are now built like this.
Hybrid Bike Frames
Hybrid frames are mainly made of lightweight steel or aluminium. The frame is stouter, more upright and potentially more comfortable than some racing models, to absorb some of the shocks of potholes and the like that one can encounter on, say, a daily commute to work.
Bike Frame Stiffness
In terms of cycle frames, this really refers to torsional stiffness, or the ability to withstand twisting. Most frames are subject mainly to these forces rather than vertical forces. With the advanced materials of modern frames, vertical bending is no longer often an issue.
Generally speaking, the stiffer the bike, the greater the rider's confidence and power when handling corners or changing direction at speed. Stiffer frames also yield some efficiency benefits, and more experienced riders and racers may feel a quicker response when riding at speed, or trying to break away during a difficult uphill stretch.
Some bigger bike makes now make reveal their stiffness testing results.
Bike Frame Sizing
Different sizes of bike frames are sized in different ways. It's important that bikers look at the sizing chart for the kind of bike they are buying, especially for triathlon, road and time-trial machines.
Frame size determines bike size, according to how long the seat tube is. The majority of producers measure from the middle of the crank axle or bottom bracket to the very top of the seating tube, where the post for the saddle goes.
However, some producers measure between the crank axle and the intersection of the saddle post and top tube, which can make a difference to some sizings.
Sometimes size is expressed in centimetres or inches, or frame size, such as large, medium and so forth.
Finally, bear in mind that while seat tube measurements are used to give frame sizes, the whole frame changes in proportion to its size, and not just the seat tube.
Buying Bike Frames on eBay
Whatever sort of machine the eBay buyer is after and whatever their style and frequency of riding, eBay can help.
Buyers should visit eBay.co.uk for an extensive range of all kinds of new and second-hand bike frames at sizes they will love.
If the eBay user is unable to find the exact bike they are looking for immediately they should use keyword searching to quickly achieve a narrower search. The buyer should simply enter the particular kind of frame in the search box and instantly see listings matching their specific search requirements. There are more tips and hints on eBay's search tips page, or go to eBay stores.
Many vendors now offer free shipping, which could be particularly useful for larger items like bike frames.
Conclusion
As the main bicycle body, with all the other components attached to it, few things are more important to cyclists than their bike frame. The buyer should take the time to find one that suits their budget, height and build as well as whether they cycle competitively or just for leisure and exercise, and whether they are mainly on or off road.