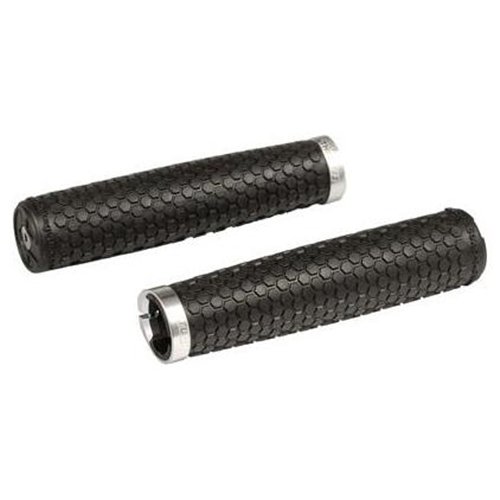 Whether a bicycle is ridden for recreation or competition, its handlebar grips can greatly affect the rider's comfort and performance. Handlebar grips are created in a wide array of styles, materials, and colours, and a pair can be found to match the needs of any rider.
Begin shopping for handlebar grips by determining which type of bike they are meant for. Once an appropriate product is found, consider the materials used. There are several different materials utilised to create handlebar grips, and they can vary significantly in their durability, price, and performance. It is also important to consider how grips attach to the handlebars. Some grips, for example, feature a lock-on ability to provide extra stability with the use of adhesives.
Handlebar grips can be purchased from department stores, bicycle specialty stores, and online retailers. Many websites specialise in the sale of bicycles and their accessories, and have a high number of products available. Marketplaces like eBay also have listings for handlebar grips, which can be purchased from private and commercial retailers. Shop around to find the full selection of items available, and choose handlebar grips that can provide the best performance, appearance, and comfort for their user.
Choose Bike Handlebar Grips
Buyers shopping for bicycle handlebar grips have many options available. It is important to choose products that fit properly, however, so look for grips designed for BMXs,, town bikes,, cruisers,, mountain bikes,, or other bicycles. From there, select a desirable material.
Bike Type
Bicycle grips are commonly designed for a specific type of bicycle,, though it is not uncommon for products to fit multiple types. Look at the packaging or read item descriptions for grips to determine which bikes they are suitable for. The following table offers a brief description of the types of grips available for popular bike styles.
| Bike Type | Description of Available Grips |
| --- | --- |
| BMX | Rubber grips are common, and many serious users choose lock-on grips with an aluminium or alloy rod in the centre for extra stability. |
| Mountain | Rubber grips and lock-ons are most common. |
| Cruiser | Cruiser grips are often made to be thick and comfortable. They may use rubber, gel, leather, or cork. |
| Town Bike | Can use almost any type of grip. Riders should choose ones that are most comfortable and attractive. |
Depending on the diameter of a bike's handlebars, it may be possible to use grips on a bike they are not designed for. Take measurements of the handles' diameter and length to be sure a different handle can fit properly.
Material
The materials used to create bike grips affect their comfort, durability, and price. Choose from common materials like rubber, gel, and alloy, and consider alternative materials like cork and leather for an alternative look.
Rubber
The basic bicycle handlebar grip is made from a rubber compound. These grips are inexpensive, easy to replace, and are created in a huge array of colours. However, rubber grips tend to fall apart relatively quickly, and are not as comfortable as gel grips.
Gel
Many modern bicycles are sold with a gel grip.. Typically, a gel liner is used for the centre of the grip, which is covered with a lightweight rubber. Gel grips are soft and can be very comfortable to use. They are also relatively inexpensive, and come in several different styles. Gel grips are suitable for many types of bikes and riding styles, from casual to sport. They are also more durable than many rubber handlebar grips.
Alloy
Alloy grips have a metal tube in their centre, and are coated with a gel or rubber material for padding. These are used for lock-on grips, and are some of the most durable handlebars on the market. Alloy grips generally lack the padding of rubber and gel grips, however.
Leather
Buyers looking for a stylish look for their handlebars can shop for leather grips.. These are primarily used on cruisers and town bikes. Although they are visually appealing, leather grips tend to be significantly more expensive than other materials.
Cork
Another alternative material for handlebar grips is cork.. Grips made from cork have a distinctive look and can be used to add a unique touch to a bike. Like leather, cork grips are popularly used on cruisers and town bikes. Because cork does not stretch as well as other materials, an adhesive is usually needed to hold them in place.
Size
It is important to determine the size of a product before purchasing handlebar grips. In general, handlebar diameters are standard across a single type of bike, and grips are labelled accordingly. However, if a grip lists an interior diameter, buyers can take a measurement of their handlebars' diameter to be sure it fits properly.
The outside diameter of a grip can vary significantly between products. Users with particularly large or small hands may wish to look for products that are thicker or thinner, respectively. Ultimately, the choice of a grip size depends on the personal preference of the rider, so feel free to experiment with several different items to find ones that are comfortable. Some products provide a diameter measurement on the packaging, while others simply designate the grips as "large" or "small". More often, however, the grips are not labelled at all, and the only way to determine their thickness is to handle them in person.
Try visiting a bicycle specialty store or department store to see the different size grips available. Even if a grip is ultimately purchased online, it can be useful to inspect products in person before committing to a purchase.
Features
In addition to standard grips, buyers can choose from specialty products with a variety of features. Three of the most common features are lock-on mechanisms, comfort padding, and contoured grips.
Lock-on Grips
Lock-on grips are especially common on mountain and BMX bikes. Using an aluminium or alloy tube in their centre, these products can be tightened to handlebars without any adhesive. Once in place, lock-on handlebars provide a stable and secure grip that does not twist or come loose.
Comfort Padding
Comfort grips are made from a soft rubber or gel and have extra padding. They are contoured to fit comfortably in the palm of a rider's hand. These grips are especially common on cruisers and tandem bicycles, and are meant for casual riders.
Contoured Grip
Some bike grips have a contoured design that fits the shape of a rider's fingers. These can reduce the chance of the rider's hand slipping off the grip, and provide a natural feel.
How to Buy Bike Handlebar Grips on eBay
A high number of bike handlebar grips are available for purchase on eBay. To find these items, head to the home page. An easy way to initiate a search is to enter keywords into the search field. For example, to see listings for grips that can be used on BMX bikes, enter "bmx bike grip" into the field. Search results can be refined by introducing additional keywords, or by clicking on category links. Use eBay's category options to shop by brand, item type, condition, material, and price.
Click on the name or image of an item in search results to see its full listing. There, you can find descriptions provided by the seller, along with details from the item's manufacturer. Be clear on the price of the item, and remember to include shipping charges into your final cost calculation. Determine which payment methods are accepted by the seller, and be prepared to pay promptly for your purchase.
Sellers on eBay have feedback ratings and comments on their profile that reflect the satisfaction of previous buyers. This information can be used to find quality eBay sellers, so inspect a user's profile before making a purchase. Once you have received your handlebar grips, leave feedback about your transaction to inform future buyers. Many users operate a professional business on eBay, and are committed to the satisfaction of their customers. Contact the seller of an item before leaving negative feedback to resolve any issues that arise.
Conclusion
Bike handlebar grips can affect the comfort and performance of a rider. They are designed in many different styles, and are normally meant for specific types of bikes. Look for grips designed to fit town bikes, cruisers, BMXs, and others. Grips are created from a range of materials, including rubber, gel, cork, leather, and alloy. Rubber and gel are inexpensive and can be created in many different colours. Gel is also a very comfortable grip material. Cork and leather can be used to add a decorative touch to a bike, and alloy is used in lock-on grips for stability. Consider the benefits and drawbacks of each to find the best products.
Bike handlebar grips are available from department stores and specialty bike retailers. They can also be purchased online. Marketplaces like eBay have a high number of listings, and can be used to quickly browse a broad selection of items. Shop around to find the best products and prices, and review item listings when shopping online. Whether bike grips are used for casual riding or serious competition, the high number of products available makes it easy for all riders to improve their riding experience.